Many companies have entered the food delivery business because of the potential that it holds due to the current outbreak. In 2023, the global meal delivery business is predicted to generate annual revenues of 956 USD million. This is the reason you require this global revolution. You're a part of this revolution. Who doesn't enjoy being in the comfort of their home, eating their favorite food, and binge-watching Netflix?
Are you searching for the most effective food apps to begin your restaurant's business in 2023? This article will provide the Best Food App Ideas to help you start your restaurant business. And if you are looking to start your Food Business ASAP? In that case, we have the best solution for your Restaurant Startups, which is a SaaS-based Food Delivery App Solution to kickstart your food delivery business.
Food apps play an important role in stabilizing restaurant and food business. The food industry is constantly adapting and trying to use new methods, considering the market demands. As of the year's end and the increase in the COVID-19 pandemic, it is possible to observe a change in the habits of people. People are more worried about security and less inclined to eat in restaurants. To stay in business, the owners of restaurants are slowly changing their restaurant and food business models and embracing the new standard by taking their restaurant businesses online.
Let us look at some of the Best Food App Ideas to help your restaurant reach new heights quickly.
Statistics
The top apps for meal delivery constantly improve their functions to improve our lives. The expected annual growth rate for online food delivery apps is 38.08 percent between 2018 and 2023. In the world's major cities, the number of daily orders fulfilled is increasing rapidly due to restaurants taking advantage of food apps and choosing food delivery app development.
Mobile application development companies are taking further steps to ensure their apps are efficient and easy to use. Implementing restaurant app ideas guarantees that the customer can place an order for meals or wait for a delivery service without receiving any information or updates. The worldwide food delivery industry is valued at EUR83 billion and is predicted to grow by an average of 3.5 percent annually over 5 years.
Additionally, the online meal delivery market made revenue of US $107,438 million in the year 2019. It is predicted to grow at a 9.9 percent annual rate, resulting in a US 156,819 million rise through 2023 due to the pandemic. Your typical food establishment hopes to take advantage of the well-known Online Best Food App Ideas with such rapid growth.
How Best Food App Ideas Can Help You?
We've already seen the massive potential market for the restaurant-business application. It can lead to a variety of business opportunities. In addition, introducing a well-thought-out app is extremely beneficial for your business or startup, as well as the significant growth in sales. However, let's take a look at some of the main benefits.
• It's been reported that restaurants that allow online ordering Systems have seen 30% growth in customer numbers in the last 5 years.
• 95 percent of businesses think integrating their business using technology has enhanced their efficiency and productivity.
• Food ordering online has assisted in the creation of more revenue.
• Technology has assisted restaurants and food-related businesses in reaching larger audiences.
These figures and facts will show you how many advantages this business has. Before you decide to engage an app developer, let's discuss some ideas for food-related apps that are big.
The Ultimate Guide to Top Food App Ideas for Restaurant Success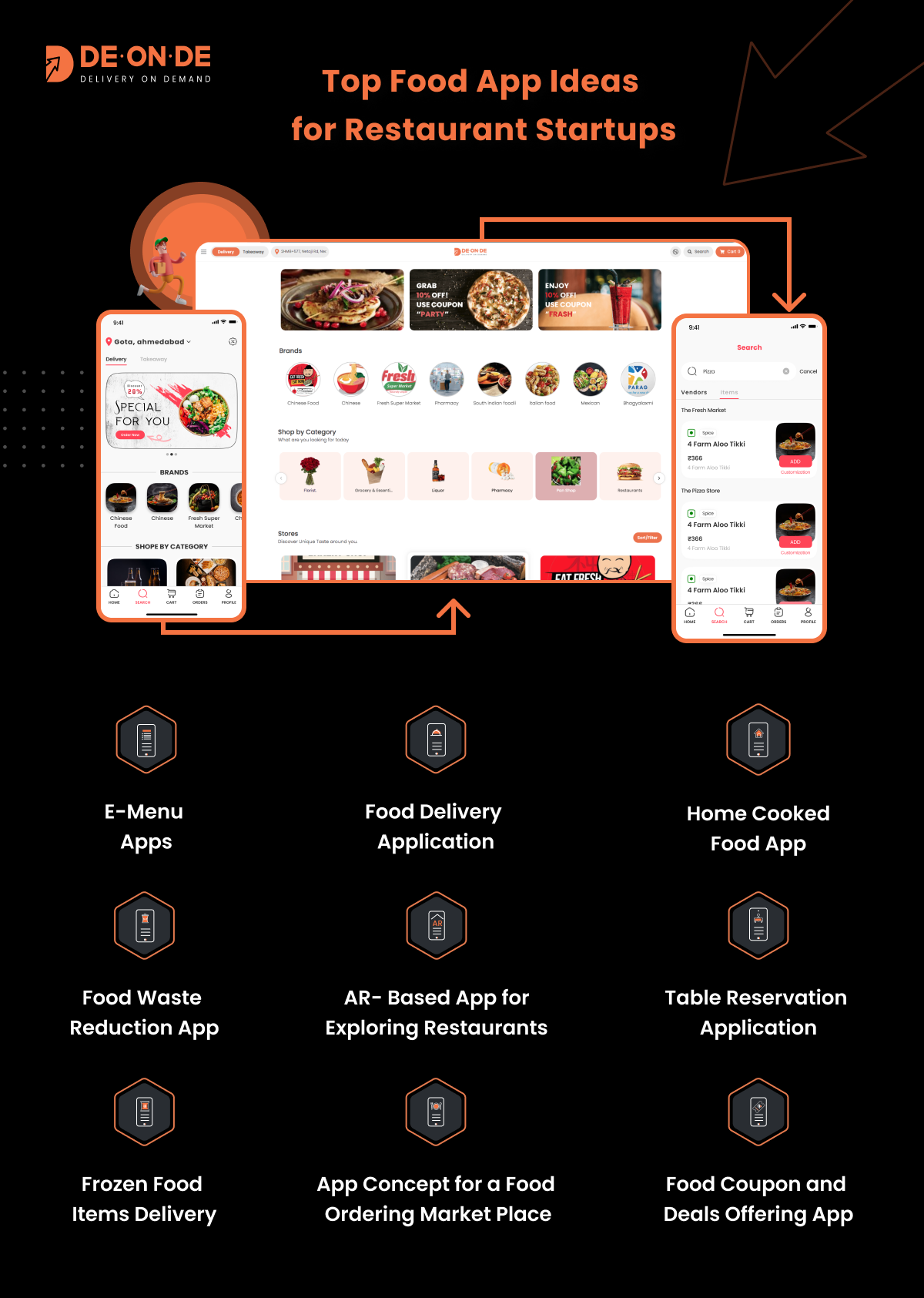 E-Menu Apps:
This QR Code menu mobile application app is the Digital Menu app. Restaurants worldwide are converting to mobile e-menu applications to keep the dining experience of patrons at the restaurant safe. Therefore, the E-Menu allows the restaurant to replace physical menu cards with an electronic menu, allowing restaurant owners to create their own digital menu.
Food Delivery Application:
The mobile app concept is employed to deliver food items. It will help restaurants reach customers from the farthest corners. There has been a surge of food establishments acquiring an app for food delivery to their customers' doorsteps. There are two different types of food apps. One is that restaurants allow you to order food, while some have mobile apps that offer delivery and order options simultaneously.
If you are thinking of apps for restaurant startup companies, the idea of a food delivery app is the first that comes to mind at any time and again. It is the only method for consumers to have delicious food delivered directly to their doorstep by using the location feature within the app.
If you're creating an Uber Eats Alternative or meal-ordering service like Zomato and Just Eat, you'll need an administrative and point-of-sale system for either.
It is easy to create an app on mobile devices for food delivery to control it and make it adaptable for your food business. Instead of creating an Online Food Ordering System, think about how you can manage and organize resources when you have integrated the app for food delivery with your restaurant's operations. With the help of a smartphone app, you can keep track of all transactions made online and their history.
The food apps created by these concepts establish a trusted connection between your business and customers.
Home Cooked Food App
Similar to fast food, gourmet traditional dining stimulates a variety of different cravings. Sometimes, the taste of a restaurant needs to be improved to meet this need. This is among the best food apps appealing to gourmets since your app will cater to the specific tastes of people who want home-cooked meals.

Unlike eating places, This method allows users to collaborate with freelance or remote chefs, who can sign up and provide on-demand food. Users can select their favorite menu or food and place specific requests for orders.
Food Waste-Reduction App
As a food establishment and a restaurant start-up, there is a good chance of food being wasted. The app to reduce food waste solutions is the best option for any food establishment to manage excess food items effectively and to reduce food waste at the food outlet. Furthermore, the mobile food management application can be a great way to implement the noble act of giving food items to less fortunate people.

This is a fantastic concept for a restaurant app because you can easily begin your own business by dispersing leftover food from restaurants to the less fortunate in your neighborhood. As a restaurant proprietor, you must be aware of the waste food you produce. Food producers produce a lot of food in these days.
The poor population is increasing rapidly. This could be amazing since it's about helping people experiencing poverty.
But how do you develop an effective business plan using this app? This innovative food delivery app concept has many potential customers within the business world. An organization that designs an app based on this unique concept could collaborate with big companies to share operational costs. Crowdfunding could also be the best option to create apps like these over the long run.
Table Reservation Application
Weekends bring a massive demand for restaurants since customers are eager to eat in their favorite restaurants. However, the Table reservation app is the most effective option for restaurants worldwide. It can, for instance, aid restaurants in managing crowds during peak times. The application will assist you in managing and improving customer satisfaction. Restaurant Table Booking is a mobile app that lets your customers reserve an appointment, time slot, where the table is located, the date, etc.
The pandemic season is bringing more people to tables to follow the social distance guidelines. This is just one of the ideas for food apps that ease users' lives by reducing their time. Restaurant owners will be delighted to control their orders more precisely while enhancing the customers' experience. Restaurant employees will have enough time to cook the food, and the proprietor can run his business from a smaller area.
Furthermore, customers can book tables by calling; however, on other occasions, The staff at the restaurant will record the details of your Restaurant Reservation System on paper. But what happens if the paper gets lost?
What about managing all of that data? So, you'll need an app on your mobile to verify the reservation.
Frozen Food Items Delivery
Food items that are frozen have been growing across the globe. If we were to look at the recent study that estimates the value of frozen food delivery will rise to USD 380.5 billion in 2027. This huge growth is only based on annual freezer food intake within Asian, Middle Eastern, and European countries.
The internet presence of companies dealing with frozen food items could be more consistent. This means that every new product is a great opportunity to grow. Some frozen food items available for delivery are ready-to-eat fish, meal items, and various foods like potatoes, vegetables, Dairy Milk Products, Meat Delivery, and fruit. Including organic foods on your list will surely increase your customers' appeal.
App Concept for a Food Ordering Market Place
A lot of food-ordering apps function as marketplace aggregators. They list restaurants that offer food delivery and include them on their apps.
If a restaurant's owner doesn't want to build their app for food but would like to establish an online presence with this marketplace for food orders, this SaaS-based Multi Restaurant Food Delivery System is perfect. The food ordering software marketplace can provide restaurants with an internet-based platform that allows them to display their menus in front of hungry customers.
If a customer orders food from a specific restaurant, the restaurant's chosen companies are informed and provide home delivery for the customer. Online Food Ordering Systems and delivery companies have gained an enviable place in the e-commerce market. This shows that if the business is in tune with the latest developments, it could make enormous profits.
Food Coupon & Deals Offering App
It's a fact that customers will always search for discounts or deals before making reservations. This is among the ideas for food apps that take extra steps to offer competitive prices and discounts when you use those on mobile apps.

Offer catering services to your existing customers and continue to bring new ones into your restaurant. You may offer special offers on food and their festive menus. The app that allows food delivery allows you to recognize frequent customers and show appreciation by providing incentives to encourage frequent use.
AR- Based App for Exploring Restaurants
Augmented reality is one of the Latest Restaurant Business Trends to watch for when advertising your restaurant and keeping customers happy and engaged. You will be able to amaze your guests if you utilize the technology. No matter how delicious the food is, keeping them satisfied and connecting with them is crucial to keeping your existing customers.
Conclusion
Start by using any of the food app concepts from the previous paragraphs. The online meal delivery apps are available in various flavors, and you need to bet on any innovative SaaS based Food Delivery Solutions concept to reap the advantages.
If you are starting an eatery or food-related company, there are more unique and fashionable food apps. If you're interested in how a concept for a startup app could help you start your own unique Food Delivery Startup, and you're interested in understanding what a restaurant should do to get an app for mobile business to flourish and grow.
You may create an app specifically for the restaurant and food service industry. If so, it is essential to have a clear backend strategy and delivery method to oversee your supply chain and organize delivery efficiently and seamlessly.