Meat Delivery
Saas Based White Label Meat Delivery App Solution
Get ready to use on-demand Meat delivery solutions for non-veg restaurants and outlets. Kickstart your Meat delivery business with our 100% white-labeled Meat delivery solutions.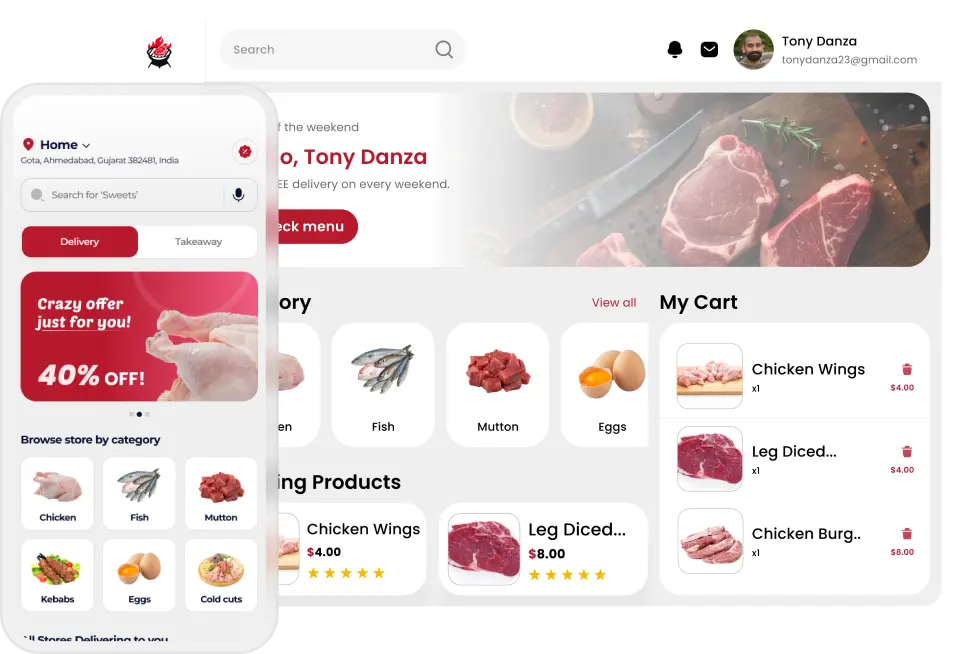 Customers
Trusted By Over Thousands Of Restaurants, Food Delivery Startups Across The World

















Manage Meat Delivery Business with Monthly Subscription Model
Get 100% white-labeled on-demand Meat delivery & Ordering solution to turn your Meat Store into an online Meat delivery marketplace. Enter the online Meat delivery business with our SaaS-based ready-to-use delivery apps.
Ready to deliver delicious tender meat online? Whether you are ready or not, our saas-based Meat delivery app solutions are ready for launch.
Yes, we deliver readymade meat delivery app solutions to help meat business owners go online anytime. We do not ask them to wait for months to get our solutions ready. Our on-demand meat delivery applications offer pre-built features and design, developed using the next-gen technology stack.
Do not bother about the personal touch. The design and features are 100% customizable to transform the online meat delivery app suitable for your business requirements. The best part is that we do not ask you for any upfront cost. Launch your readymade meat delivery app, attract new customers, earn profits, and then pay us a minimum monthly subscription fee. Like the deal? Then come and grab it today.
How Does Our Meat Delivery Solution Works?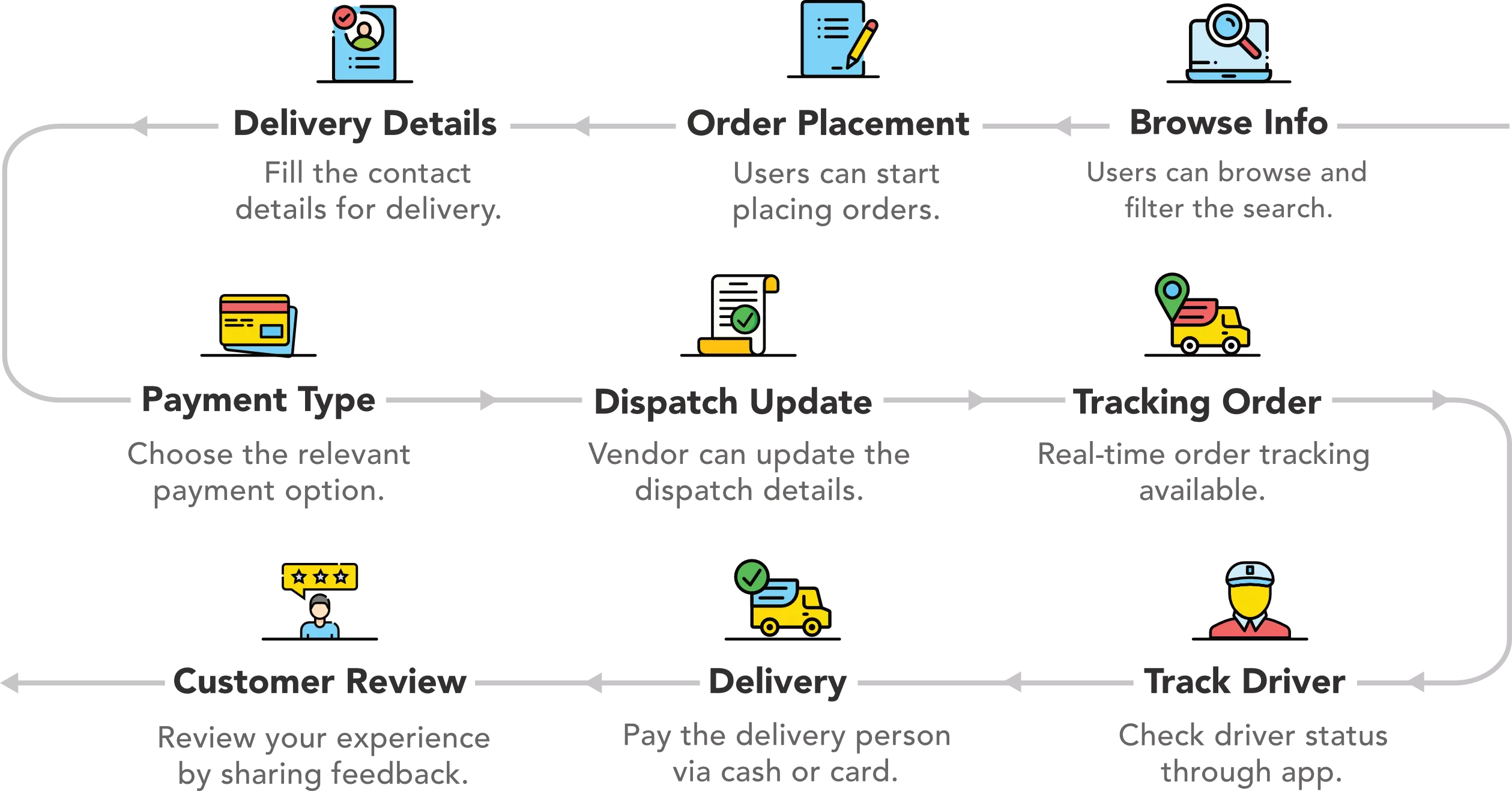 Everything You Required To Start Meat Delivery Business
Customer App
The feature-rich software connects customers to your online meat delivery business for placing orders & pay.
Merchant App
Gear up your meat delivery business with the next-gen software to serve your customers the best meat delivery services.
Driver App
The advanced driver app enables drivers to deliver delicious & tender meat hot and on time to the customers.
Web Panel
The powerful software to seamlessly manage and coordinate the operations of your meat delivery business.
Pride
Empowering Food Delivery Startups, SMBs, Franchises, And Big Enterprises Everywhere
140K
Orders Delivering every month by our Solution
48+
Countries using our solution and Growing
20,000+
Business Onboarded on our solution
1 Billion +
Revenue made with this solution and growing.
Add-On Features Of Our
Meat Delivery Solution
We do not stop at just the average for our clients. We strive to deliver the best of features, design, and technology in our readymade meat delivery app solutions. Deliver your customers more than they expect.
Loyalty Program
Show your loyal customers how valuable they are to you with the loyalty programs and turn new ones to loyal ones.
CRM
Get an integrated customer relationship manager with the online meat delivery app.
Chatbots
Customers and drivers can put their queries in the chatbot to get support in real-time.
Geo-Fencing
Auto-detect customer locations and show your services based on locations for better reach.
Proof of Delivery
Ask for digital signatures or share electronic proof of deliveries through the online meat delivery app.
Multiple language and currencies
Let customers from any city or country order the meat from your meat delivery app in their language and currencies.
Customers
Why DeOnde For Saas-Based
Meat Delivery App Solution?
The purpose is not just to make meat deliveries safer & quicker. DeOnde brings innovative features to help you scale high in Sales & ROI.
Round the Clock Support
Get 24/7 support for technical or software issues in the saas-based meat delivery app solution.
Higher visibility to customers
Reach out to more customers online with the on-demand meat delivery app solution.
Stand out from competitors.
The advanced features of the DeOnde meat delivery application allow you to stand out from your peers.
Quick time-to-market
DeOnde meat delivery applications are pre-built, and thus they are ready to launch within minutes after required customizations.
Deonde helps
How Deonde Enables
Your Success?
We offer unmatched services that tick all the squares of your
restaurant business needs and lead towards success.
Easiest
Usability
Periodic
Updates
More
Security
Regular
Maintainance
Access Anytime
Anywhere
Constant Technical
Support
No Huge Upfront
Investment
Better
ROI
99.99%
Uptime
Best User
Experience
Stories
Client Stories Revealing
Our Success
We build lasting partnerships and want to keep them strong as
our happy customers are crucial to our success.