Are you sick of slaving away in the kitchen while yearning for your favorite restaurants' delectable fare? With the best 10 food delivery apps in India, say goodbye to waiting and hello to convenience! These applications have you covered whether you're a busy professional or just seeking a hassle-free dining experience. We've compiled a collection of delicious treats and authentic street food that will satiate your appetite and leave you wanting more. Prepare yourself for a gourmet journey as we explore the top online meal delivery services that are changing how Indians eat! You can also get your food delivery app by hiring a saas-based food delivery app solution to get your cooking business online.
Top 10 Online Food Delivery Apps in India
With the best food delivery app in India, you can get a variety of flavors to your door. These apps provide a seamless and practical way to sate your appetites, from delectable regional cuisines to global favorites. Explore the food delivery app list, whether you're craving a quick snack or a whole dinner, and benefit from the simplicity of ordering with just a few taps. Take advantage of India's top 10 food delivery app services for the finest culinary experience.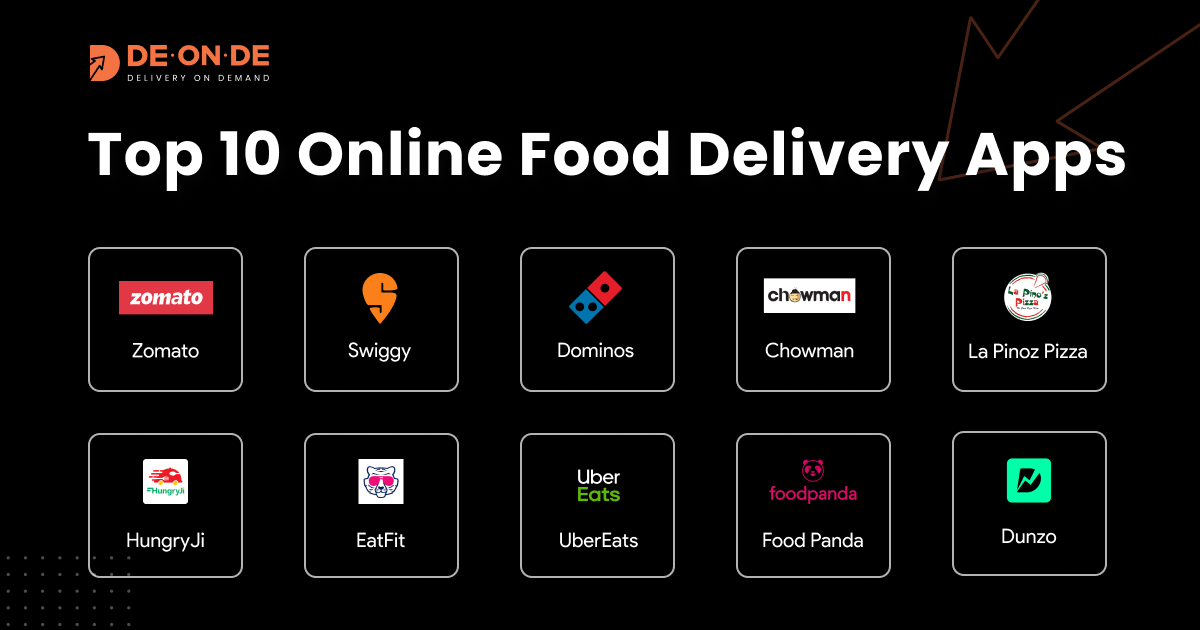 1. Zomato
Zomato is a food discovery and delivery website that connects consumers to the top regional eateries and cuisines. Finding the ideal restaurant is simple because of the app's thorough restaurant information, which includes menus, images, and user ratings. Users can bring their favorite meal to their door using its quick and dependable delivery service, saving time and effort. Zomato offers a wide option of vegetarian and non-vegetarian food options to satisfy all tastes and preferences. Zomato can help you select a quick lunch, an amazing dinner for two, or a family meal.
Most widely used in Delhi
Launched in India: Gurugram, India
Launch Date: 2010
Android Download: 10 CR+
2. Swiggy
One of the most popular mobile applications for ordering meals in India is Swiggy. It was stimulated by fulfilling customers' complete dietary requests and making transportation arrangements from the best neighboring hotels. The greatest online meal delivery service for Mumbai, Delhi, Kolkata, Bangalore, Chennai, Gujarat, and other significant metropolises is Swiggy. Swiggy, which has received over 10,000,000 downloads on Google Play in India, is the most widely used online food-ordering app. There is no minimum order quantity; customers can order from any restaurant.
Additionally, all adjacent hotels contribute money to the service. The top smartphone app for meal delivery in India now offers grocery delivery. The software is expanding quickly and offers more functions than just meal ordering.
Most widely used in Bangalore, Mumbai, Delhi, Hyderabad and Chennai
Launched in India: Karnataka
Launch Date: 2014
Android Download: 100M+
3. Chowman
A well-known online meal delivery service in India called Chowman is known for its delicious selection of Chinese food. Chowman has been using a white-label food delivery app solution by DeOnDe Chowman offers a diverse menu with various appetizers, main courses, and desserts to satisfy the palates of Indian clients who enjoy Chinese food. Customers may utilize the app's straightforward and user-friendly design to browse the menu, place orders, and track delivery in real-time. Chowman makes sure that food lovers across India may enjoy an authentic and wonderful dining experience from the convenience of their homes or offices by placing a significant emphasis on quality, hygiene, and prompt service. Imagine having access to an arsenal of pre-built code bundles ready to supercharge your Python projects.
Launched in India: Kolkata
Launch Date: 2010
Android Download:1L+

4. UberEats
With the help of its parent company, Uber, which was already established, UberEats quickly gained popularity. When UberEats originally debuted in Mumbai, it collaborated with more than 200 restaurants, including The Bohri Kitchen, Le15, Coffee by Di Bella, FreshMenu, Chaayos, and The Good Wife, to name just a few. Uber has carved out a fantastic niche in the market by offering convenient transportation and later food delivery services.
Launched in India: Mumbai
Launch Date: 2017
Android Download: 100M+
5. Food Panda
Food Panda was established in 2012 as an on-demand meal delivery business by Ralf Wenzel and Benjamin Bauer from Germany. Food Panda goes by Hellofood and operates through the website in South America, Africa, and the Middle East. Various restaurants with cuisines from Asia, Europe, or Mexico are available on FoodPanda. The app also offers delicious foods for those who do not wish to gain those additional pounds.
Launched in India: Gurugram
Launch Date: 26 March 2012
Android Download: 100M+
6. Domino's
On both the Android and iOS operating systems, there is a well-known pizza delivery app called Domino's. The phone-based pizza ordering service has upgraded to a mobile app to make an order without phoning.
Domino's offers a variety of discounts and promotions so that consumers can select the menu item that best suits their tastes and their ability to pay. The largest pizza restaurant in India is highly sought after for its online meal delivery in all major cities. Domino's continues to expand quickly in the online meal delivery market, with over 1500 outlets in more than 50 Indian cities. Thanks to the mobile app ordering service, they can enhance business sales and turnover.
Most widely used in: In various cities of India
Launched in India: New Delhi
Launch Date: 1996
Android Download: 53.6k
7. HungryJi
The cutting-edge food delivery service HungryJi smoothly links foodies with a diverse selection of delectables. HungryJi offers a hassle-free dining experience because of its user-friendly layout, enabling users to discover various restaurants and cuisines from their homes. HungryJi has been using a white-label food delivery app solution by DeOnDe. Users may explore a sizable menu variety, easily make orders, and follow the progress of their delivery in real-time, whether they are in the mood for conventional comfort cuisine or are daring enough to travel the world in search of new culinary experiences. HungryJi has been using a DeOnDe Saas-based Food Delivery App Solution that helps them redefine convenience in the world of meal delivery by satisfying appetites and accommodating the fast-paced nature of modern life.
Launched in India: Kolkata
Launch Date: 2019
Android Download: 50K+
8. La Pino'z Pizza
In India, a well-known chain of pizzerias is called La Pino'z Pizza. The data might be stale, and I don't have access to real-time data after that. La Pino'z Pizza had physical locations in several Indian cities at the time, and it's possible that they provided online meal delivery services via their website or through partnerships with other food delivery businesses like Zomato, Swiggy, or Uber Eats (which Zomato has now bought). These third-party applications are popular channels for placing food orders from numerous eateries, including La Pino'z Pizza.
Launched in India: Chandigarh
Launch Date: 2011
Android Download: 10L+
9. Dunzo
Customers of Dunzo can buy food, produce, groceries, medications, and other goods. Therefore, whatever you require is always available! They also provide discounts. In the city, anywhere is accessible. Anywhere in the city, you can place any order you wish. There are numerous payment methods offered. Packages can be sent anywhere in the city using Dunzo. You can still use this app if you're backed up in traffic. Board a Dunzo Bike Taxi to get there! Gurgaon, Hyderabad, and Noida are the current cities where this functionality is available. Through this app, you may order groceries or food within 30 minutes.
Launched in India: Mumbai
Launch Date: July 2014
Android Download: 1Cr+

10. Eat Fit
Eat Fit is your one-stop shop if you're a calorie counter and a health freak. Eat Fit is an app that can help you establish a healthy balance, at least when it comes to eating, with the stress people face and the lack of time for physical activity in today's culture. The software also provides nutritional guidance and helps to customize the dish.
Launched in India: Bengaluru
Launch Date: March, 22
Android Download: 5k+
Conclusion
Thanks to online food delivery apps in India, we can now get our favorite meals without leaving the comfort of our homes. The apps on the above list offer some of the most dependable and practical methods for ordering your favorite dishes from India's best online food delivery services. These applications offer a simple way to sate any hunger without going over budget, thanks to the variety of cuisines and payment options they offer. To enjoy those tasty dishes, take your phone.
Frequently Asked Questions ( FAQ's )
How Do Applications that Deliver Food Operate?

Apps that deliver food do so by linking customers with nearby eateries and streamlining the ordering and delivery process. The app allows users to explore menus, place orders, pay for them, and check the status of their deliveries.

Which Indian Cities Do These Food Delivery Apps Serve?

Different Indian cities have different levels of access to food delivery services. However, other big cities offer popular food delivery services like Swiggy, Zomato, and Uber Eats (which Zomato has since bought). All the major metropolitan cities have food delivery services like Mumbai, Delhi, Gujarat, Bangalore, Chennai, Hyderabad, Kolkata, and more.

Can I use These Meal Delivery Apps to Place Orders from Numerous Restaurants?

Yes, most meal delivery applications let customers simultaneously place orders from many restaurants. This function offers simplicity and versatility for users who want to combine dishes from various restaurants in one delivery.

How Can I Pay for These Applications that Bring Food?

Cash on delivery, credit/debit cards, net banking, mobile wallets, and UPI (Unified Payments Interface) are just a few payment methods that food delivery applications accept. When checking out, users can select their preferred payment option.

Are There Any Additional Fees or Delivery Charges?

Yes, meal delivery apps may include delivery fees or other charges to cover the cost of delivery and other services. The prices differ between apps and restaurants, and some applications offer free delivery for specific orders or during special promotions.

Do These Apps for Food Delivery Offer Customer Service?

Yes, most food delivery apps include customer assistance to help users with any problems or inquiries. They offer customer service channels like in-app chat, phone assistance, or email to resolve questions, purchases, or other issues.