Fuel Delivery
#1 Saas Based White Label Fuel Delivery App Solution
Set up your business within 15 minutes with our SaaS-based Fuel Delivery App Solution. Get all the features you want for rapid growth with our fully customizable fuel delivery software.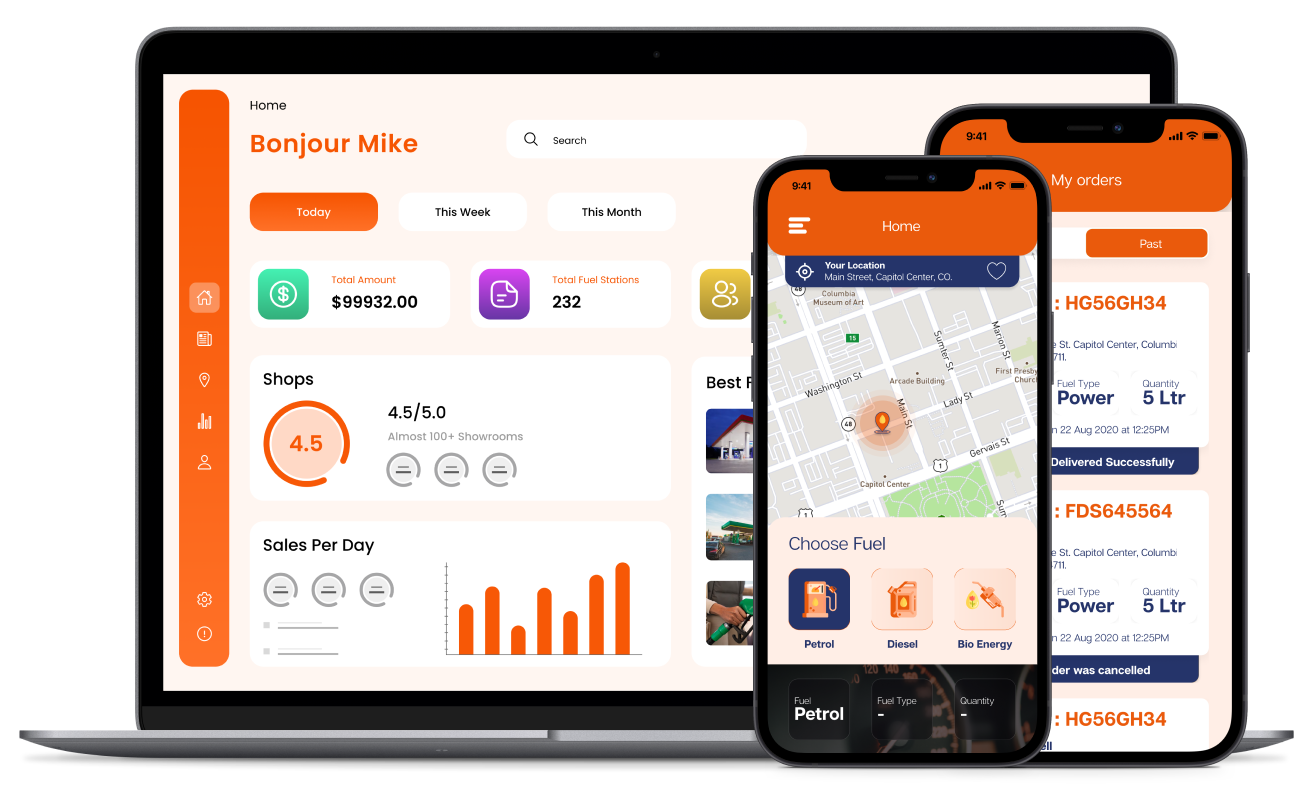 Customers
Trusted By Over Thousands Of Restaurants, Food Delivery Startups Across The World

















Manage Fuel Delivery Business With Monthly Subscription Model
Start your online Fuel delivery business today with a 100% white-label fuel delivery app solution. Serve your customers on their doorsteps and expand your brand visibility and customer reach.
Don't want to invest a huge sum in a custom fuel delivery app development solution? We have an ideal solution for you.
Our SaaS-based Fuel Delivery Solution is pre-designed with the essential features and technologies to launch your online business within minutes. The on demand fuel delivery app is fully customizable to align with your business branding and objectives.
Still worried about the budget? The fuel delivery management software requires zero upfront investment. You can use the software with complete support for regular technical upgrades for a minimal monthly subscription fee. Can't wait to launch your fuel delivery management system? Contact DeOnDe now.
How Does Our Fuel Delivery Solution Works?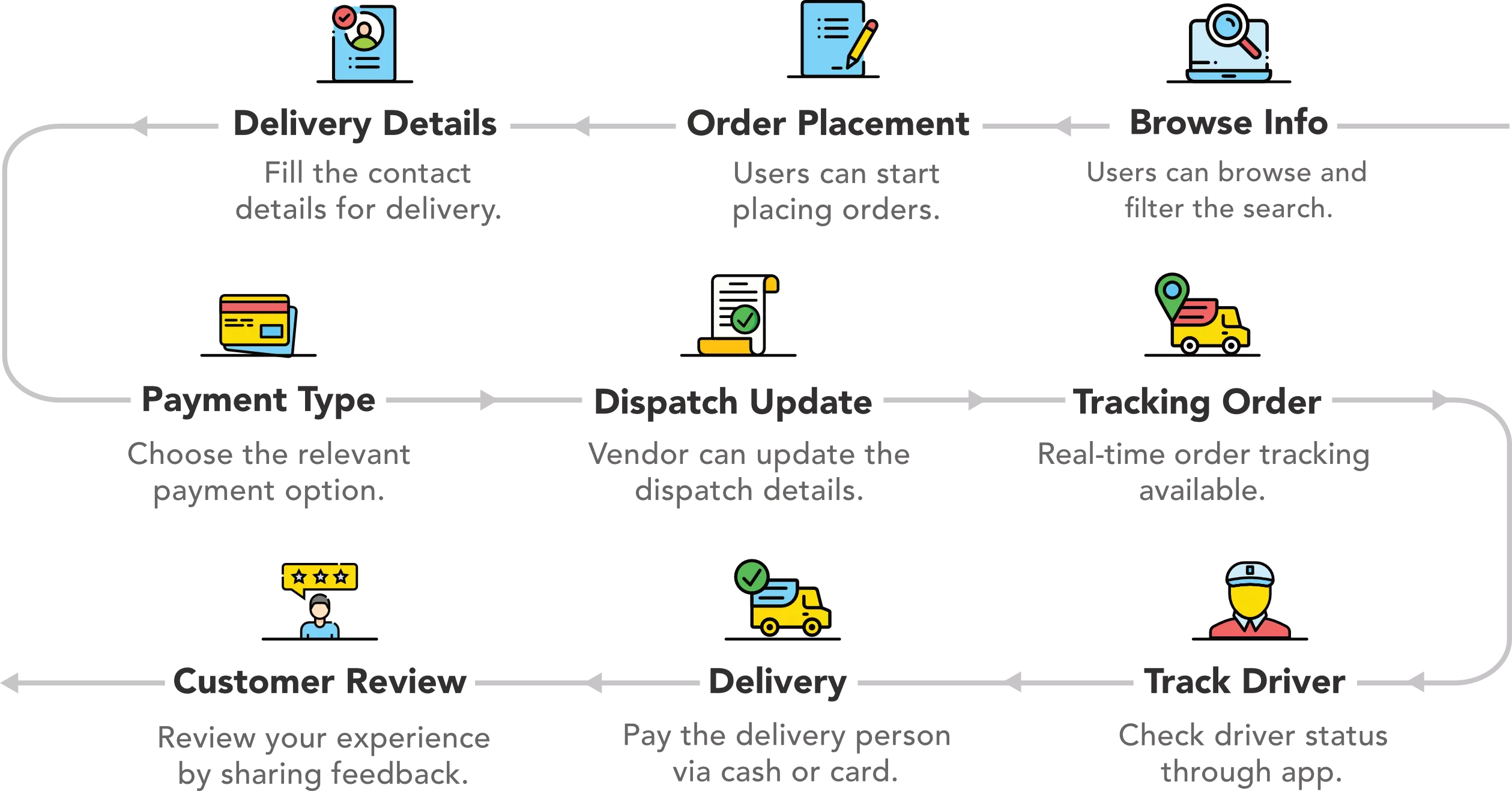 Everything You Require To Start Fuel Delivery Business
Customer App
Deliver ultimate convenience with a feature-packed customer app with seamless online fuel delivery ordering and payments.
Vendor App
The Vendor app is designed to streamline and automate the operations of your business for effortless deliveries.
Driver App
Ensure timely fuel deliveries with the robust features of the driver app and build your business reputation.
Web Panel
The robust admin software is here to help you manage all your business operations at one place.
Pride
Empowering Food Delivery Startups, SMBs, Franchises, And Big Enterprises Everywhere
140K
Orders Delivering every month by our Solution
48+
Countries using our solution and Growing
20,000+
Business Onboarded on our solution
1 Billion +
Revenue made with this solution and growing.
Add-On Features Of Our
Fuel Delivery Solution
Want to get higher conversions for your fuel delivery app? Simply offer them more than your competitors provide. We help you uplevel your online fuel delivery business with the add-on features for your business.
Upfront Pricing
Customers can see their previous orders in the order history and also repeat an order.
Delivery Scheduling
Schedule your fuel and gas delivery before hand to ensure you have enough gas at the last minute.
Multiple Payment Options
The fuel delivery management system software offers multiple payment options to make payment convenient.
Add Fuel Stations
Fuel business owners can add or remove fuel stations from the app. They can also add the latest information to update the app.
Number Masking
The number masking feature helps users hide their numbers from the drivers for better privacy and security.
Mobile Wallet
Users can save money in the wallet integrated with the fuel delivery app to ease the payments.
An Insight View Of Our Solution
DeOnDe ensures that interface designs are crafted with complete attention to detail. Look how your fuel delivery app will look like.
Customers
Why DeOnde For Saas-Based
Fuel Delivery App Solution?
DeOnDe delivers exceptional fuel delivery software solutions that redefine user experiences. With a focus on user-centric design principles and state-of-the-art technology, we bring a fresh perspective to fuel delivery software as a service.
Zero Commissions
Choose our monthly subscription plan and reach your target audience with minimal investments. Outgrow your competitors seamlessly.
Rich Portfolio
DeOnDe has helped many businesses establish their online business presence with our diverse portfolio and proven track record.
Innovative Design Solution
Fuel delivery app solutions are designed keeping the end users in mind. The apps offer user-friendly interactions that encourage continued usage.
Cutting-Edge Technology
The fuel delivery app is crafted leveraging the latest technologies. We ensure to provide the most advanced features for higher convenience.
Deonde helps
How Deonde Enables Your Success?
Fuel up your business growth with DeOnDe Advantage. Reach for the Stars with On-demand Fuel Delivery Apps.
Easiest
Usability
Periodic
Updates
More
Security
Regular
Maintainance
Access Anytime
Anywhere
Constant Technical
Support
No Huge Upfront
Investment
Better
ROI
99.99%
Uptime
Best User
Experience
Frequently Asked Question
We sign a non-disclosure agreement to keep the business data private and confidential.
Absolutely! The fuel delivery app can be tailored to reflect your brand's unique identity, including logo, color scheme, and branding elements.
The online fuel delivery app provides detailed reporting and analytics tools to track sales, customer behavior, and inventory management, helping you make data-driven decisions.
Setting up the app for your business takes little time, and our team will assist you throughout the process to ensure a smooth transition.
Yes, the app allows you to adjust delivery zones and expand your reach as your business expands, giving you flexibility as you grow.
Stories
Client Stories Revealing
Our Success
We build lasting partnerships and want to keep them strong as
our happy customers are crucial to our success.
Want to drive your fuel business to the next level?
Launch your online fuel delivery business today with the Saas-based fuel delivery app solution.
Request a Demo