Multi Delivery
Saas-based White-label Multi-Delivery App Solution
Do you deal in a wide range of products? The Saas-based Multi-Delivery App Solution can revolutionize how you manage deliveries. Streamline and optimize your delivery operations like never with white-label multi-delivery app solutions.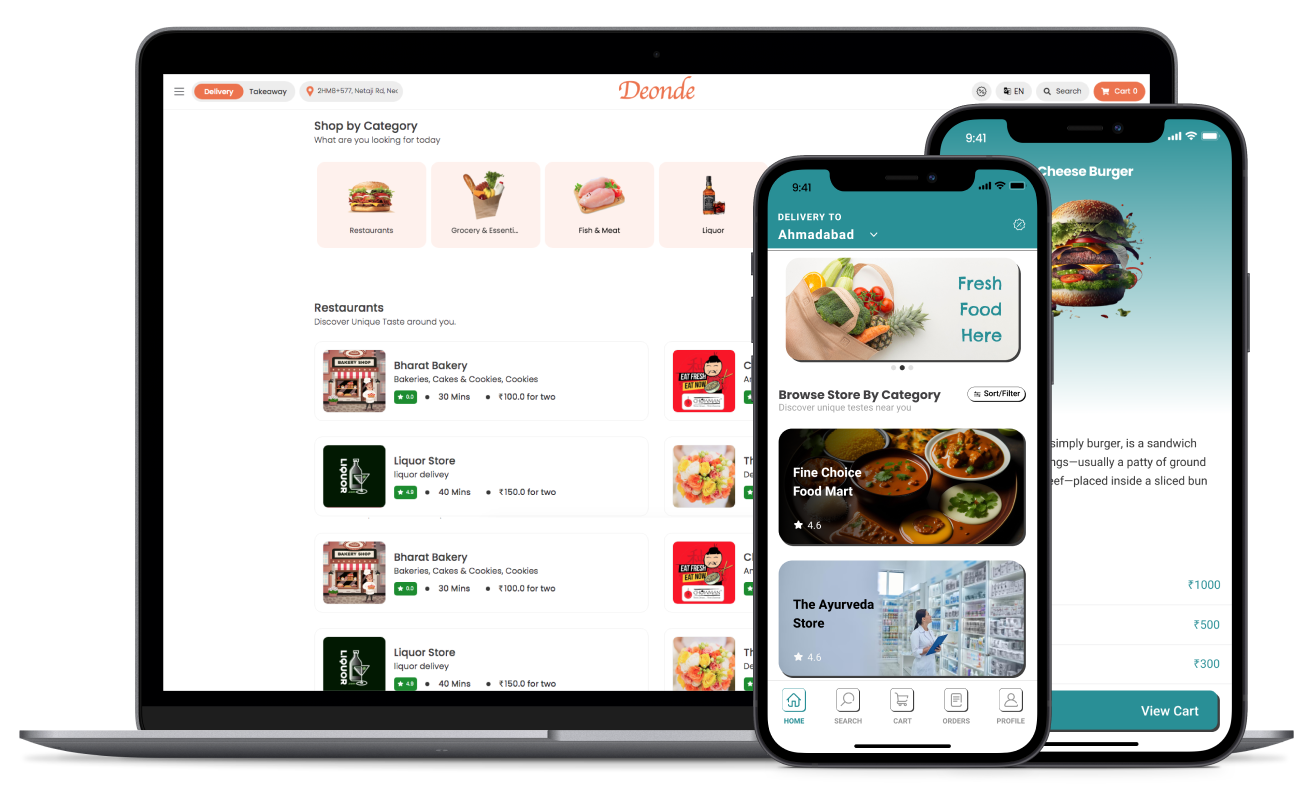 Customers
Trusted By Over Thousands Of Restaurants, Food Delivery Startups Across The World

















Manage Multi-Delivery Business With Monthly Subscription Model
Want to take your multi-delivery business online with no hassles? Enter the market with our SAAS-based multi-delivery app solution in less than 30 minutes. The white-label multi delivery platform is fully customizable and scalable for growing needs.
With a SaaS-based multi-delivery app solution, you can start your online delivery business with no upfront investments. You can expand your reach on iOS and Android platforms, widening your customer base.
The white-label on-demand delivery app streamlines ordering, deliveries, and inventory. Run and expand your business 10X faster with security and robust technical support so that you can focus more on sales and revenue.
Can't wait to launch your Multi Delivery Management System Software? Contact DeOnDe today and get started today.
How Does Our Multi Delivery Solution Works?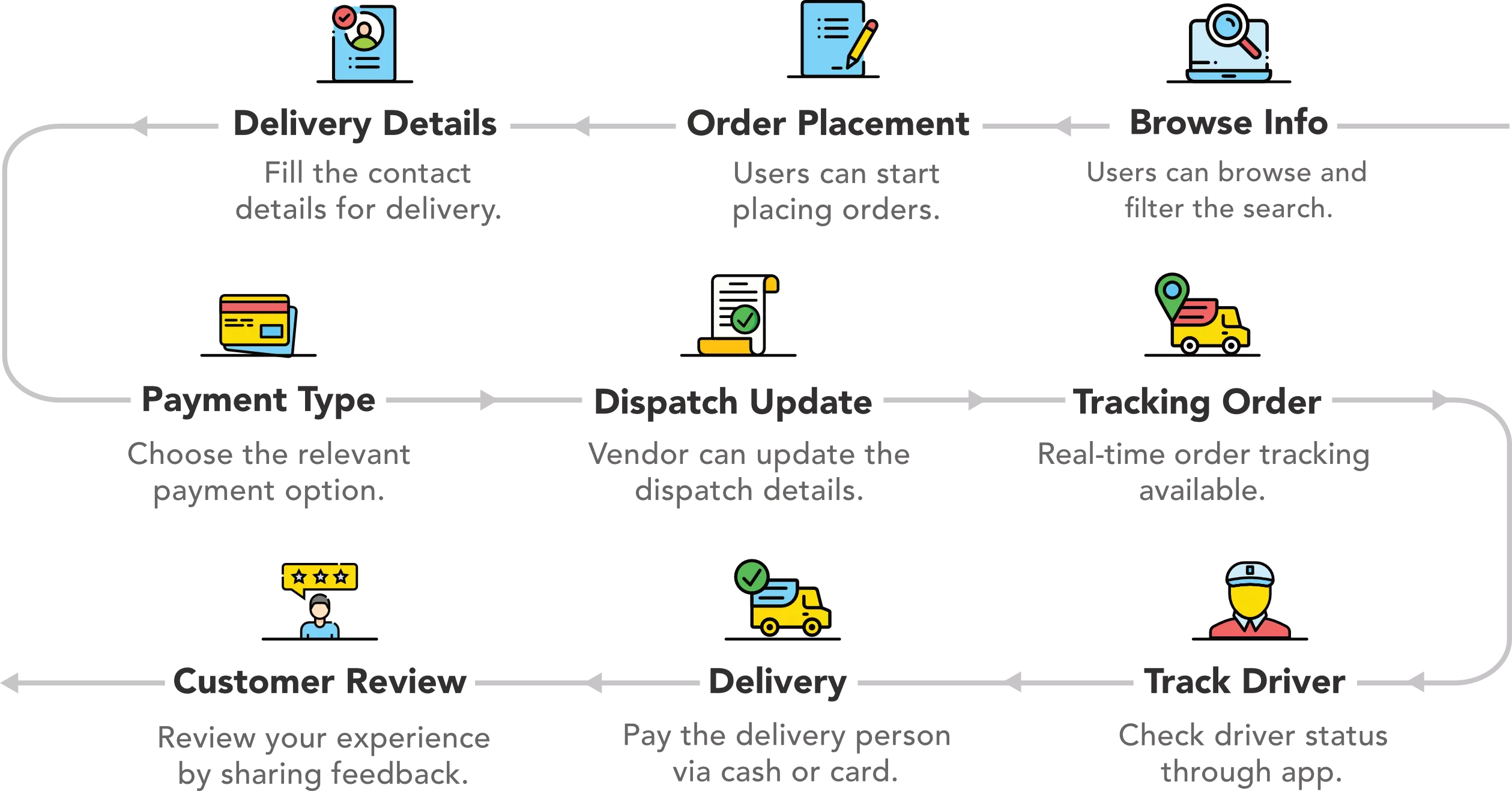 Everything You Require To Start Multi Delivery Business
Customer App
Get a feature-packed customer app for seamless online multi delivery ordering and payments.
Vendor App
Streamline the operations of your multi delivery business easily with the dynamic vendor app.
Driver App
Delivering products on time is the key to your business success and reputation. Make timely deliveries without fail.
Web Panel
Manage and Coordinate all your business operations in a single place with robust admin software.
Pride
Empowering Food Delivery Startups, SMBs, Franchises, And Big Enterprises Everywhere
140K
Orders Delivering every month by our Solution
48+
Countries using our solution and Growing
20,000+
Business Onboarded on our solution
1 Billion +
Revenue made with this solution and growing.
Add-On Features Of Our
Multi Delivery Solution
Want to maintain a competitive edge in your industry? Present your customers with a suite of additional features with our saas-based multi delivery app solution that bring them unparalleled convenience.
Multi-Language Support
Deliver your services to any country as an online multi-delivery solution supports multiple national and international languages.
Payment Convenience
Let your customers pay at their convenience. The white-label Multi delivery app supports multiple payment gateways.
Inventory Management Options
Managing multiple products can be chaotic. We make it easy to manage your inventories with the On-demand Multi Delivery App.
Contactless Ordering
The saas-based multi-delivery app solution supports QR code ordering and payments for higher security of transactions.
Referral System
Promote your multi-delivery app by running a referral reward program. Allow users to earn rewards for each refer.
Invoice Generation
With the SaaS-based multi-delivery app solution, create invoices for each sale and send them to the customers.
An Insight View Of Our Solution
Deliver the ultimate convenience of shopping with our multi-delivery marketplace. Discover the designs equipped with the latest technologies.
Customers
Why DeOnde For Saas-Based
Multi-Delivery App Solution?
DeOnDe's multi-delivery apps enable rapid business growth, ensuring secure and prompt deliveries. Saas-based multi-delivery software boosts your sales and ROI with cutting-edge technology and innovation.
Scalable Solution
With our Software as a Service (SaaS) approach, you can enjoy the benefits of a flexible and scalable solution for growing needs.
User-Friendly App
The SaaS-based multi-delivery apps offer user-friendly interface designs for easy ordering and payments.
100% Customizable Solution
The on-demand multi-delivery app is fully customizable. Tailor it to match your branding and specific business requirements.
100% Secure Apps
Your data's security is our priority. All your business data is safe with encryption and the best security practices.
Deonde helps
How Deonde Enables Your Success?
Outpace your competitors with streamlined operations and deliveries. Speed up your growth with DeOnDe.
Easiest
Usability
Periodic
Updates
More
Security
Regular
Maintainance
Access Anytime
Anywhere
Constant Technical
Support
No Huge Upfront
Investment
Better
ROI
99.99%
Uptime
Best User
Experience
Frequently Asked Question
People nowadays like to get all the products and services in one place. An online multi-delivery application offers the convenience to customers to get all they need together. Thus, business owners can serve a wide variety of audiences.
You can research and find top readymade grocery delivery solution providers online. Look for their experience, past projects, and company reviews from previous clients.
The saas-based multi-delivery apps are ready-made and have all the features pre-built. The app customization does not require much time. So , the applications can be launched within an hour or a few days.
The users can browse the products, add to the cart, and place an order. The store owner receives the order; they prepare it for delivery. The delivery person delivers the order using the map and navigation. Customers and store owners can both track the order till delivery in real-time.
Yes, the multi-delivery application supports multiple payment gateways and customers can pay in any currency.
Stories
Client Stories Revealing
Our Success
We build lasting partnerships and want to keep them strong as
our happy customers are crucial to our success.
Ready to launch your multi-delivery app with no investment?
Streamline your business deliveries and operations with one app for all your deliveries.
Request a Demo