Launching an alcohol delivery business allows entrepreneurs to tap into the rapidly growing demand for convenient and on-demand liquor delivery. With more consumers than ever appreciating the ability to get beer, wine, and other alcoholic drinks delivered affordably to their door, starting a Liquor Delivery Business presents a compelling opportunity.
However, building a successful alcohol delivery operation from the ground up needs precise planning and execution across many fronts – from obtaining licensing to developing your technology platform, configuring smooth operations, recruiting delivery partners, marketing your services, and more.
So, the global alcohol e-commerce market, which is expected to grow by 66% from 2020 to 2025, reaching $42 billion by the end of this period, showcases how lucrative this business space is in the coming time.
This comprehensive guide covers everything you need to know about How to Start Alcohol Delivery Business with better reach or how to start a liquor business with Our SaaS-based Liquor Delivery App Solution. Let us explore the step-by-step process for capitalizing on this booming sector.
Evaluating the Market Potential of On-demand Alcohol Delivery Business
You must conduct in-depth market research and explicit analysis to determine if there is sufficient demand for alcohol delivery services in your geographic area. Key areas to analyze include: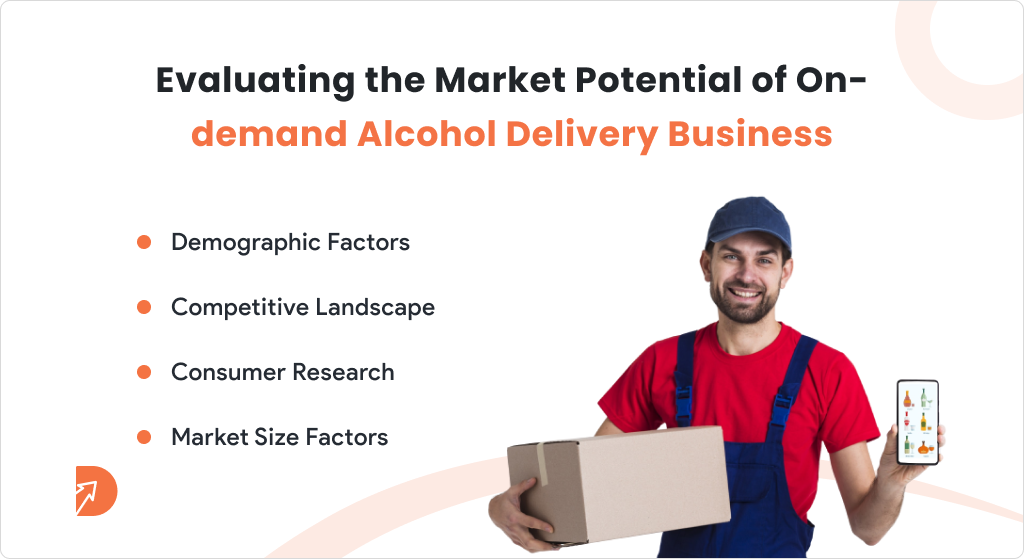 1. Demographic Factors
Study population demographics and density patterns across different neighbourhoods, districts and areas around your city or region. Identify zones with higher concentrations of millennials, professionals, urban dwellers, and other demographic groups that form ideal target audiences for on-demand delivery services. These tend to be busier consumers who value convenience.
2. Competitive Landscape
Research which other alcohol delivery companies and services already operate in your locality. Analyze their pricing, product selection, delivery minimums, service areas, and other factors to spot potential weaknesses or gaps you could improve upon. The less competition, the better.
3. Consumer Research
Conduct surveys and interviews with prospective customers to directly gauge their interest in using an alcohol delivery service. Get feedback on their pricing sensitivity, convenience expectations, product needs and interests to inform your own service offering.
4. Market Size Factors
Look at alcohol consumption statistics and eCommerce trends more broadly in your state and region to determine the addressable market size and growth potential. Rising demand and online alcohol purchases suggest greater viability.
Completing this upfront market research gives you the data needed to determine if launching an alcohol delivery service in your area makes strategic sense.
A Detailed Business Plan for On-demand Liquor Delivery Service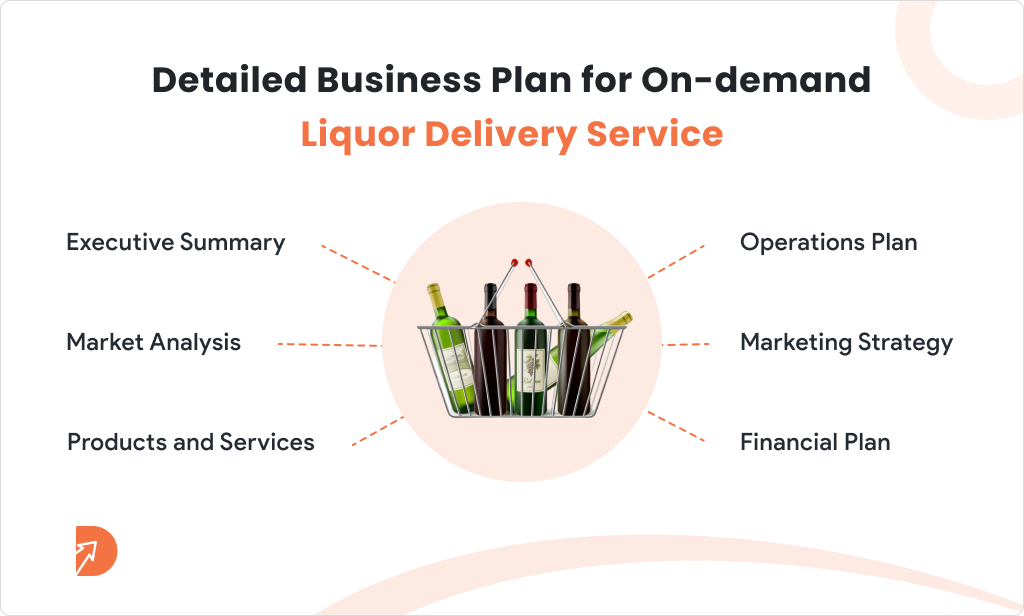 Once your homework validates the market opportunity, the next step is developing a comprehensive business plan for liquor stores. This will be your blueprint for success. Key sections to cover:
Briefly summarize your alcohol delivery service or product model, vision, mission and value proposition.
Summarize your research findings on competitive landscape, target demographics, consumer demand factors and addressable market size.
Describe in detail the exact alcohol delivery offerings you plan to provide – types of alcohol selection, delivery times, service zones, order minimums, etc.
Map out operational logistics including inventory management, order processing workflows, recruitment and management of drivers, ID verification procedures, customer support protocols and other core functions.
Outline promotional strategies for customer acquisition and building awareness of your alcohol delivery services.
Provide projections on startup costs, operational expenses, milestones and expected profitability timelines.
Having a clearly defined business plan establishes a roadmap for building your alcohol delivery business and securing financing. It will evolve over time as you gain insights.
Build Your Alcohol Ordering Platform with DeOnDe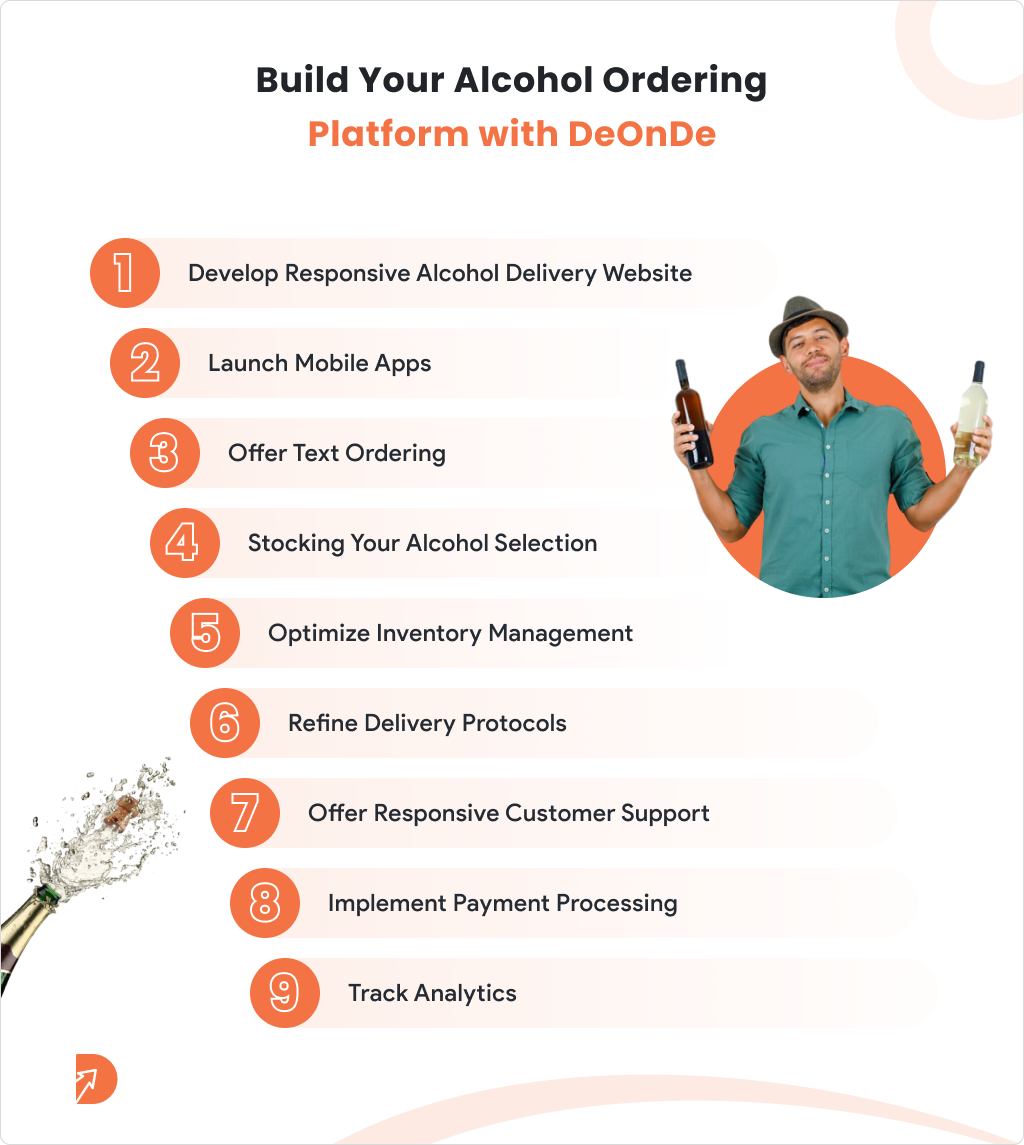 To accept online alcohol delivery orders, you need to build out your own branded platforms:
1. Develop Responsive Alcohol Delivery Website
Have a modern, mobile-friendly website designed and developed to showcase your offerings, allow for convenient alcohol browsing, and facilitate online ordering.
2. Launch Mobile Apps
Create custom-branded iOS and Android-supported best alcohol delivery apps to enable alcohol orders and delivery tracking on smartphones.
3. Offer Text Ordering
Allow customers to conveniently order alcohol via SMS text messaging. For quick startup, you can use an off-the-shelf SaaS liquor delivery service app solution that provides ready-made white-label apps. For full control and customization, have your platforms built from scratch by web and app developers.
4. Stocking Your Alcohol Selection
Partner with local liquor stores, wine shops, breweries, vineyards, restaurants, and other suppliers to feature their inventory on your platforms. Offer a wide selection of beers, wines, spirits and other alcoholic beverages across styles, brands, and price points. Manage quantities closely based on demand.
5. Optimize Inventory Management
Closely track inventory levels across all alcohol types using accounting software. Monitor usage trends. Reorder from suppliers before stocking out. Perform regular inventory audits and cycle counts. Prevent loss.
6. Refine Delivery Protocols
Monitor key delivery performance metrics including delivery times and routes. Make data-driven tweaks to driver management like schedules, zones, and routing to maximize efficiency. Provide customers with order tracking and ETAs.
7. Offer Responsive Customer Support
Set up multi-channel customer service through phone, email, chat, social media and in-app messaging. Quickly resolve order issues, delivery complaints and other questions. Follow up with customers on fixes.
8. Implement Payment Processing
Integrate seamless payment acceptance into your ordering platforms and apps. Accept payments through credit and debit cards, mobile wallets and systems like PayPal.
9. Track Analytics
Leverage your data to gain operational insights. Track key metrics across marketing, orders, inventory, deliveries, drivers, customer engagement and financials. Organize dashboards and reports for analytics.
Marketing of Your On-Demand Alcohol Delivery Services
Execute marketing initiatives to generate awareness and trial of your new service:
Search and social media advertising targeted locally
Direct mail campaigns with coupons
Promo codes to incentivize first-time orders
Cross-promotions with restaurants, bars, and vendors
PR and influencer outreach for media coverage
Live demos at local events
Continuously measure marketing performance and optimize your digital marketing strategies based on data.
Estimating Startups and Operational Costs
Adequately funding your alcohol delivery business is vital for success. Be ready to cover both initial startup costs and ongoing operational expenses:
A. Common Startup Costs
Market research
Business formation and licensing
Legal, accounting and consulting
Alcohol delivery service app and web development
Office furnishings, supplies and equipment
Starting inventory and stock
Vehicle branding and wraps
Hiring and training initial staff
Insurance policies
Rent deposit
Contingency buffer
B. Ongoing Operating Expenses
Software and services subscriptions
Inventory restocking
Delivery driver payroll and commissions
Vehicle maintenance and fuel
Rent and utilities
Marketing and advertising
Insurance premiums
Accounting, legal and consulting
Contingency funds
Keys to Launching a Successful Alcohol Delivery Business
Starting an alcohol delivery service from scratch involves many moving parts. Keep these tips in mind:
Immerse yourself in understanding the local market dynamics before launching. Identify gaps in competition and consumer needs.
Choose scalable technology that won't bottleneck order processing or deliveries as you grow.
Build partnerships with quality local suppliers to offer a broad, curated alcohol selection catering to all tastes.
Make legal compliance, public safety, and responsible service your top priority, not growth alone.
Hire diligent drivers with great judgment and treat them well through competitive pay, training, and support. They represent your brand.
Provide best-in-class customer service. Be reliable, responsive, and compassionate in resolving any issues.
Continuously improve operations, apps, delivery, and marketing based on data insights and reviews.
Adopt an agile mindset, evolving your model based on shifts in the competitive and consumer landscape.
The demand for convenient alcohol delivery will continue rising. Follow this playbook for evaluating the opportunity, crafting a business plan, obtaining licenses, building technology, configuring operations, recruiting staff, purchasing inventory, marketing your services, and estimating budgets.
Apply these best practices, execute strategically, and you can turn your idea into a thriving alcohol delivery business in this high-growth sector. Deliver value, selection and convenience responsibly to become the premier local option. Meet this consumer need better than competitors, and your startup can flourish.
How to Start Alcohol Delivery Business Operations: Step-by-Step Guide
Now that we've covered the startup steps at a high level, let's explore more details on configuring your core alcohol delivery operations for efficiency, compliance and customer satisfaction.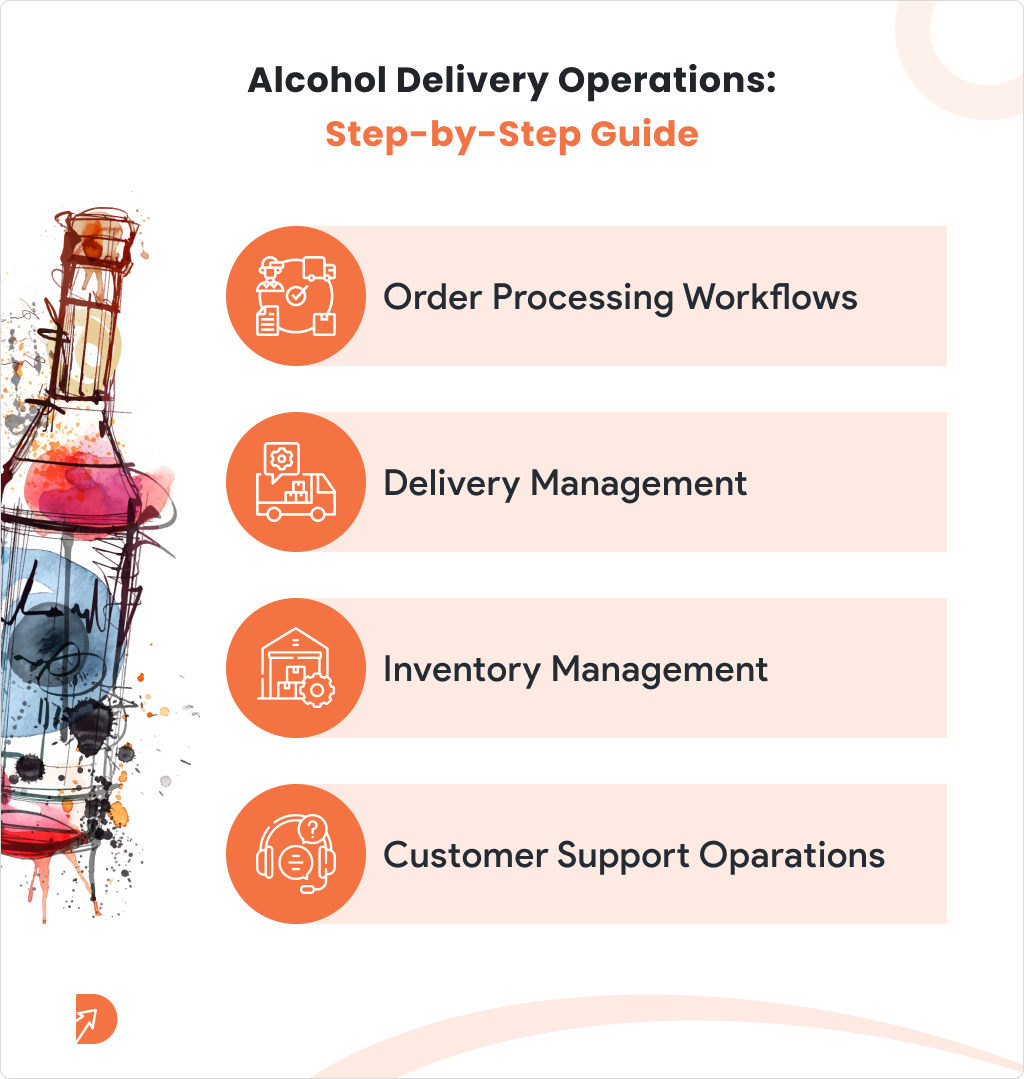 1. Order Processing Workflows
Implement seamless order processing, fulfillment and delivery workflows:
Customers browse alcohol selection online and complete checkout with billing details.
Orders are received into your system with details on items, quantities, delivery address and special instructions.
Valid age and ID are confirmed against your customer database. Underage orders are rejected.
Inventory availability is verified, and items are picked at your warehouse or vendor location.
Orders are assigned to nearby drivers through automated dispatch based on location proximity.
Customers receive texts and app notifications as their order is confirmed, picked up by the driver, and completed.
Drivers undergo ID verification again upon alcohol hand-off to prevent underage delivery.
Optimize this workflow continuously based on order volume patterns. Ensure smooth hand-offs between your eCommerce platform, inventory and accounting systems, automated dispatch, and the driver app.
2. Delivery Management
Set up efficient driver scheduling based on demand forecasting and Geo-grouping orders. Balance order assignments and deliveries across your fleet.
Share feedback from customers on specific drivers, both good and bad. Coach them accordingly.
Incentivize reliable, high-performing drivers through bonus pay, awards and recognition.
By managing your driver workforce closely, you ensure professionalism, compliance, and satisfied customers.
3. Inventory Management
Tight inventory controls are crucial given the value of alcohol stock. Best practices include:
Maintain organized, climate-controlled warehouse space for incoming inventory and order staging.
Utilize barcode scanning and bin locations to precisely track stock counts across SKUs.
Integrate your eCommerce platform with accounting software for real-time visibility into stock levels.
Reorder proactively based on average weekly consumption rates so you don't stock out.
Perform frequent inventory cycle counts and audits. Investigate and document any discrepancies.
Secure your warehouse against theft. Limit keycard access. Install security cameras.
Smooth, transparent inventory management minimizes costly errors and stockouts while maximizing sales.
4. Customer Support Operations
Providing responsive support ensures happy customers and repeat orders.
Offer omnichannel support via phone, email, chat, social media, and in-app messaging. Meet response time SLAs (e.g., under 5 minutes for chat).
Empower support staff to quickly resolve common issues like missing items, delivery delays, returns and refunds.
Follow up with customers via channels like SMS to confirm issues are fixed. Seek feedback.
Track common questions and complaints to proactively improve service.
Thank customers for feedback and promote future discounts to win back dissatisfied users.
By optimizing support workflows, you consistently meet (and exceed) customer expectations.
Also Read: Top 5 Alcohol Delivery Apps
Evaluating Alcohol Delivery Software Solutions
A robust technology stack is required to operate an alcohol delivery service efficiently while ensuring legal compliance. Here are popular solutions for key functions: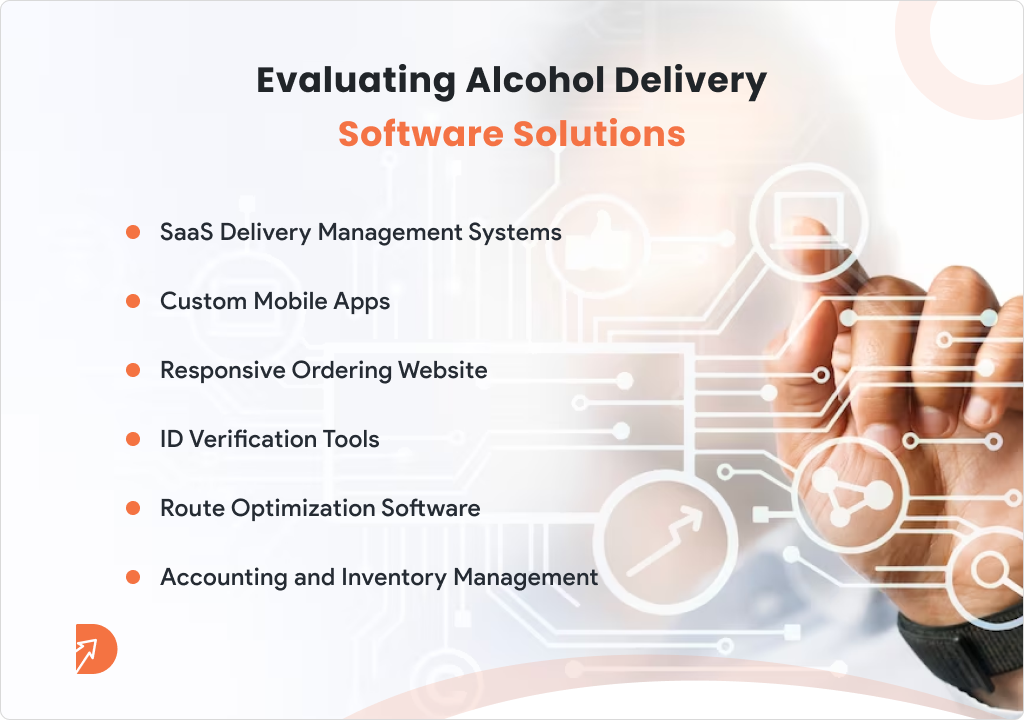 1. SaaS Delivery Management Systems
Turnkey SaaS platforms offer complete SaaS-based liquor delivery app solutions with:
Native mobile apps for customers on iOS and Android
Dispatcher portal for managing drivers and deliveries
Retailer portals for managing inventory and orders
Driver apps with navigation, customer contact, and ID verification
Back-end workflows covering order routing, tracking, inventory syncing, and more
Our software solutions enable launching your alcohol delivery operations faster without complex software development.
2. Custom Mobile Apps
For a more custom-branded customer experience, have your alcohol ordering and delivery tracking mobile apps natively built for iPhone and Android. Hire mobile developers to tailor the apps to your brand, integrations, and functionality.
3. Responsive Ordering Website
To complement your mobile apps, leverage web developers to build an intuitive ordering website optimized for all devices. Allow online browsing of your alcohol selection and streamlined checkout.
4. ID Verification Tools
Specialized SDKs integrate into your mobile apps to automatically scan and authenticate customer IDs, cross-referencing law enforcement databases for accuracy. This provides an added layer of age and identity verification.
5. Route Optimization Software
Tools allow you to visualize delivery zones, dynamically optimize routes based on traffic patterns, batch orders and provide real-time order tracking.
6. Accounting and Inventory Management
The right combination of turnkey SaaS solutions, purpose-built tools and custom-developed apps sets your alcohol delivery operations with accounting and inventory management up for success.
Key Takeaways
Launching your own alcohol delivery startup allows you to capitalize on the demand while building an exciting business. However, attaining success requires an intelligent strategy encompassing thorough market research, well-designed tech platforms, strategic operations, standout digital marketing, and more.
Follow this comprehensive blog covering the startup steps, operational guidelines, software solutions, and keys to growth. Apply these alcohol delivery business best practices, stay laser-focused on delighting your customers, and your entrepreneurial aspirations can flourish.
Many liquor businesses find it tough to deal with investments for designing and developing a liquor delivery app. DeOnDe assists you in getting the same online liquor or alcohol delivery solution on monthly rental, which helps you easily deal with your budget. Connect with DeOnDe team to get a comprehensive demo of our liquor delivery app solution.