Is it exciting for you to try innovative business strategies? Do you want to acquire anything with little work? If you answered "yes" to both questions, you will find that online meal delivery services are a lifesaver.
The food industry has seen a vital change with the advent of doorstep delivery services. If you want to know the factors that have contributed to this shift, and if there is a service provider you may explore as a case study to learn more about this industry, then you have landed at a precise place.
Let us start with the fact that any startup may become an industry leader with the appropriate technological edge today. One such sector is the meal delivery service marketplace. These days, it is easy to find an app that can assist with ordering food and have it delivered to the doorstep within an hour. These applications are revolutionizing the food sector and making customers' lives simpler.
The meal delivery sector will boom in the coming time, with some copying the Deliveroo business model and others developing their own. Deliveroo is one company that has found great success by capitalizing on Online Food Delivery Business and technology. So, let us explore what Deliveroo does?
Deliveroo Business Model: How Food and Grocery Delivery Platform Works Precisely?
Using their website or mobile app, customers equally leverage business model by Deliveroo by placing orders from local restaurants that offer delivery service.
The marketplace does not operate its kitchen but works with several other eateries to fulfil consumer orders. For this reason, it mediates interactions between eateries and customers.
So, the question here is how does Deliveroo work? Deliveroo works as an online meal delivery company and operates on an aggregator strategy. Startups and budding business owners with low starting capital might benefit the most from an aggregator Deliveroo marketing strategy.
Deliveroo app facilitates transactions between users and restaurant nts to exchange food and money without interfering directly. Their mechanism for doing so involves a marketplace platform and online food delivery business application.
Some online food businesses use the aggregator approach to build a marketplace with in-house delivery options, while others work with external vendors. Any way you look, an aggregator provides a place for eateries to list their offerings, accept payments, and arrange delivery.
Let us break down the various components of the Deliveroo business model and identify its income streams now as you have a clarity of how this company works.
Deliveroo Business Model & Revenue Model Canvas
Here we have explained Deliveroo Business Model Canvas. This includes key partners, activities, resources, customer relationships, customer segments, channels, revenue streams and Deliveroo cost structure.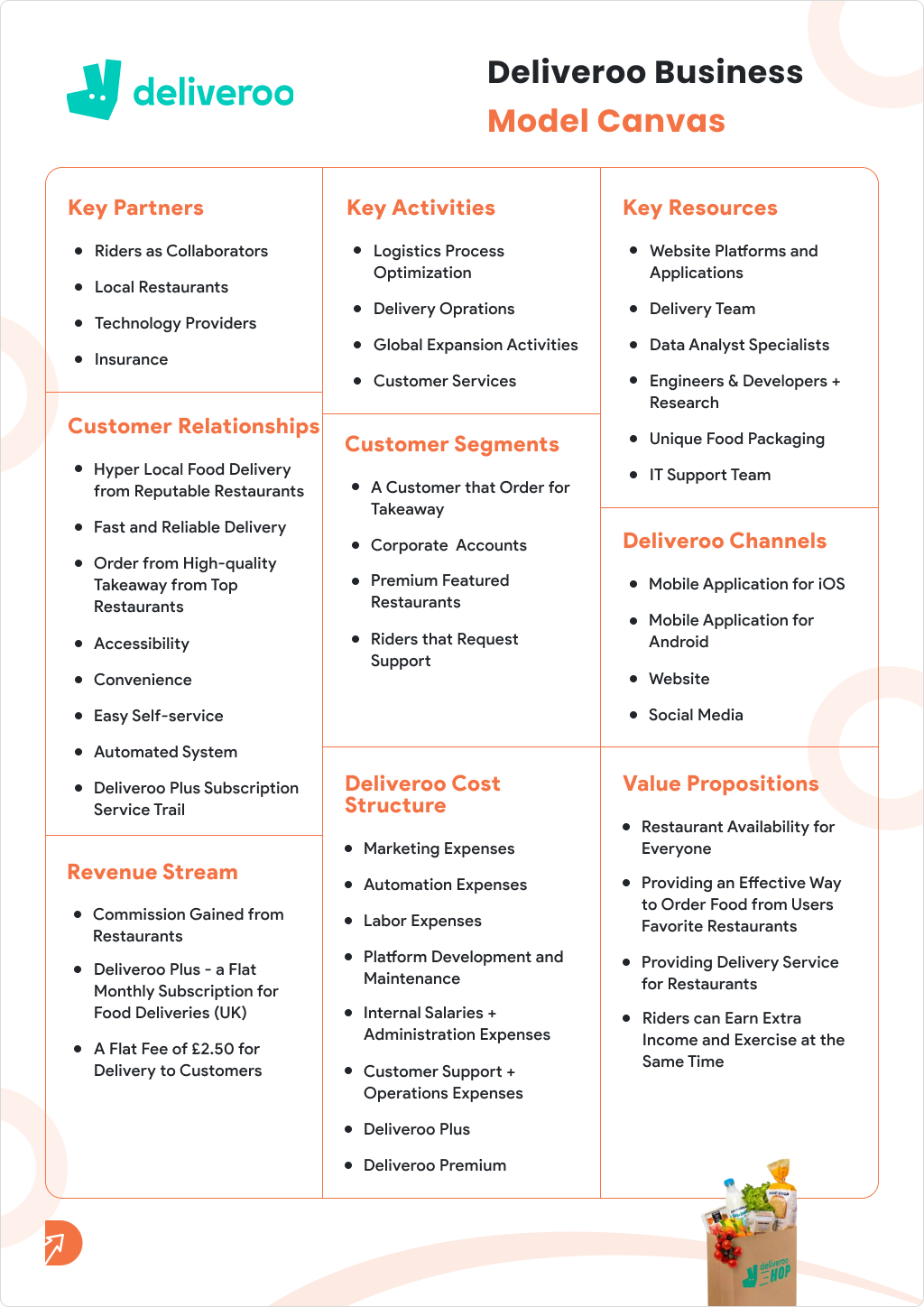 Significant Components and Benefits of the Deliveroo Business Model
Users of the platform and dining establishments make up Deliveroo's two primary types of customers. The portal connects eateries with customers who want to purchase meals online. The online food delivery marketplace further enables and benefits both parties.
Offers Enhanced Value to Restaurants
Values that Deliveroo brings to the table for restaurants include increased client access, decreased business risks, and enhanced reputation. Simultaneously, it offers user-friendliness, affordable menu options, and doorstep delivery.
With delivery fees as low as £2.50, the Deliveroo food delivery behemoth in the UK provides more value to restaurant owners. Deliveroo is not only a platform; it also offers delivery services for restaurants so they can reach more customers. Customers like the fast service, which may bring their food swiftly. Having more dining options on the platform is beneficial to customers as well.
Enable Methods of Interaction
Through its website and mobile app, Deliveroo communicates with its user base. It even leverages social media platforms and other digital marketing tools to converse with its clientele outside their portals.
While its focus is on the United Kingdom, Deliveroo works with partners like Grab across South and Southeast Asia. Deliveroo is the official takeout service for the Norwich Football Club and the Southeast Asian partner.
Deliveroo's online marketplace platform (website + mobile app) is the most important tool for the business. In addition to the technology, the platform also benefits from the efforts of delivery personnel, support staff, and engineers.
Takes Important and Frequent Steps
Deliveroo prioritizes platform upkeep so it may continue adding value for its user base and the restaurants it partners with. It is the platform itself and the delivery team, the maps, and the real-time monitoring of orders that make it so effective.
Now that you know how the business model Canvas by Deliveroo operates, you must examine how they profit from their platform.
How Deliveroo – A Leading Food and Grocery Delivery Company Makes Money?
So, now the question is how does Deliveroo make money? Deliveroo, like many other companies, operates on a commission and fee basis. The consolidation of many enterprises and stakeholders produces money. APIs and distribution mechanisms contribute to the company's primary revenue sources. Deliveroo receives financial support from the following sources.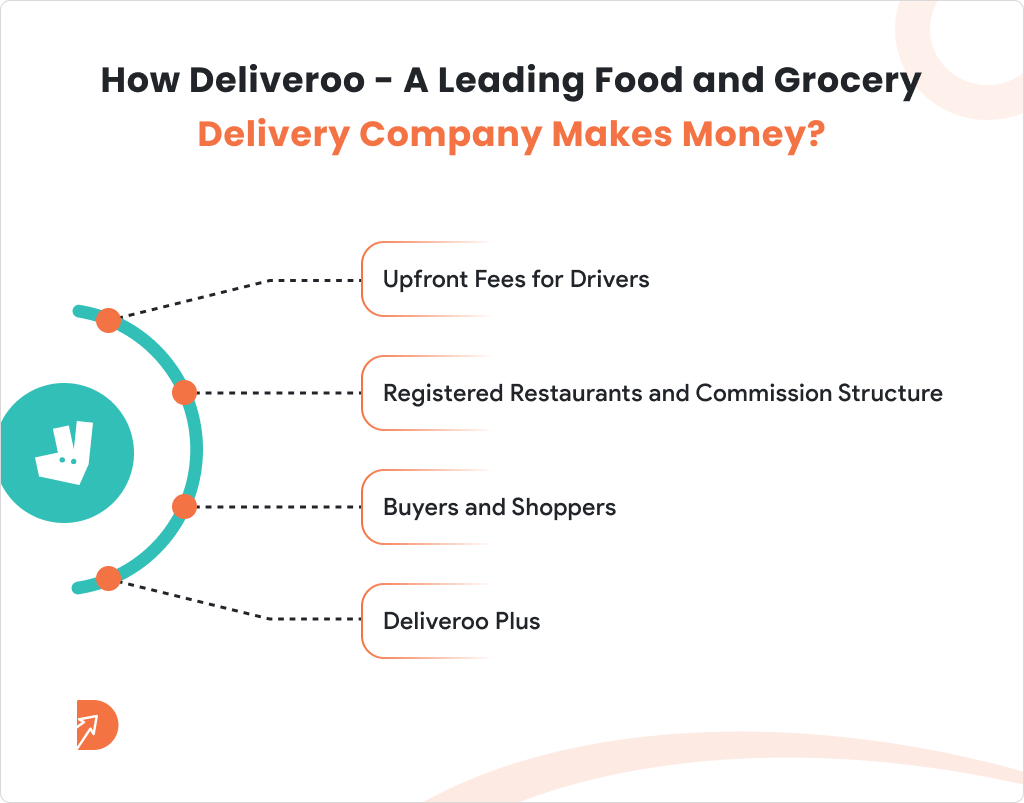 1. Upfront Fees for Drivers
The application adds a distance-based variable cost to the base fees of £2 for pickup and £1 for delivery. Deliveroo receives the remaining amount as commission. In addition to downloading the Deliveroo Driver app, those interested in working with the company must pay a security deposit of £150.
That safety deposit goes towards outfitting drivers/riders with the necessary gear. The sums are taken from their compensation. When a driver or passenger decides to quit or resign from their employment, they are entitled to receive that money back.
Deliveroo, a SaaS-based food delivery app solution, can raise capital from prospective drivers and passengers by charging them in advance to purchase the necessary equipment. According to the Financial Times, Deliveroo has amassed £3 million in security deposits from its estimated 20,000 registered riders.
In addition, this sum is re-invested into the company's underlying systems to facilitate their further development. In an ideal world, Deliveroo should be able to recoup and repay the £150 for each driver/rider upon termination. As a result, you will not be losing anything.
Drivers can earn £120+ per day (this varies with the number of deliveries made).
If a passenger tips the driver, the driver may retain the money.
Each referral is worth £250 to the driver.
2. Registered Restaurants and Commission Structure
While Deliveroo remains tight-lipped about the specifics of the commissions they collect from eateries, others have reported that the delivery service takes 20% of each order as a cut. Roughly 35,000 eateries have signed up to use Deliveroo.
3. Buyers and Shoppers
Each day, 45,000 people in the UK utilize Deliveroo. Deliveroo's income streams are most likely to increase due to the retention of the 80% of current consumers who have yet to try their services.
4. Deliveroo Plus
Deliveroo Plus is a premium service provided by Deliveroo for those all who order food or groceries regularly by enabling a one off fee to be paid as compared to paying delivery costs on each of the orders.
Deliveroo Plus offers two memberships, both provide free delivery, but at diverse price points. Deliveroo Plus Gold provides free delivery with online orders for food or groceries of more than £10. The monthly subscription cost for gold membership is £7.99.
Deliveroo Plus Silver provides free delivery with online orders for food or groceries of more than £25. The monthly subscription cost for silver membership is £3.49.
Why Monthly Subscription Based Food Ordering And Delivery Solution Is In Demand?
How Deliveroo Helps Restaurants Enable and Promote this Food Delivery Business Model
Restaurant partners work with Deliveroo to increase their customer base and reach new audiences. These restaurants may or may still need to provide door-to-door delivery. These Premium establishments are among the most well-known restaurants in the world, and they have benefited greatly from working with Deliveroo.
Deliveroo claims that its annual revenue growth rate is roughly 30%. Deliveroo offers several benefits to restaurants that other meal delivery services in the UK have not been able to offer before, including but not limited to the following: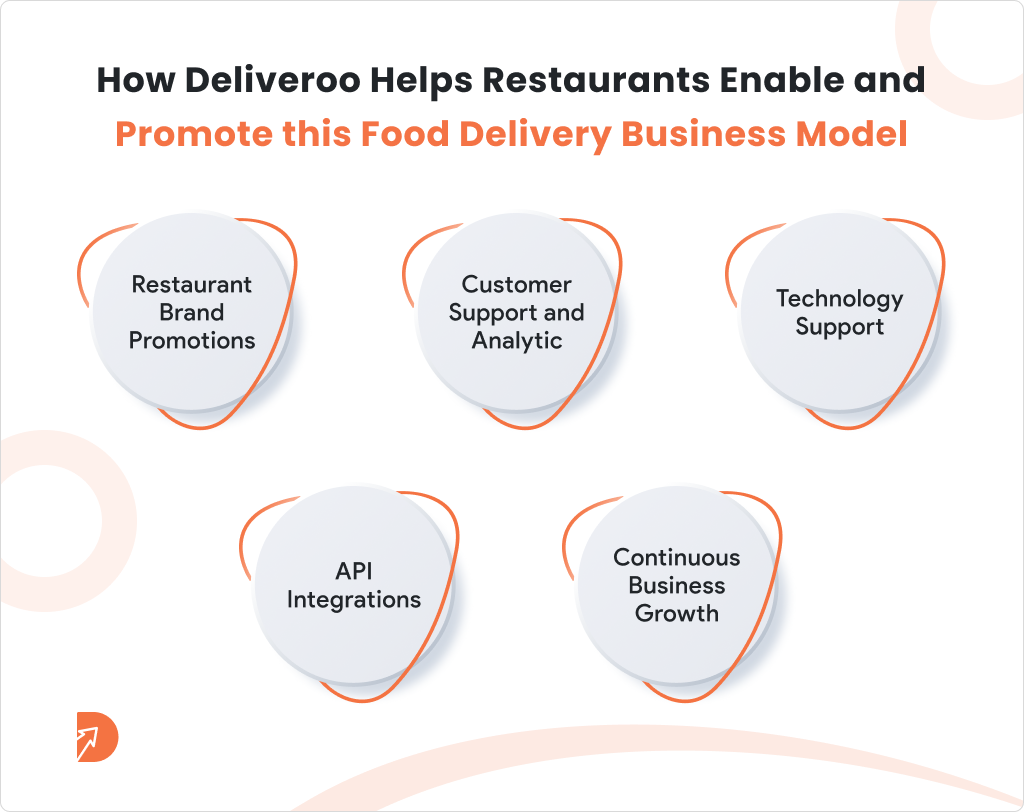 Restaurant Brand Promotions
Due to its innovative offerings and rapidly declining user base, this firm has established itself as a name to be reckoned with. Since then, Deliveroo business model canvas has quickly grown, with annual revenue increases of over 650%.
Deliveroo has generated tremendous revenue growth for all its restaurant partners. Seasonal programming and marketing efforts for Deliveroo have centred on expanding the company's fan base.
Customer Support and Analytics
In addition to its excellent round-the-clock customer service and devoted account management, Deliveroo offers its restaurant and gourmet kitchen partners regular help in Performance analytics to track the health of their companies.
The business model of Deliveroo has tried to provide these partner companies with completely automated, user-friendly, and mechanized processes. This facilitates the speediest possible order processing and delivery.
In addition, Deliveroo built an application programming interface (API) for its restaurant partners to facilitate data exchange between the two businesses' POS systems. Deliveroo orders are now visible in the restaurants' POS systems in real-time.
Continuous Business Growth
Deliveroo's editions programme is based on data collected through smart algorithms and other technological means. It assists restaurants in expanding into new areas by providing them with the resources they need to set up shop there. So, they can serve the region's specific culinary preferences and eating habits.
Opening a new restaurant can take eight to twelve weeks, and the company provides full logistical and managerial support. As a result, it can grow its income and assist the restaurants in expanding their businesses in ways similar platforms do not.
Top 8 Challenges Faced By Food Delivery Businesses Going In 2023-24
Having Delivery Partners for Facilitating and Supporting Food Delivery Services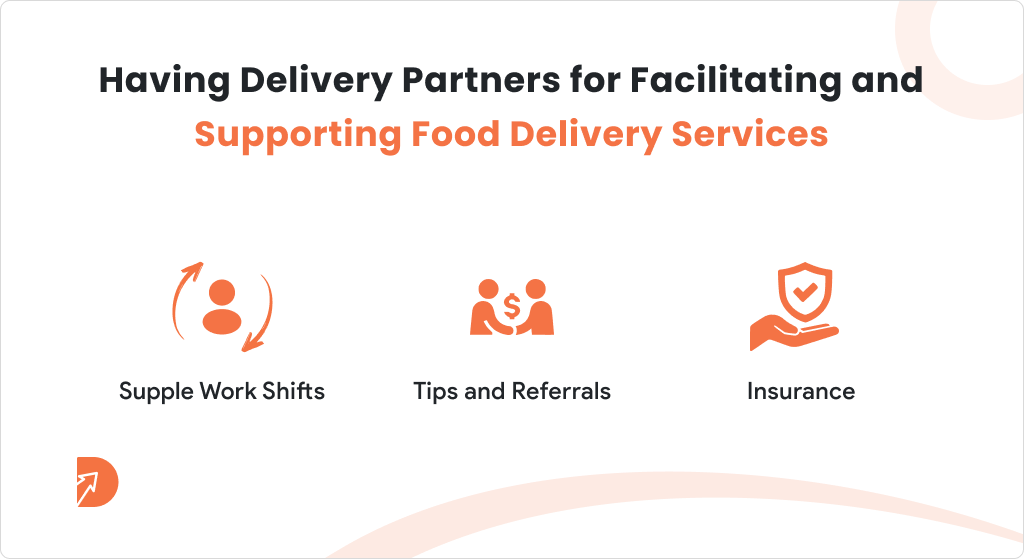 Unique qualities, which have been the strongest features of food delivery service ideas, have been crucial to the success of the Deliveroo SaaS-based grocery delivery app solution.
Deliveroo's highly motivated staff and first-rate services do more than just meeting customers' demands; they improve their lives. Deliveroo's concentration on several guiding principles has allowed it to rise to the top of the on-demand food delivery market. These positive factors backed by their delivery partners are.
The drivers have a great deal of leeway in determining their own schedules and working hours. Riders can enter the Deliveroo app at any moment and begin working, giving them more flexibility in their plans.
Their hourly wage ranges from £7-8, depending on how many hours they work. In addition, they get to retain any gratuities that customers leave at the time of app checkout. A typical rider may expect to make around £120 per week in this manner. When they suggest drivers to Deliveroo, they receive a $250 bonus.
Deliveroo prioritizes the well-being of its drivers. Through the Zego app's incorporation into this system, they can obtain insurance coverage for their automobiles with instant payment.
What We Can Learn from Deliveroo's Business Model Success?
Now that you understand the strategic, revenue and precise business model by Deliveroo, the issue is how you will implement this information to achieve success in the market. Have no fear. Here are takeaways from Deliveroo's victory that you should consider.
1. Market Study and Analysis is Essential
The success of Deliveroo demonstrates the value of thorough market research and study. It takes in-depth knowledge of both restaurant patrons' and customers' preferences, routines, and annoyances to customize services to meet specific needs.
Through investing in comprehensive market research, businesses can identify unexplored markets and formulate strategies to become market leaders.
2. Importance of Attracting More User Base
The success of Deliveroo shows the importance of consumer requirements. Prioritizing user experience may boost client satisfaction and loyalty. An intuitive app interface, targeted suggestions, reliable delivery, and friendly support personnel assist in achieving this.
Online Food Delivery Business Plan for Startups: Step-by-Step Guide
3. Keep Your Partners, Stakeholders and Teams Contented
Deliveroo's restaurant partners and delivery team's contentment are equally vital compared to customer satisfaction. Long-term success and public popularity go to companies that prioritise stakeholders.
Fair collaboration, transparent communication, quick payments, and appropriate resources and rewards for delivery partners can achieve this aim.
Key Takeaways
So, now you know how Deliveroo works. Online Food Delivery Solutions face increasing levels of competition. As demand rises, more and more competitors will flood the market to provide consumers with an improved online food delivery solution. Whatever the case, the food delivery sector is about to explode in the next few years.
Some may try to replicate the Deliveroo Business Model, while others may develop their own. There are not yet enough businesses to match consumer demand, so now is a great opportunity to become involved.
So, if you are exploring a SaaS-based Food Delivery App Solution, we at DeOnDe offer the best readymade food delivery app solution and provide a result-oriented app specially crafted for your food business.