The online food delivery business is growing at a huge pace across the world. Today, all the keen entrepreneurs are looking forward to the food industry to try their efforts and knowledge. With this blog, we shall help you understand how a typical online food delivery application works.
Friends, we all have been wondering about the success of the Food Delivery Industry. We all have been striving to enter the same industry to skyrocket our profits. But what do you know about the Food Delivery Business?
Technically, the success of any food delivery startup is based on the technology that has been used for ordering the food online. We term it as an On-demand Food Delivery App Solution. We all have been familiar with food delivery applications like Zomato, Swiggy, Uber Eats, GrubHub, etc. All these applications are the backbone of these startups because, in the food delivery business, the app serves as the central store for placing and receiving orders.
To build a similar Zomato or UberEats application, you need to focus on the requirement of your startup. The very first thing is the 'Investment'.
What is an On-demand Food Delivery Application?
The On-Demand food delivery applications are like Zomato, Swiggy, and FoodPanda; where the users can order the food on demand. These applications are built using two ways; one is the licensed version; where the client pays for the customized design and development, including the source code. The second version is the SaaS-based solution where the client pays a monthly subscription for using the solution. The SaaS-based solutions are accompanied by white labeling that reflects your brand name on the application.
The monthly subscription solution is quite cost-friendly as you are paying as you use in the form of rent. Mostly the startups prefer to go for SaaS-based solutions for getting their on-demand food delivery application.
On-demand applications are aimed to solve the daily requirements of average people with real-world solutions.
How Does an Online Food Delivery Application Work? (Step-wise)
1: A customer signs up with the food delivery application. After signing up, the customer starts scrolling through the different restaurant menus.
2: The customer adds the dishes in the cart that he/she needs to order
3: However, if there are any coupons or discount offers, they will be applied before the payment.
4: The customer selects the payment option that he/she finds the most appropriate.
5: The Restaurant Owner App beeps with the order notification. Once the vendor accepts the order, the customer too gets notified about the order acceptance.
6: The customer can check about the order preparation time via the app dashboard.
7: The Restaurant Owner contacts the nearest driver-partner and informs them about the food pick-up and delivery.
8: After the food is ready, the driver arrives and proceeds with the delivery.
9: On the other hand, the vendor application notifies the customer that the food is on the way.
10: After the food delivery, the customer can share the ratings about the food quality, taste, and delivery via the same application.
On-Demand Delivery Application and Business Models
The convenience of receiving on-demand services without ever leaving your house is undeniable. If you cannot leave the house for necessary tasks, you can use these services as an alternative.
Any industry, from food and medicine to groceries and household goods, may have an on-demand delivery app developed for it. You can explore the online food delivery industry overview and SaaS marketplace instances for more insights.
Several businesses provide consumers with delivery services whenever they need them. How do food delivery apps work? Place an order, and you will promptly receive your requested meals.
The number of users in the Food Delivery domain is projected to reach 2.45 billion by 2027. Here, we have discussed on-demand services and how food delivery apps work.
A) Partner with the 3rd Party Service Delivery Providers
Partnerships with third-party service delivery providers may let online businesses quickly enter the on-demand delivery industry without investing in a sophisticated distribution infrastructure. Firms can employ delivery service infrastructure with this approach.
Supplier agreements allow companies to use a network of drivers and couriers for delivery. Your partners determine the delivery service's quality and dependability.
B) Develop a Dedicated Application for Your Online Business
A custom app for your digital firm enables you to customize every distribution phase. This lets organizations simplify brand distribution for customers. Developing an in-house delivery app lets you personalize service options, pricing, and delivery schedules.
Online businesses may learn more about their consumers and enhance delivery and service using the data they collect. This approach requires funds for equipment, facilities, and people. At DeOnDe, we can help you launch your food delivery application in 1 week.
Why are Food Delivery Applications Successful?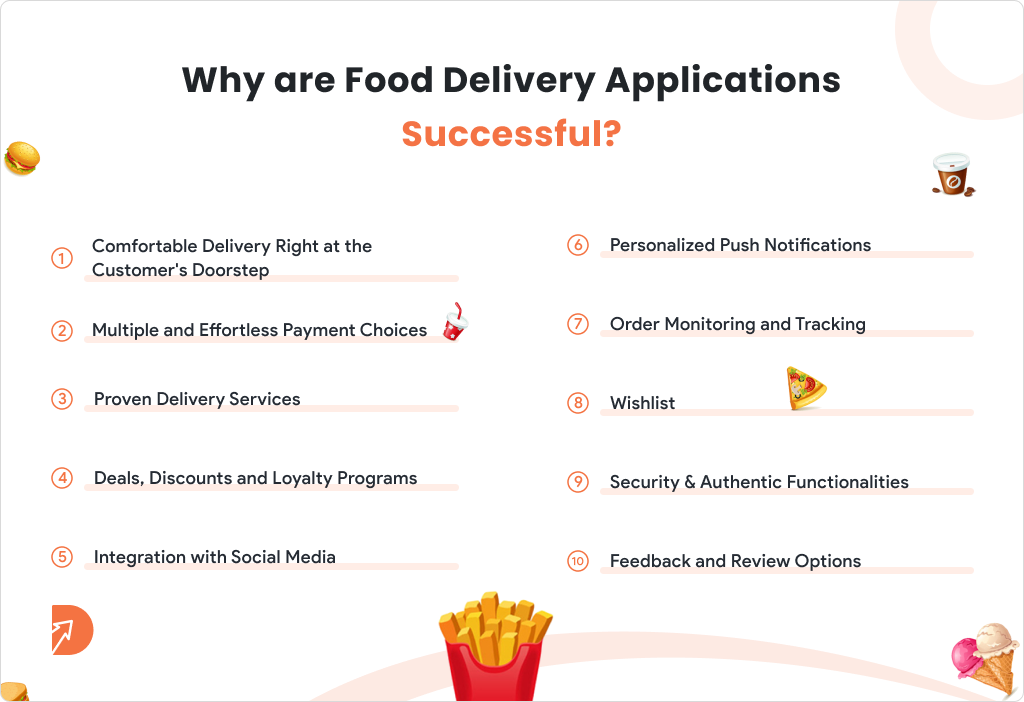 Food delivery applications are a category of restaurant delivery software that links customers with local eateries and restaurants. It is seeing a successful run as eating establishments need a solid online food delivery business plan and partners to keep them going for the long haul.
Consumers may save money by ordering food through a food delivery app instead of going to a restaurant. So, you now know what is a food delivery app. Let us now explore how to use food delivery apps and why they are successful.
1. Comfortable Delivery Right at the Customer's Doorstep
With apps like Grubhub, Uber Eats, Seamless, Postmates, Swiggy, Zomato online food application, and Jumia, city dwellers can deliver meals from nearby eateries. The app provides a long list of restaurants, menus, and prices.
How Does a food Delivery App Work? Food delivery apps like Swiggy not only aggregates restaurants but also operates its fleet of delivery services. They take restaurant orders and deliver them immediately, usually in under 30 minutes.
Swiggy's double-association business strategy helps customers and restaurants by increasing the volume of orders placed through the Swiggy app.
Swiggy immediately assigns a driver to deliver the food when a customer orders. In this way, restaurants may save money by not employing their delivery staff.
2. Multiple and Effortless Payment Choices
Users of any service app desire to pay easily. Online shopping is getting more comfortable, but customers still want options. Accepting credit and debit cards alongside traditional payment methods would help.
Customers will appreciate the increased freedom while using your app to buy. More easy payment options will enhance sales. Every American household and company utilizes a food delivery app. Having many payment options allows clients from anywhere in the world to order.
3. Proven Delivery Services
A significant segment of meal delivery app users is those who want to avoid eating at restaurants. Users of food delivery apps are mostly those who wish to have their meals sent to their homes.
Swiggy, one of the best online food delivery apps, now connects you with retailers like Grofers, Bigbasket, and Walmart. The primary objective of meal delivery apps is to facilitate unlimited online food orders.
Due to the need for a minimum order threshold, food delivery apps see a high volume of business. And with 14 million monthly orders per platform, food delivery apps are here to stay.
4. Deals, Discounts and Loyalty Points
Customers like the ease of accessing promotions that are not available in-store. All of these are fantastic additions to any food delivery software in India and globally.
Offering exclusive deals and discounts through Loyalty Points is a great way to keep consumers returning. Coupons and Promocodes are well-liked formats because they help consumers save money and gain loyalty points.
5. Integration with Social Media
Posting food photos and comments on social media can enhance organic marketing. This is an excellent feedback tool for your social media staff.
6. Personalized Push Notifications
Having applications update automatically helps. Alerts are a great method to reach customers.
Once they know your offerings, they will hire you. Any successful marketing plan needs brand recognition. Check your apps' capabilities. For instance, food apps may send push notifications when their driver arrives.
Gain more orders with in-app chats and Notifications on our white-label online ordering suite.
7. Order Monitoring and Tracking
It is not only significant how does online food ordering system works but real-time tracking is even essential for service delivery apps. Users desire easy-to-use, real-time order-tracking apps.
Including real-time GPS tracking in your app is a certain way to boost sales. As a result, the number of people who buy from you will grow. Integrating real-time monitoring into your app can let clients communicate with couriers and delivery personnel.
Thanks to this handy tool, customers may rest easy knowing the status of their purchase at any moment. Providing clients with real-time order status information is a great way to build trust in your company.
Delivery of Medications or Packages by Courier Applications must be traceable so that you may be present at the designated delivery address at the scheduled time.
8. Wishlist
So, how does the food delivery system work? Customers may only be able to buy everything available. There might be several causes for this. Problems with making or receiving payments, running out of money, malfunctioning apps, etc., are just a few examples.
If a product becomes unavailable, save it for later or add it to your wish list. Customers may need to search again to add items from their Wishlist to their basket.
9. Security & Authentic Functionalities
It is vital to verify the app before release. Users verify program validity before downloading. A symbol or blue tick indicates a valid app.
Before making a purchase, buyers verify the safety features of food delivery apps. Having these components in place is crucial when creating mobile apps and comprehending how to use food delivery services.
10. Feedback and Review Options
Let people rate and review your product or service. Valued customers are more loyal to your brand.
Customer ratings and reviews on your website or app may influence future purchases. This greatly increases reliability.
Online client feedback and tales should be obvious. Customers may learn a lot about your business from website or app comments and ratings.
Here are the features of the On-Demand Delivery Application: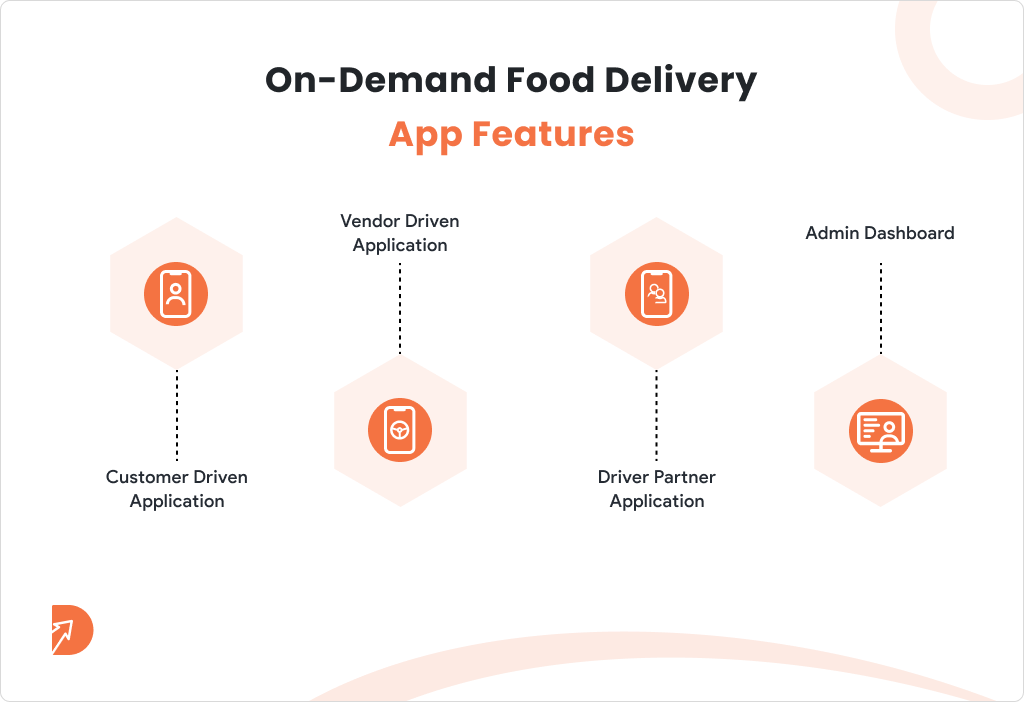 Customer Driven Application
Vendor Driven Application
Driver Partner Application
Admin Dashboard
So these features are the three different applications of your delivery brand. Together they help your delivery business to grow systematically and with ease.
Talking about the admin dashboard, it is the panel where the owner of the application or the delivery brand can manage the analytics and reports. It is the dashboard that is responsible for the ongoing promos, coupons, offers, and a lot more.
Closing Note
This is how an online food delivery application works. To learn more about the three different application features, you can watch our exclusive food delivery application videos.
---
Other Popular Blogs