In this fast-paced digital world, when convenience is king and innovation is essential, the SaaS-enabled marketplace has emerged as a shining example of flexibility and creativity.
As per Deloitte, SaaS is accountable for 5.4 percent of IT and software spending in the USA. So, whether you are a vendor looking to boost operational efficiency or a client looking for a more streamlined and user-friendly purchasing experience, a SaaS enabled marketplace may help you realize your complete potential.
This blog aims to explain the concept of a multi-vendor marketplace solution, often referred to as a SaaS-enabled marketplace. This blog will explore substantial benefits and discuss successfully SaaS Enabled Marketplace With Examples leveraging advanced technology. Let us first discuss the exact SaaS-enabled marketplace meaning.
What Exactly is a SaaS Enabled Marketplace?
SaaS enabled marketplace is an innovative tech solution that blends two highly effective business models: SaaS (Software as a Service) and online marketplaces. SaaS enabled marketplaces combine the benefits of traditional marketplaces, which link buyers and sellers, and marketplace software as a service (SaaS) provider, such as Box, which provide stand-alone software solutions.
SaaS enabled marketplaces, at their heart, provide flexible software tools and administration capabilities geared towards the supplier side of the market. These programs have several uses, including scheduling and arranging appointments, managing reservations, keeping tabs on stock, and generating invoices. These capabilities allow vendors to centralize their processes, boost productivity, and provide superior services to their clientele.
Convergence of Software Solutions and Marketplaces
A precise strategy is what distinguishes SaaS Enabled Marketplaces. They focus first on establishing a reliable supply side, often of established enterprises, before trying to stimulate demand. This method allows them to concentrate their resources inside the supply chain, laying the groundwork for rapid expansion.
SaaS enabled marketplaces have the potential to disrupt several sectors because of the synergy between SaaS's adaptability and usability and the reach and network effects of online marketplaces. They integrate business's digital and physical worlds to allow vendors and buyers to meet, do business, and prosper. The convergence of software and marketplaces offers unprecedented value and ease, and this novel paradigm is the industry's future.
What are the Advantages and Paybacks of a SaaS Enabled Marketplace?
By incorporating additional software solutions and services into their platforms, SaaS-enabled marketplaces improve the experience for both buyers and sellers. Vendors can enhance their productivity with the tools and resources available on a SaaS enabled platform.
Features like invoicing, booking systems, and customer assistance are SaaS enabled marketplace examples of how these platforms help vendors enhance their sales and customer relationship management operations.
On the other hand, a SaaS marketplace's provision of modern tools allows sellers to concentrate on expanding their businesses while saving time and energy.
Unlock the Benefits of DeOnDe's Readymade Multi-Delivery App Solution Now!
Transformation Steered by the SaaS Enabled Marketplace Model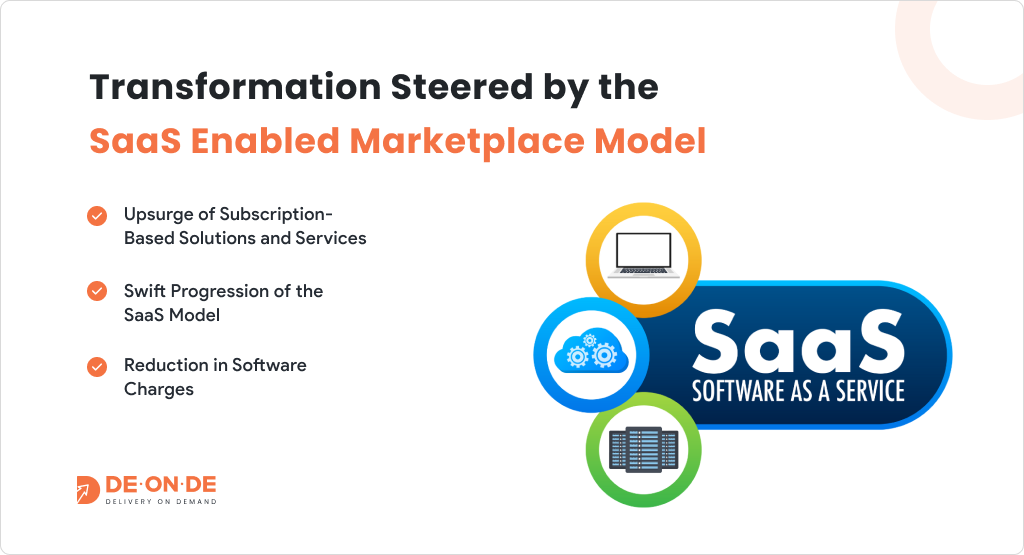 By using advanced software solutions and services together, the SaaS-enabled marketplace model is signifying a paradigm shift across the industry. It has triggered several game-changing developments in businesses and corporate culture.
1. Upsurge of Subscription-Based Solutions and Services
The quick adoption of subscription-based services and solutions is one of the most noticeable shifts made possible by the SaaS marketplace paradigm. Traditional methods of obtaining software, which typically necessitated substantial up-front fees, are giving way to more adaptable subscription arrangements.
SaaS options, which provide on-demand access to software and services, are rapidly gaining popularity among businesses and people alike. This change lowers the upfront cost of software and better correlates cost with precise usage.
2. Swift Progression of the SaaS Model
The SaaS model can be swiftly enabled and has expanded from simple apps to feature-rich ecosystems. Today's Software as a Service (SaaS) provider delivers customers access to an ecosystem of related services and applications.
Thus, the scalability of SaaS models has increased the popularity of SaaS Enabled marketplaces, providing customers with a single location to satisfy their various requirements.
3. Reduction in Software Charges
The SaaS business model offers substantial financial benefits. Buyers account for their subscriptions to SaaS marketplace software as operational costs rather than purchases. Customers have greater opportunities to build and expand digital applications. They can improve their digital transformation plans because of the data centre's central role in driving actions.
The average cost of SaaS for a company is $2,884 per employee. From 2019 to 2023, the SaaS market has expanded from USD 157 billion to USD 233 billion.
How does the subscription based delivery app solutions help save costs and time for startups?
Comprehensive List of SaaS Enabled Marketplace With Examples and Types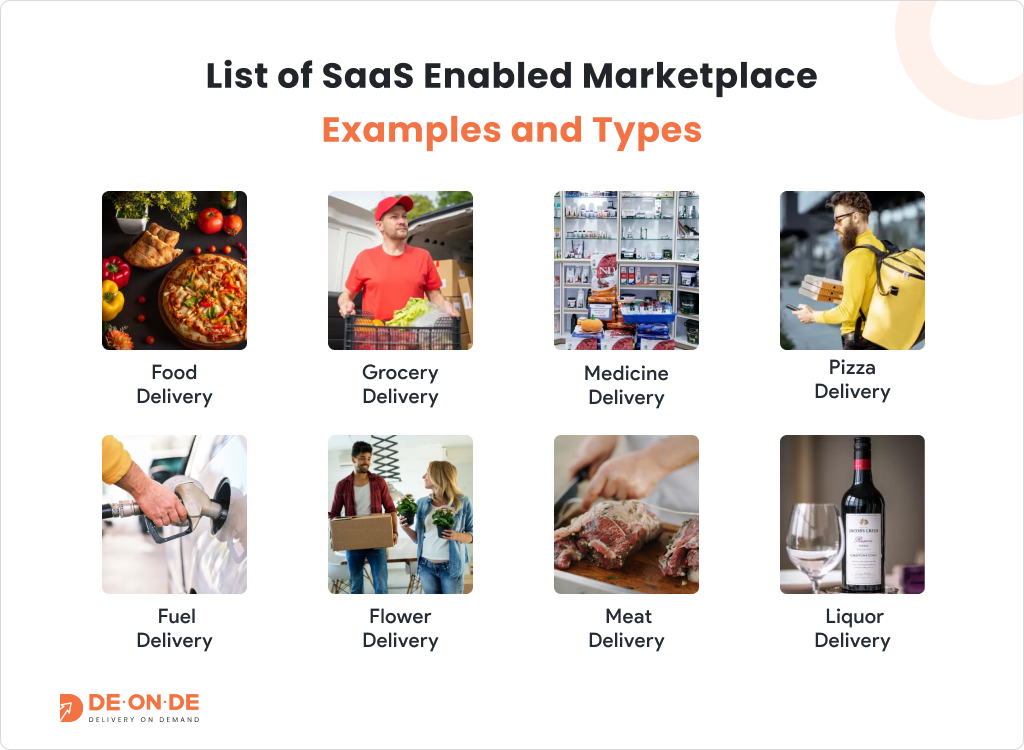 We already explored the SaaS-enabled market and its attendant profit margins across the industry. Now, to better build your marketplace SaaS platform with more ease, we will provide you with a set of SaaS-enabled marketplace examples and types. Please check it out!
1. Food Delivery
The SaaS-enabled marketplace approach is ideal if you are a business owner or a young company. Get your hands on cutting-edge delivery business features driven by strong, high-performance technology. The food delivery field has grown rapidly in recent years. Therefore, planning for and acknowledging your delivery service expansions is crucial.
Using only one restaurant solution and one SaaS-based Food Delivery App Solution, a business may increase its return on investment by a factor of three or more. Get more sign-ups by making a favourable impression on prospective customers.
A Comprehensive Guide to Launch Food Delivery App in 1 Week with DeOnDe SaaS Solution
2. Grocery Delivery
Given these amazingly successful financials, it is not hard to imagine that grocery stores have also been on the cusp of expansion. The easy home deliveries make supermarket delivery apps crucial.
Businesses can now maximize their productivity by minimising inventory and waiting times. They can do this by maximizing the number of marketplaces for SaaS-based grocery delivery app products available at any given time. Whether you own a tiny corner store or a massive grocery conglomerate, this market illustrates a SaaS-enabled platform.
3. Liquor Delivery
Faster service to regular customers is possible by adopting a SaaS business marketplace solution to turn your liquor store or bar into a user-friendly readymade liquor delivery app.
We can create a bespoke ordering and delivery app for any liquor business model, from the most basic to the most complex. So, you can easily purchase alcohol from a single store, a chain, or an internet marketplace.
4. Medicine Delivery
To sell prescription and over-the-counter drugs to patients, healthcare practitioners and pharmacies are increasingly using SaaS-enabled marketplaces.
These digital pharmacies improve medicine ordering by facilitating precise medications, prompt delivery, and compliance with healthcare standards. They have proven invaluable in giving swift access to life-saving medicines and are a valuable marketplace for SaaS products, especially in emergencies.
Kickstart your pharmacy delivery business with our 100% white-labeled pharmacy delivery solutions.
5. Meat Delivery
You can increase your brand's exposure by representing a SaaS-enabled marketplace. SaaS-based Meat Delivery App Solution makes it viable and easy to cater to niche app models for businesses like meat delivery.
Additionally, remember to record the status of all orders, whether they are pending, completed, or delivered, and to have an easy way to see which customers are currently active and which have lapsed.
6. Fuel Delivery
The way we fill our automobiles is changing because of gasoline delivery businesses. Incorporating SaaS technology allows consumers to order fuel delivery to their exact location, avoiding visiting conventional petrol stations.
This SaaS-based Fuel Delivery Software saves time and money for the planet by decreasing the number of unnecessary car journeys.
7. Pizza Delivery
The pizza delivery business is the only one that has been unaffected by the COVID-19 outbreak. Although it faces severe vertical competition, it provides a higher return on investment than most other options.
Invest in a full-featured, White-label Pizza Delivery App Solution with a modern back-end management system. You can stay on top of things and achieve your goals with the help of the aesthetically pleasing administration panel. It offers you insights into how your pizza delivery company is doing.
8. Flower Delivery
The floral business has accelerated alongside other sectors, and many of us continue to like floral arrangements even in the digital age. Since this market has limited competition, offering your software as a service will be mutually beneficial.
With their inherent grace and beauty, flowers will never go out of style. Our Flower Delivery App Solution utilize modern technology, and they come equipped with a wide variety of features and modules to help your flower delivery business flourish.
Setup your own multi-vendor marketplace to serve your customers with multiple products and services.
Real-time and Leading Examples of SaaS Enabled Marketplace Platforms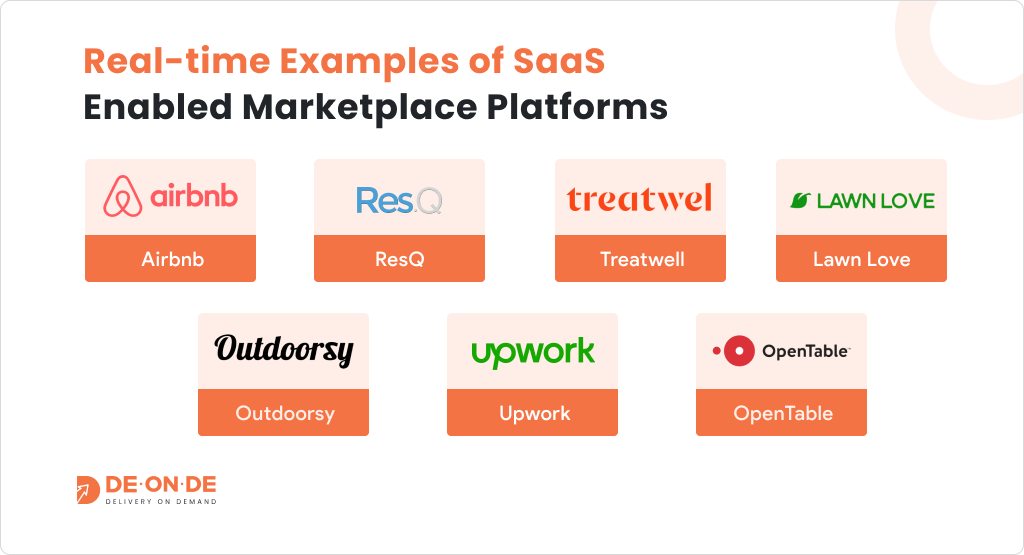 Allow us to explore some real-world SaaS marketplace examples of enterprises that have significantly improved across their respective industries. These organizations have shown the world how SaaS-enabled marketplace models can provide value, foster innovation, and adapt to customers' shifting needs.
Airbnb is a website where users may advertise and book short-term lodgings, including flats, houses, and rooms. It facilitates communication between vacationers and those offering their homes for rent.
Travellers can use the online portal to look for lodging options, narrow their search based on pricing and other criteria, and then book and pay for their accommodations all in one place. Booking and payment management, in-app messaging, guest reviews, and a host forum are just a few Airbnb features available to hosts.
Book your next hair and makeup appointment with the help of Treatwell. Its SaaS (Software as a Service) model enables this marketplace to link users with nearby spas and salons, where they can shop around for deals, read customer reviews, and schedule appointments in advance.
Salons and spas may advertise their services to a wider audience and better manage their appointment bookings if they join this SaaS marketplace platform. At the same time, customers can use it to locate the greatest bargains and special deals in their region.
Upwork, a well-known SaaS enterprise, has revolutionised the freelance and gig economy-enabled marketplace. It acts as a virtual marketplace linking clients with freelancing professionals worldwide.
Clients may easily locate freelancers in various professions, from web developers to graphic designers, and easily collaborate with them using the platform's software functionalities. Upwork is a platform that benefits businesses and independent professionals by creating a safe and productive environment for online collaboration.
Lawn Love is an online marketplace for lawn and garden maintenance. Requesting lawn care online allows homeowners to indicate their preferences and schedule requirements. Lawn care businesses in a certain area can utilize the system to coordinate client appointments, invoices, and payments.
OpenTable is an online marketplace where users can easily explore restaurants, read customer reviews, and book restaurants.
Launched as San Francisco-based restaurant reservation software, it has since morphed into a consumer-driven demand-generating SaaS-enabled marketplace.
A SaaS-enabled marketplace, ResQ, matches customers interested in reducing food waste with businesses with excess food. Customers may buy leftover meals at a discount to help cut down on food waste and save money.
This is the best example of how the SaaS-enabled marketplace model may help businesses and consumers alike while also addressing social and environmental concerns is ResQ's novel approach.
Peer-to-peer RV rentals may be found on Outdoorsy, a SaaS enabled marketplace. Through the site, RV (recreational vehicle) and campervan owners may advertise their vehicles for hire, and guests can search for and reserve recreational cars for their camping trips.
Outdoorsy has revolutionised the RV rental market by facilitating connections between RV owners and adventurers and offering safe transaction and vehicle management solutions.
Key Takeaways
The SaaS enabled marketplace model has announced a new era of business innovation and customer ease. The scalability of SaaS systems and agility of online markets have transformed service delivery and consumption for enterprises of all sizes and diverse sectors.
The market needs more innovative and ground-breaking SaaS-based multi delivery app solutions. SaaS enabled marketplaces are changing grocery and food delivery, vacation rentals, and professional services. More impactful uses of this flexible SaaS business model will undoubtedly emerge as technology and client tastes evolve. The benefits of a marketplace may encourage global market development and transitions.
So, easily sign up and initiate your online delivery business ideas today. We at DeOnDe provide market-ready, extremely engaging, and highly scalable all in one ordering and delivery technology solutions. For costing and a free demo of our on-demand delivery solutions, please visit and explore our website at www.deonde.co