Restaurants have been a favorite place for people for a very long time. They love to visit restaurants with their family or friends and enjoy their day. In recent years, we have seen a major spike in the number of people who have been visiting restaurants. In 2021, 45 million Indians visited their favorite restaurants and enjoyed dining.
This number has been increasing rapidly over the past few years. People love to visit restaurants. They would love it if they got something that would help them book a table according to their requirements in their favorite restaurants.
In this article, we are going to discuss a technology that will help customers book a table in a restaurant. Yes, we are talking about the restaurant reservation system. We are going to give you a full description of the restaurant reservation system. Stay with us, get full information, and use it according to your requirements.
Why Do You Need a Restaurant Reservation System?
If you are a restaurant owner, you can understand the importance of an online booking system. More than 80% of restaurants have included Restaurant Reservation System. More than 90% of those restaurants reported growth in their business after including the system.
Shifting to an online business has been profitable for almost all restaurants. They have seen a great hike in the diner's number. The restaurants are witnessing a regular increase in the number of reservations.
Customers love the online restaurant reservation system because they get a convenient dining experience by having a booking through this system. They can book a table from anywhere without worrying about the hustle they need to face.
In short, this system is profitable for both the consumer and the owner of the restaurant. Let us discuss the features which make the online restaurant reservation system a worthy deal for restaurant owners.
Features Of Online Restaurant Reservation System
Table booking systems for restaurants have proved to be a boon for restaurant owners. Here are the Most Innovative and Useful 5 Features which will make your online reservation app standalone in the queue
User-Friendly Interface
First thing you need to remember is the UI of the app or the website for the table booking system for restaurants. It should be easy to deal to use the app. Do not try to make it enigmatic. Keep it as straightforward as possible.
The app should be easy to access so that the customers can book a table for themselves in no time. All the details of the restaurant must be easy to navigate. Don't try to make things difficult, just be as simple as possible and transparent.
Easy To Understand Calendar
As we mentioned above, you need to keep everything clearer and simpler to understand. A simple calendar is a necessary tool for any online restaurant booking system. A perfectly managed calendar is crucial in dealing with online reservations for the tables of restaurants. If not organized it can cause chaos and will be a big failure for your system.
Consumers should be able to view the reservation calendars explicitly. If not, consumers will face double bookings, wrong table bookings, and many more problems. We are sure you do not want your consumers to face these problems at all.
A Visually Appealing Menu
Grubhub claims that adding pictures to your restaurant's menu will increase sales by 30%. The consumer is most likely to navigate through your whole website if he/she sees the photos of the dining room and the dishes you are providing.
Read Also: How Your Restaurant Menu Inspires Your Restaurant Revenue?
If your app, website, or online restaurant reservation system has a visually appealing menu, your sales will skyrocket in no time. Research also shows that more than 85% of customers try new restaurants after seeing the images of the food they are providing. Try to have a professional photo session for the advertisement of the signature dishes to attract diners to your place!
Discounts And Vouchers
Trust us, customers love discounts on their favourite foods or things they want to buy. You can provide them with attractive discounts if they are booking a table through the website's app. He will help you grab their attention. It also gives you a mouthful of publicity profit by itself.
Quick Tips- You can give your customers an enticing deal or a major discount within a period of comparatively low sales. It will help you to boost your sales.
Automatic Communication
This is a feature that will play a great role once the booking is done. Your online table booking system should have the feature to provide a push notification in the form of an email or SMS to the registered user. This will help the consumer to reach the place in time.
You can also send discount vouchers and deals to regular customers to increase their engagement with your restaurants.
Concisely, you need to send them regular reminders on your part. It will increase the incoming the customers.
Pre-Ordering Options
If you want to have an effective restaurant reservation system, you need to need this feature in your app or website. This feature helps the customer get hot and deliciously served food without waiting. If he/she is in a hurry, they can choose this option. It saves the time of both the customer and the staff working in the restaurant.
See Also: Importance Of Having A Pre-Ordering (Order In Advance) System In A Restaurant
Secure Payment Options
According to a report by the National Restaurant Association, more than 30% of the diners prefer to pay the whole payment by phone or wirelessly, and more than 45% of the restaurant owners think that the online payments option is one of the most important technologies they should have!
If a diner feels safe and secure while paying the bills, it enhances their trust in your restaurant. It will help you grow your business and succeed.
Benefits Of An Online Restaurant Reservation System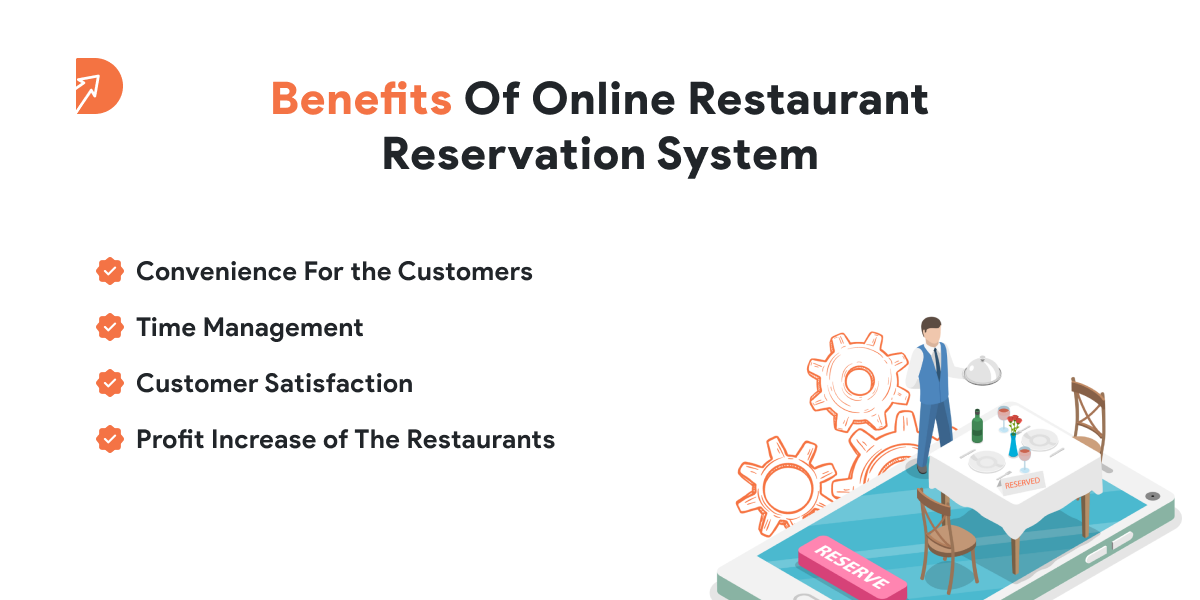 In the previous section, all the features your online table reservation system must have been outlined. In this section, we will discuss the benefits of this system.
Convenience For the Customers
This benefit of the online restaurant reservation system is the most significant one for the diners. They can easily get access to the restaurant without even visiting the restaurant. They can book a table for themselves or their family and friends whenever they want, from the comfort of their homes.
This feature helps the customers with easy service. You can pre-order food, pre-book a table, schedule dining for a special occasion, and learn more about the services all at once. This eventually increases the overall sales of the restaurants.
Time Management
This benefit is the second most significant of all. During the occupied days, restaurants staff gets so busy that they do not have considerable time for the customers. This can draw a wrong impression on the diners.
This online reservation system helps the staff to get a loose hand on some points. They don't have to give too much time to the diners for arrangements of sitting. In the past, a staff member used to book the tables for the customers on a first come first serve basis.
Some restaurants still use this method, but it is not that effective and can cause lots of time wastage. With this handy system of online table booking, the diners can book anytime that is convenient to them.
Customer Satisfaction
If you own a restaurant or any other business, you can understand that customer satisfaction is a must-have requirement. This system makes the customer satisfied if he/she is getting timely reservations, special offers and discounts, advance pre-orders, etc. All these experiences make the customer satisfied, which is our first goal in any business.
Profit Increase of The Restaurants
An online table booking system gives the restaurant owners a great hike in their overall profits. Due to the online restaurant reservation system's success, customers are satisfied with the services they receive.
According to research, 40% of the customers and restaurant owners want an online restaurant table booking system for their business. It won't be an exaggeration if we say that this system is the future of the restaurant business.
What to Consider before Choosing a Restaurant Reservation System?
Online Reservation Systems abound, but you should choose the most dependable one. We will discuss some important aspects to consider before choosing an online Reservation System.
Different Profit Streams
This system is getting famous day by day. Restaurant owners are switching over this system of online table booking systems rapidly. In such a case you need to choose some features which make you stand alone in the crowd.
Concisely speaking, you need to develop or think of some ideas which can increase your profits and make your online reservation system unique.
Reliability Of the System
Consider this aspect the most significant one. You need to have a reliable system. If your system suddenly crashes or hangs frequently during a load of bookings, t can make a really bad impression on your customers.
You cannot afford this impression at all in such a business. Hence, you need an online reservation system that can work smoothly during busy times.
Ease Of Use
If your app is not simple and easy enough to understand, the customer will never take a bet on it. You need software that provides ease of use to the customers and even the system operators. You cannot afford to lose customers because of the complicated interface he/she is facing while booking a table.
Pricing of the System
There are two types of pricing plans; you can pay for monthly use or you can pay on a commission basis. Choosing a platform with a monthly payment plan is usually a smart idea, as if you choose a commission-based plan, you might end up paying more than a monthly plan.
A commission price is based on the reservation system. The platform gets some commission per booking you have through the online table booking reservation system.
Maximum Customer Coverage
There is a system called waitlist management in the online reservation system. It helps you to have maximum coverage of the consumers and arrange their bookings accordingly.
Restaurant reservation systems need to be built on algorithms that can handle up to 10,000 seats easily. You also need to maintain full transparency with the customers about the reservations.
Functions of the System
A good online table booking system ensures to provides you with lots of functions such as memberships, discount vouchers or codes, push notifications, reminders and many more. Choose a system that can provide you with all the crucial features. Make sure that the system doesn't hang or crash while using all the algorithms.
You need to make sure that the customers the enjoying all the features of a fast-working system.
Alignment with your Business
You need to keep this point in your mind all the time if you are a restaurant business owner. Your system of online table booking system should align with your business plan perfectly.
You will see two online reservation systems: consumer-facing websites and operator-facing management platforms.
The first one works as a market for the restaurants. Restaurants can list their seating arrangements and consumers can access them directly through the platform's search feature.
The second one allows the restaurant to handle their websites and get reservations from there. The restaurant owners can also advertise this website if they want.
Wrapping it up
If you own the best online reservation platform, it will help you get satisfied and happy customers. All the points discussed above will help you to get the best Restaurant Reservation System. Read all the points mentioned carefully if you want to grow your business rapidly and in the right direction.
If you want to develop a Restaurant Reservation System for your restaurant business, we are here to help you with this task. Our company has been developing online reservation platforms for a long time. Our charges are affordable, and you will get full support from our technical team of experts. You can contact us by calling +91 93090 90932 or emailing [email protected] us. Till then best of luck with your online restaurant reservation system journey!