Recently, businesses have been trying to modernize by adopting tactics like digitalization, automation, drone deliveries, and much more. For these reasons, even the food delivery sector has risen to the forefront of the logistics business. It has made meal delivery services more convenient and time-saving.
So, you might have heard about clone scripts like DoorDash Clone. You can quickly start your food delivery service with these clone apps and participate in the expanding SaaS-based Food Delivery App Solution segment.
The finest platform for food delivery services is a DoorDash Clone. Successful business owners and entrepreneurs appreciate this clone app development because of its valuable features. In this blog post, Let's look at the step-by-step guide on How to Make an App like DoorDash Clone.
Step-by-step Process on How to Make an App like DoorDash Clone
You should merely be familiar with the basic concepts of the Food Ordering Software Development life cycle to make sense of this DoorDash clone development guide. The development of an application for DoorDash delivery follows this pattern.
Let us discover how to make an app like DoorDash and explore approaches to DoorDash Clone development life cycle.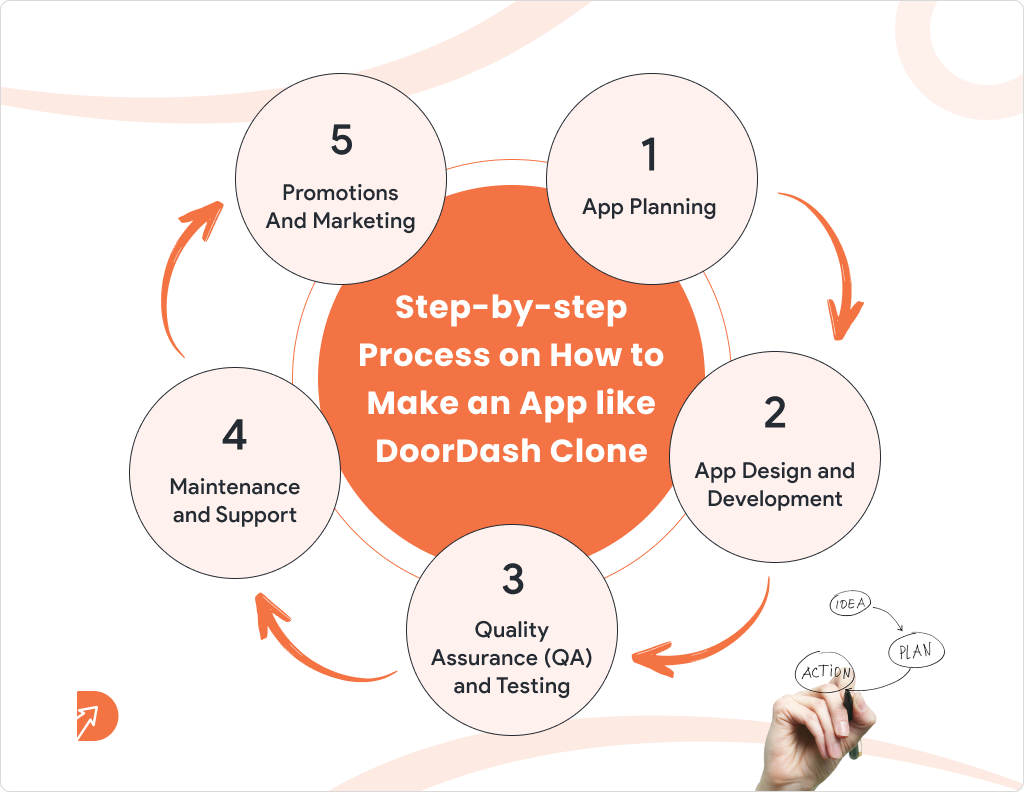 App Planning
Planning your app is the first step in creating a clone app like DoorDash. It is possible to put together a group of experts in different fields to help you figure out How to Create an App Like DoorDash Clone and promote it.
You should specify the features, programming language, user interface design, and other steps in the process of an Online Food Delivery System like DoorDash Clone Development in your planning model.
While businesses often take weeks or months to plan, we recommend working quickly and effectively through planning tools. In the long term, this will help you save effort and materials.
Online Food Delivery Business Plan for Startups: Step-by-Step Guide
App Design and Development
It would help if you started working on your DoorDash clone app design after you have finished the planning stages. If you want to make your DoorDash clone stand out from the crowd, you may take help of an UI/UX designer. Designers can also assist in customizing the navigation bar, the sections for categories and searches, and other user-friendly features.
As a DoorDash rival, you aim to establish a smartphone app for speedy and consistent food ordering. Therefore, it is essential to have a user-friendly and visually appealing layout.
The next phase of your DoorDash clone app development will be building the app. Developers will code leveraging the designing and planning techniques to develop an app for DoorDash.
Considering your budget is crucial while searching and hiring developers to create a DoorDash clone. Your developers will guide you on selecting the optimal language for both the front and back end of your DoorDash clone's application development.
Quality Assurance (QA) and Testing
After developing a replica of DoorDash, the next step is to put it through quality assurance and testing. It would help if you hire QA professionals fluent in programming languages and can perform automated testing effectively.
The fundamental goal of quality assurance and testing is to eliminate the errors in the app. This method also improves the app's overall performance.
The DoorDash clone app productivity levels rely on the QA process, testing tools and fixing any bugs. Even once the app is out to the public, the QA team will continue to work on updates as part of the DoorDash clone's ongoing development.
Maintenance and Support
Customers using a DoorDash clone for food delivery will expect you to devote resources and resolve issues of the app even after its release.
As a result, your app must be cutting-edge and best suited to the technology requirements. It would help if you sign a maintenance contract with your development company to ensure users never have any problems with the app. Development relies heavily on services like customer care and technology support.
Promotion and Marketing
Promoting your app is the final phase in creating a clone of the DoorDash app. It is crucial to inform targeted users about your app and get them to visit your site and use your services.
Therefore, you should prioritise marketing and recognise its value in increasing revenue. Companies frequently skip this crucial phase and wonder why they are not getting more clients.
Getting the word out about your app's upcoming release, services, and benefits to customers is important. Promoting your DoorDash clone app actively should be a major focus after its development.
Check Out These Top 7 Restaurant Promotion Ideas
Features and Functionalities Needed for DoorDash Clone App Development
So, we discussed how to make an app like DoorDash. While creating a DoorDash clone, it is critical to understand where you may make improvements.
Customers will have a wonderful time using the App with these enhancements, and they will think of you whenever they crave a warm meal or sweet treat.
Primary Registration and Login:
It should be quick and easy for users to access their accounts and retain the ability to use whatever preferences they may have established since their last visit. Enable your users to access it with their Twitter or Facebook accounts.
Ensure that all the restaurants that are accessible to your consumers are simple to locate. They may swiftly get information from a menu, special offers, and feedback from previous customers.
If your app has a more sophisticated search feature, users will value being able to filter results based on menu items, location, or restaurant.
App users should be able to change, add, and delete their meal preferences. The user must view an order summary to modify or cancel their purchase before completing payment.
Numerous Payment Choices:
Multiple payment options make your app flexible and are a requirement that you must consider while creating a DoorDash clone script.
Let your customers choose how they want to pay for their food: by cash on delivery, credit card, debit card, e-wallet, or any other way that works best for them.
It would be beneficial to avoid losing customers to rival meal delivery services by not accepting their preferred payment method.
Regularly remind customers that your DoorDash clone app has offers and deals. Send smartphones push alerts on weather, neighbouring eateries, and app changes to update customers.
Customers would use your app more if they could order whenever and from wherever they are located. In addition to Notifications, you may email and SMS consumers to update them.
Set-Up of a Drop Position:
You must ensure delivery professionals can easily find a suitable drop point to deliver meals to a customer's house or any other place.
When creating an app, both paying attention to early client input, and making necessary adjustments as per feedback from end-users is critical.
'Status update' allows the delivery person to monitor his local environment. Delivery workers may indicate whether a client received the products by marking their order as delivered. The customer is also informed about the progress of their delivery order with this feature.
Option to Call the Customer:
The delivery guy should be able to contact the customer through a communication method if he is experiencing problems locating the address.
The delivery person can locate the place to pick up orders quickly and precisely and deliver them to the specified address using the in-app map.
Other Successful Mobile Applications Like DoorDash
Numerous emerging businesses have borrowed strategies from DoorDash, a meal delivery service. Many other applications share features, looks, and functionality with DoorDash. But they are giving the DoorDash app a run for their money.
So that you can come up with the most brilliant ideas for your app creation, let us look at each of these applications.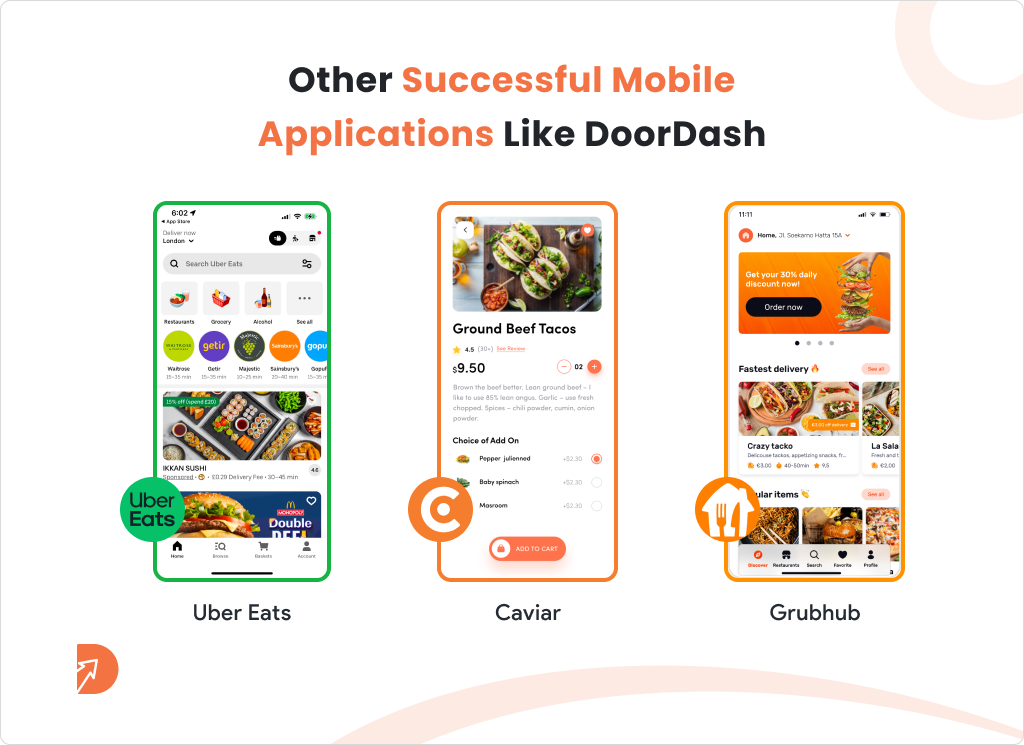 You may add this to the long list of DoorDash alternatives. Users may access the menus of nearby eateries and arrange for delivery straight to their door. Because of its user-friendly design, placing an order is a breeze. Developing a DoorDash delivery app like Uber Eats app can be executed in around six to ten months.
Caviar is well-known for its selection of fine eating establishments. It is a fully functional meal delivery service. Several U.S. cities provide access to Caviar services. The choice of local eateries has been hand-picked so you can make an informed decision on your orders. Caviar has very descriptive menus.
Comparable to the app DoorDash is Grubhub. Get meals delivered quickly from the widest variety of restaurants. As individuals could not leave their homes during the Pandemic, Grubhub's app business began to expand.
The app lists nearby registered restaurants. You may get exactly what you want when you order meals through the app. This app is dynamic and user-friendly thanks to its detailed menu information and customization choices.
Check Out the List of Best Food Delivery Apps in USA
Factors that Can Impact the DoorDash Clone App Cost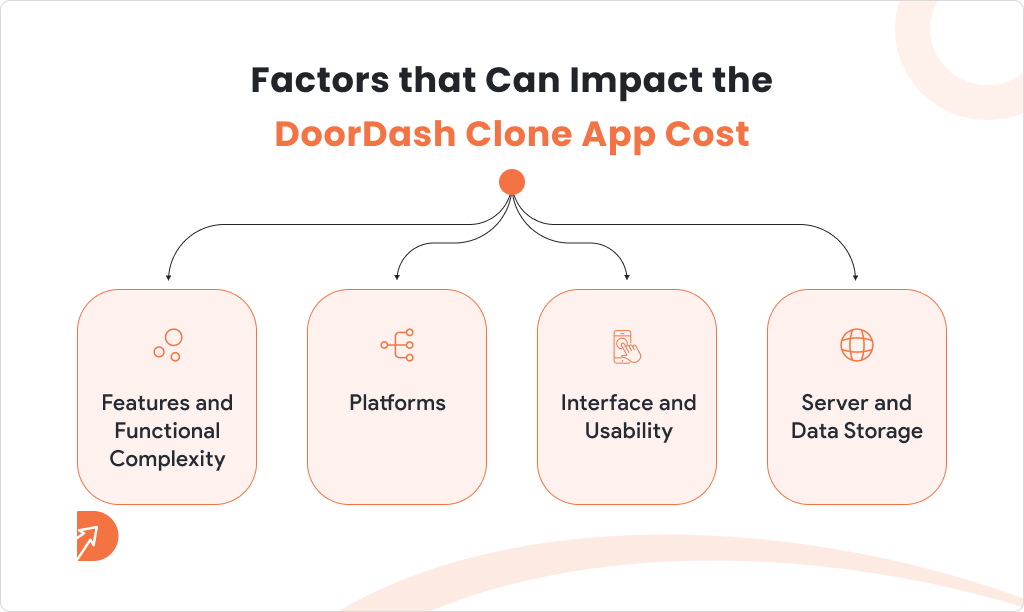 Our guide on building a DooeDash clone app and its costing may range substantially across different criteria. A few examples are:
1. Features and Functional Complexity
The entire cost of app development varies on the complexity and amount of features an app has. A map, search bar, and order-placing interface are necessities for any food delivery app, but your application may include additional features that make it stand out.
2. Platforms
Another factor influencing the app's cost is its compatibility across several platforms, including iOS, and Android. The price varies greatly because creating an app for each medium takes a different collection of programming languages.
3. Interface and Usability
Any app's user experience (UX) and user interface (UI) are crucial. By investing time and money in this area, you can guarantee that users will find the app enjoyable.
4. Server and Data Storage
The "invisible" backend and database are essential to keep an app running properly. Accounts for users, the incorporation of payment methods, security measures, and more fall under this category. Time and money are essential investments for all of them.
Key Takeaways
We explored the complete Guide on Creating a DoorDash Clone App. Replicating DoorDash's success can be difficult, but it may pay off with time and effort.
To develop a DoorDash clone application for your restaurant and takeaway business, we can assist you with 100% White-label On-demand Food Delivery App Solution. We strive hard to assist food delivery startups globally to get them an ideal food delivery application.
For pricing and a free demo of our on-demand delivery solution, please explore our website portal at www.deonde.co.