Commencing any business is tough, but enabling a cannabis business is even tougher. When matched to other industry domains, marijuana businesses encounter some guidelines with precise licensing, compliance, and much more.
However, as per reports, the sales of legal recreational cannabis in the United States are projected to reach an estimated 37 billion U.S. dollars by 2026. Legal marijuana sales are estimated to boost progressively with each successive year.
So, once you steer some of the legal challenges, the profitability in this Marijuana Business is boundless, especially with a SaaS-based Cannabis Delivery App Solution. With this guide, we will discover what exactly you need to know in detail about initiating a cannabis business or how to start a legal weed business.
How to Start a Cannabis Business With Smart and Effective Steps
Undoubtedly, the marijuana or cannabis business can be a profitable career selection. But for initiating any business, you need extensive research, a strong operational plan, and legally build and run it. Let us explore how to start a cannabis business and also shed light on how to start an online weed dispensary.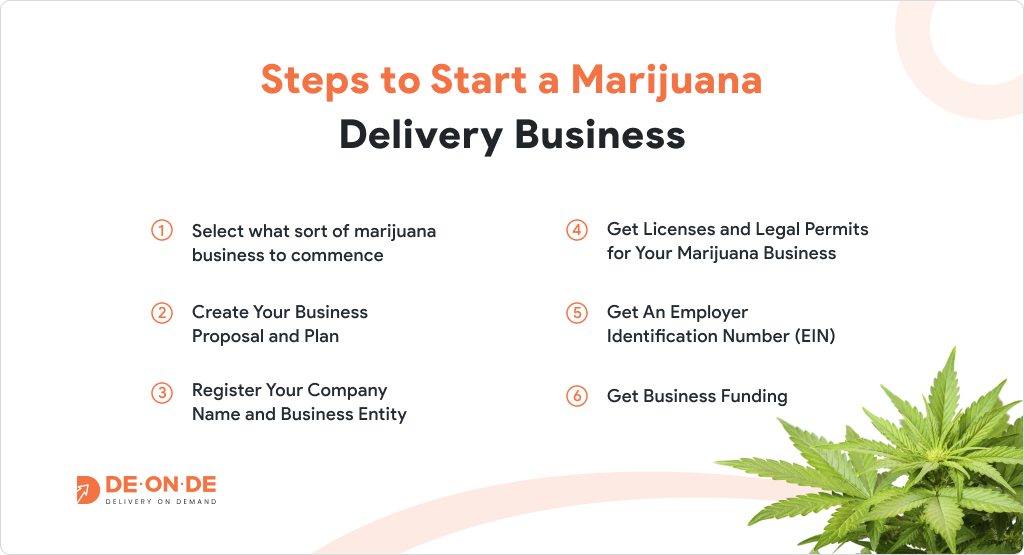 1. Select What Sort of Marijuana Business to Commence
You need to decide what part of the marijuana or cannabis business you want to be in. Do you want to start a dispensary, cultivate marijuana, or merely deliver it through online channels?
You will be required to invest enough time to research so you can be entirely sure and comprehend the rules across where and how you can run a marijuana business. This guide will help you discover how to start a cannabis business of your own and why it is a lucrative domain to start.
Check Out This: Top 10 Online Business Ideas to Start in 2023-24
2. Create Your Business Proposal and Plan
Start with ensuring that you are precisely following every law in your state. In which location do you want to open your marijuana or cannabis business, and who your foremost suppliers will be? Ensure you follow all the legal guidelines.
You need to keep track of the diverse regulations involved and how they are continuously altering.
Your business plan will probably endure transition as the laws do, but it is significant to have it in place when you are initiating a marijuana business. When you craft your business plan, ensure it comprises how to start a weed business:
Business expenses and when you plan to turn it into profitability.
Your technology, marketing, and sales plans to reach your target customers.
How can you set your business apart, and who are your close competitors?
Who your direct and indirect suppliers will be?
Whether you have a legal consultant or counsel to assist you.
3. Register Your Company Name and Business Entity
You will be required to select a business entity and company name to seamlessly enter this market. The business entity you pick will impact the overall taxes you will pay and the amount of risk you will face. You may open your business as a limited liability firm or a corporation. Both business entities can safeguard company owners from personal liability with some of the involved differences.
The procedure for picking a company name will be as per your state guidelines, but largely, you will be required to have a search to make sure the name you want is obtainable, and then there will be a fee linked with preserving your unique company name.
Monthly Subscription-based Solution For Business Owners: Are They Worth It?
4. Get Licenses and Legal Permits for Your Marijuana Business
Before commencing your marijuana business, know what legal documentation, licensing, and regulatory bodies you necessitate to comply with to initiate and run your business.
Remember, even being a marijuana retailer, or dispensary owner comes with diverse legal regulations than being a business entity that cultivates or delivers marijuana.
Every region has its own laws when commencing a cannabis business, and consequently, diverse sorts of business licenses, permits, and registration practices will be needed for your business. You need to hire a legal professional who can help you with registering your marijuana business and getting explicit permits.
5. Get An Employer Identification Number (EIN)
You need to apply for an employer identification number, which is exactly a business tax ID number. You can directly apply for an EIN online and get it approved by the IRS.
You will require it when tax season rolls across, and you must pay taxes for your business. Your EIN will be obligatory to open a business bank account or if you need business funding.
6. Get Business Funding
If you cannot cover all the preliminary charges to start a business yourself, you may look for funding to commence your marijuana business. Here, you will need a precise plan, which we discussed earlier.
Any investor you approach for funds will want to check your marijuana dispensary business plan to know whether your business is well-planned out and will be profitable in the coming time.
As a dispensary, you must have business licenses to sell medical marijuana, which comes with an additional fee. So, the applications and licensing charges, with equipment, marketing, sales, and startup expenses you might encounter, require funding to start a marijuana business.
How DeOnDe Offers the Best Readymade Business Delivery Solutions?
Why is a Marijuana Delivery Service Imperative?
Leveraging a marijuana delivery service has several effective reasons. Here are some of the crucial points to consider on how to start a weed business.
Personalized Delivery: 
When cannabis users leverage an online delivery service, they can get what they need. The strain they desire, the strain quantity, product delivery location, time, payment, and delivery mode give users complete transaction commands with an additional layer of security.


Minimal Effort: 
Customers of marijuana delivery services can enjoy the ease of their homes. The online delivery service brings the product directly to them. The service enables them to track the product delivery procedure.


Legal Proof: 
Legal age is needed for the purchaser and the seller to leverage a licensed marijuana delivery service, so the supply of lower quality products hardly occurs. Marijuana delivery applications trim the risk of breaking the laws and product usage.


Loyal Customers: 
In the age of practicality, businesses must make themselves effortlessly reachable to their customers. Offline buyers will likely switch to an alternative product provider that can ship to their doorstep by taking orders online.

However, a marijuana delivery service is supposed to have precise quality products delivered every time to sustain a steady flow of new customers along with loyal clientele.
Functionalities and Features of a Marijuana Delivery Application
In the meantime, the marijuana industry is still in the early stages. Many diverse opinions exist about whether it should be legitimate. As an outcome, there are a lot of legal rules and policies that go across it. So, if you want your application to deliver marijuana, you must be cautious with certain functionalities and features.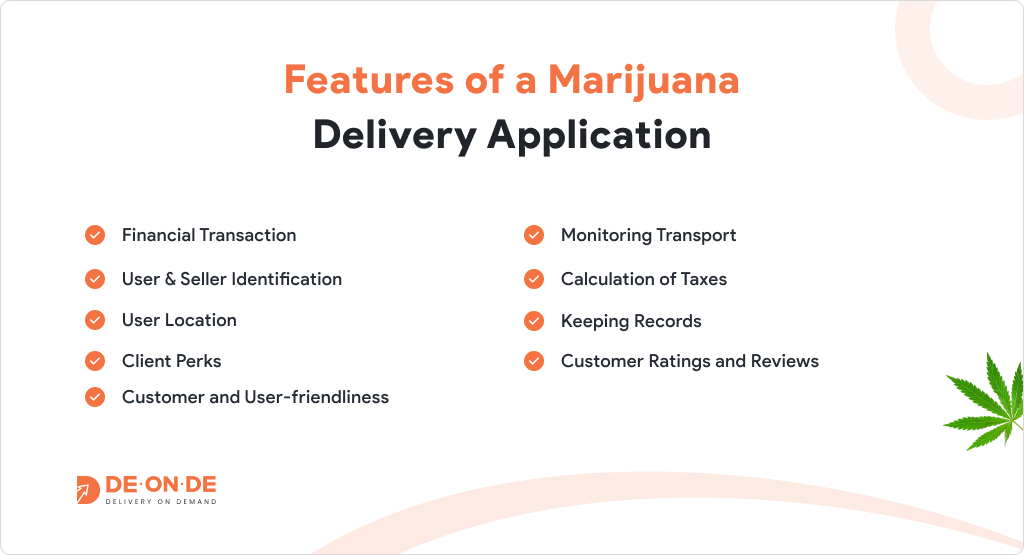 Financial Transaction: 
One of the most vital things about an Online Cannabis Delivery Service is how they manage funds. Let us say the transaction goes through without any issues. Other consumers will even benefit from the fact that there are diverse approaches to paying for products. The best way to ensure a transaction is secure is to look closely into a payment gateway.


User & Seller Identification: 
A chief factor is whether the seller or purchaser is who they say they are. There could be anxiety if your service is utilized by stakeholders who are not licensed or under the age limitations. So, it is ideal for operating a portal with authentication. Once the product has been successfully delivered, it is even better to ask for identity proof and a digital signature from the user who got the product delivered.


User Location: 
This will assist the company business in lowering the risks of being litigated and monitor how much service is required in diverse locations.


Monitoring Transport:
It is vital to track the shipping procedure to find the optimum shipping companies. You can regulate how swiftly drivers get to their locations and how close they are to delivery centers. This way, you can ensure swiftness and consumer contentment.


Calculation of Taxes: 
A tax calculator that does all for you is the approach to go if you want to keep a spotless business record and make fewer errors.


Keeping Records:
Orders that have been filled and orders that are still incomplete must all be recorded. It is essential to monitor and track what you purchase and do stock frequently.


Client Perks: 
Giving added privileges to customers who leverage a service repeatedly is an upright idea. Clients who have leveraged the service for longer or placed a precise number of sales orders should be offered special deals and discount cuts. Clients who are satisfied and loyal will turn hooked on your services.


Customer Ratings and Reviews:
Customers should be able to suggest what they experienced about the delivery services, the people who delivered the products, and the overall service. This lets the service enhance with time and offers its clients added value.


Customer and User-friendliness:
It is significant for purchasers, sellers, and software programmers who leverage simple services. If the users cannot use a functionality or feature, it is meaningless to have it. So, it is significant to ensure it is straightforward to get to.

Building an Application for Cannabis Delivery
Getting the positive word out in the market about cannabis delivery is more effective with a mobile-friendly website and application. It can trim the total time it takes to market your business and find its target customers.
You can connect with a SaaS-based Cannabis Delivery App Solution provider company like us at DeOnDe to develop an app or website portal. Then, work on product inventory, make interactive content that performs well in search engines, and leverage calls to action to bring more visitors to your online marijuana delivery business.
Testing the Business Prototype
Preparing and testing cannabis delivery software prototypes reduces business risks. Once the prototype is built, it should be tested by a small group of people leveraging it. The company's business model, like consumers, vendors, or drivers, will comprehend how this business goal will be achieved.
Here, it is significant to track how clients react to the service. This lets the developers keep track of the variations that are required to be made, even if the user slips them. After all these trials and mistakes will make these services completely functional and meet the requirements of users.
Getting Your Cannabis Delivery Application Accepted on the App Stores
Even though most users demand cannabis to be legalized, Apple and Google have proposed rejecting some cannabis-related applications because of how they work. Others do not know why their cannabis delivery apps faced challenges in approvals, while some blame words such as "recreational," "adult use," or "21-plus" for the denial.
Likewise, there are a lot of cannabis delivery app solutions, like High Tide, Eaze, WeedMaps, PotBot, and more, that have become popular in app stores and always send customers superior quality cannabis.
Before you send your application to the app store, ensure it has licenses to offer and deliver cannabis for medical and recreational usage in your region. Eventually, online stores will decide whether to let your cannabis delivery service work based on how you define your White-label Medicine Delivery App.
Marketing and Promoting Your Cannabis Business
The final stage after putting up a website portal or application for cannabis delivery is to promote your cannabis business to your target consumers.
You can tell people about your application or website through social and digital media. Getting more people to know your business and company brand is a great approach. You can even hire a professional company that provides digital marketing and promotional services.
Key Takeaways
It takes a lot of endurance and hard work to initiate an online service that delivers cannabis. Before entering the cannabis business, you should extensively research the industry and market. The subsequent step is to ensure you have all the necessary licenses and permits before starting a business.
So, you want to start your online Cannabis delivery business swiftly? With our SaaS-based cannabis delivery app solution, you will be ready to deliver your cannabis online as quickly as you want. We do not let business owners and entrepreneurs wait to introduce their dream businesses online.
For pricing and a free demo of our Marijuana ordering and delivery solution, please explore our website at www.deonde.co