Technology has completely revolutionized and simplified business processes, which benefits organizations and customers. An increasing number of people are placing online orders and getting them delivered to their doorstep, and this has led to growth in companies offering food, groceries, couriers, pharmacies, and more.
The on-demand food delivery application user base is projected to mature to 2.5 million users globally by 2027.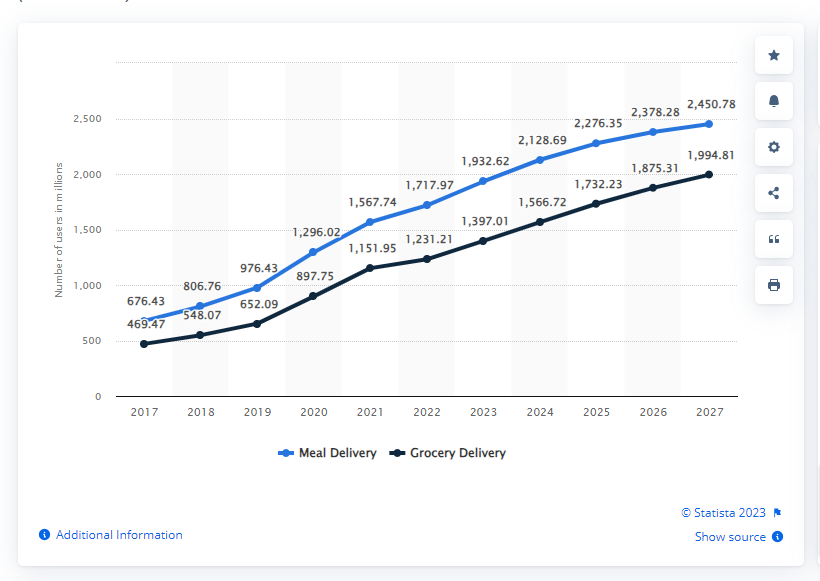 Before we get started you must know what DeOnDe means. It stands for delivery on demand. So, as the on-demand services are getting better each day, the demand for DeOnDe Software is set to grow in the future as well. Developing a practical application can be challenging for startups and small businesses since they have limited resources to allocate to each process, and app development calls for investment in minds and machines.
Do not worry, as DeOnDe is here to support such businesses, but before we step into buying the services, let us discuss and understand How DeOnDe Works and benefits businesses.
Our Online On-Demand Delivery and Business Model Use Cases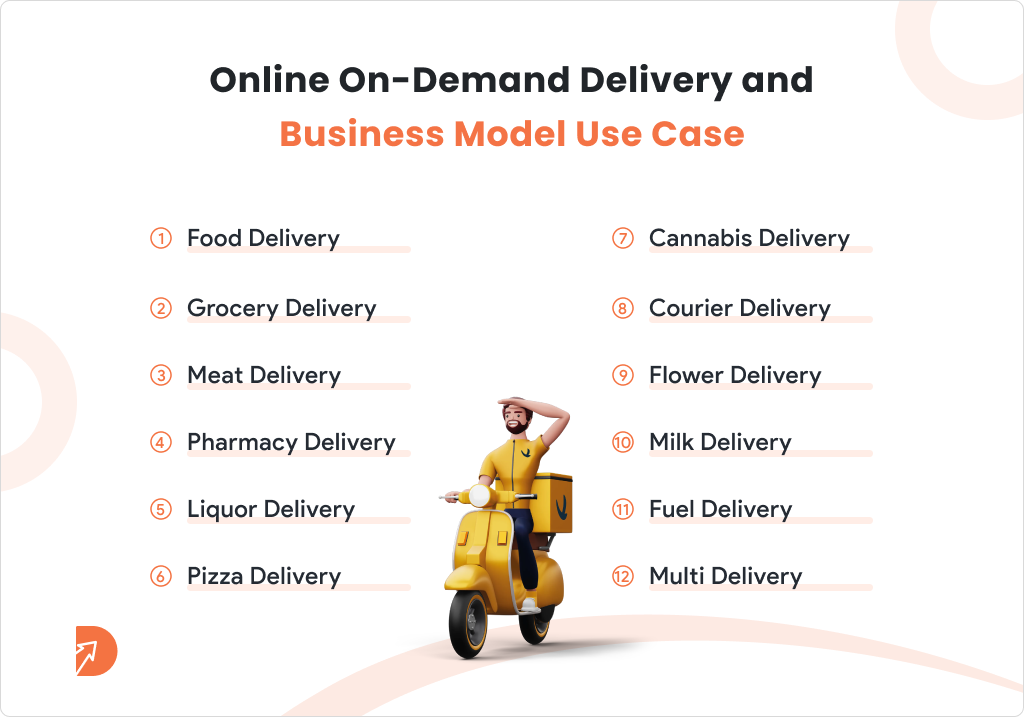 Online delivery services have seen a boom post-Covid since people avoided visiting crowded marketplaces for shopping. This new customer base paved a pathway where businesses had to adopt online business models and digital delivery systems.
Here are some major business segments that have flourished well by choosing and comprehending how DeOnDe delivery system works: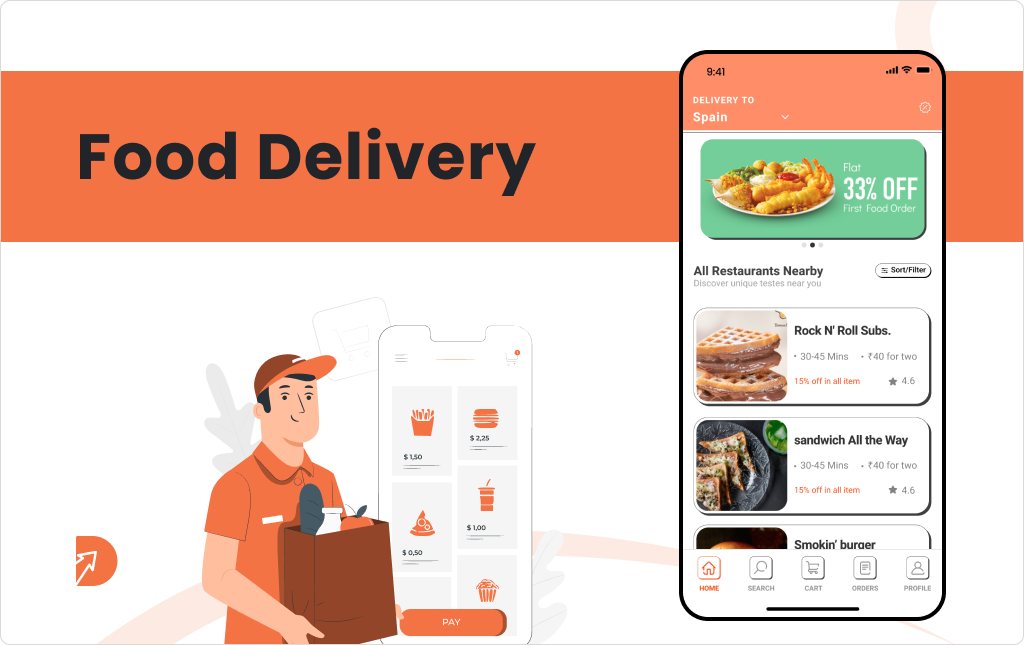 An increasing number of food delivery companies have been adopting DeOnDe because it does not need application designing and development to go live and start accepting orders. The appropriate Food Delivery App Solutions are readily available for both iOS and Android operating systems.
With DeOnDe, there is no need to set up an internal department and invest a considerable amount in the development process; businesses can pay monthly rentals and acquire functional apps with additional features like chatbots, dispute management, wallet systems, and more.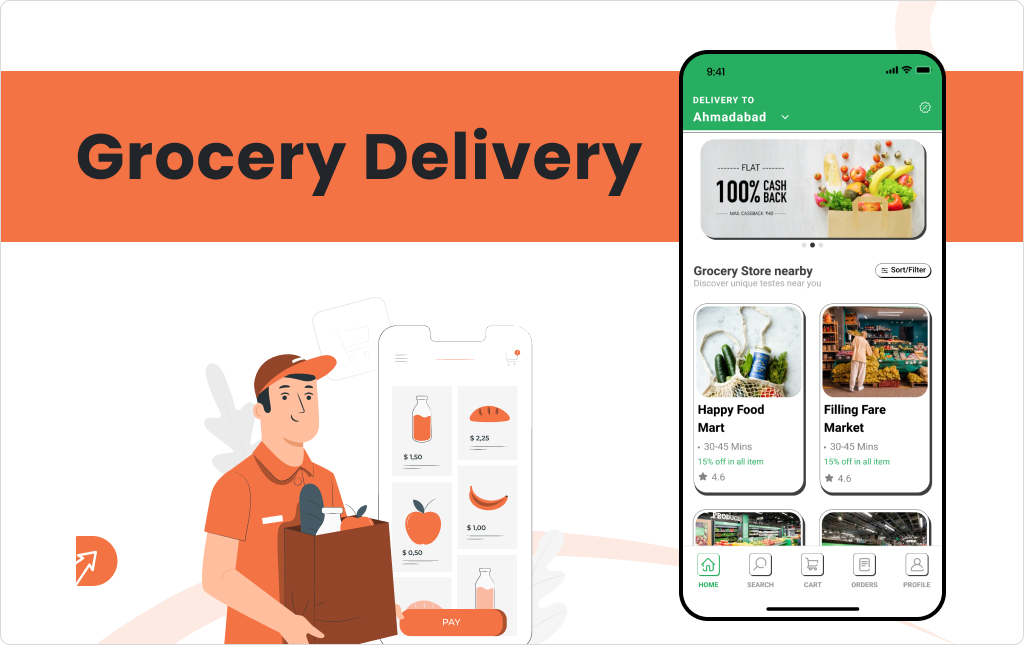 On-demand grocery ordering system has seen substantial growth, and businesses are gearing up with the latest DeOnDe SaaS-based technology to provide a user-friendly and quick delivery app for its users. When companies associate with DeOnDe, they can demand feature customizations according to the changing business goals.
Organizations that have a clear understanding of how DeOnDe works prefer paying the monthly subscription rather than taking up the app development task to connect customers, merchants, and riders through seamless operations and functions.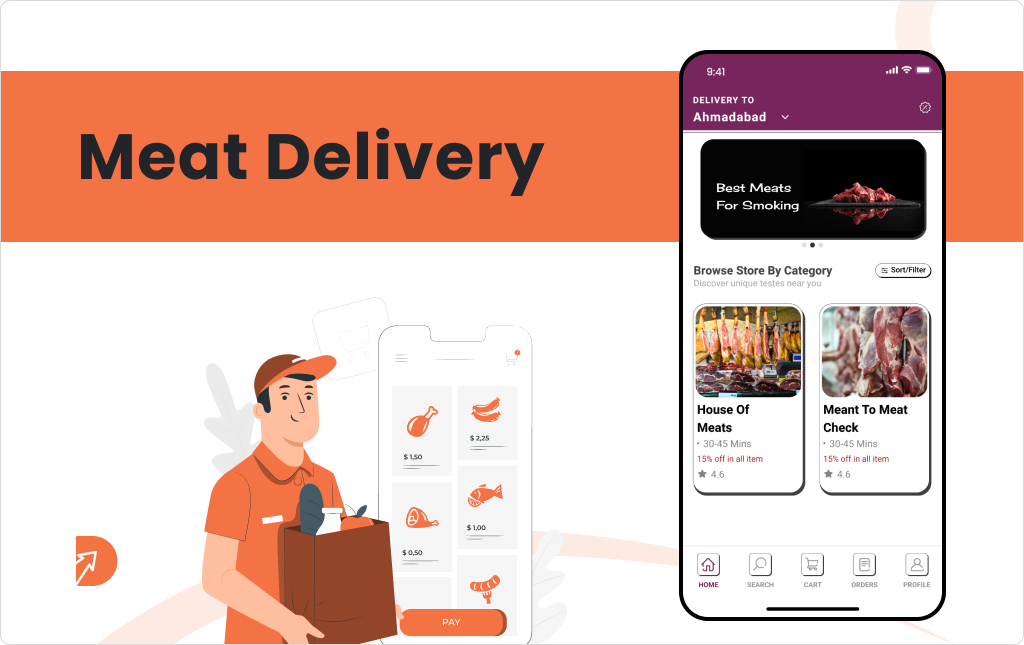 Most commercial meat-consuming businesses like restaurants and outlets rely on meat suppliers, which makes DeOnDe a requisite. The SaaS-based meat delivery solutions are ready-to-use with an array of customizable solutions and designs.
Meat business owners are expanding their businesses with the readymade delivery app that can be modified with additional features. If you are a meat supplier and want to have a customized meat delivery app, tap here for the best solution.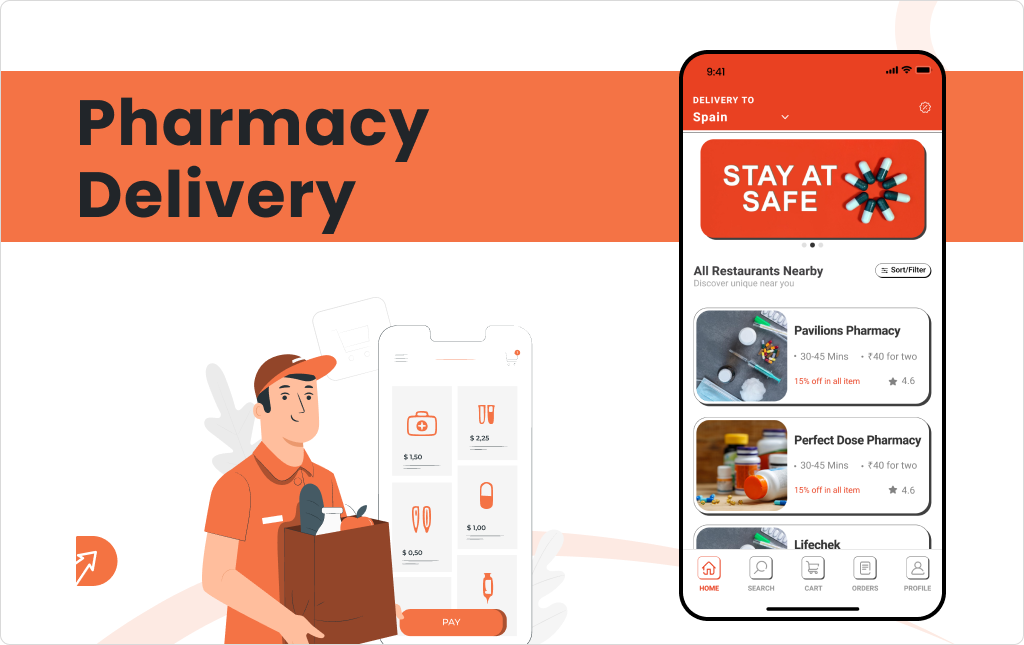 Medicine delivery is a crucial process that needs to be on time, and thus, a reliable pharmacy delivery app should be the priority for a business that aims to flourish in the industry.
With DeOnDe, the company can attain a fully functional delivery app in 20 minutes. The app is viable for single-store outlets or chains with a simple ordering process involving search options, order placing, delivery details, easy payment options, dispatch details, and so on. With our DeOnDe pharmacy delivery app solution, you are assured of exponential growth.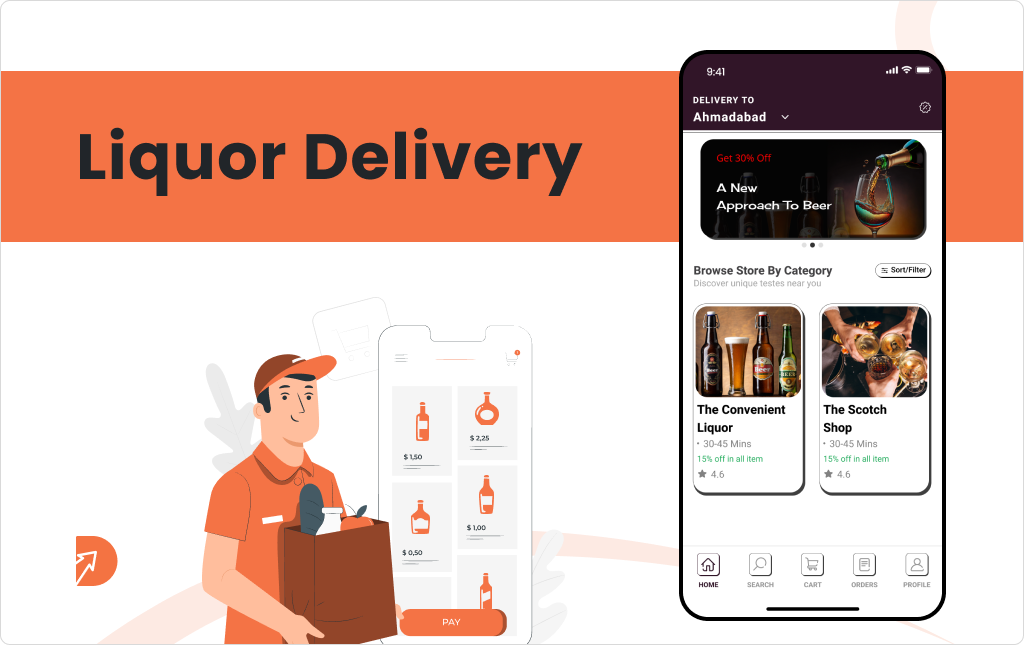 A white-label liquor delivery application is a unique proposition that is becoming increasingly popular in the liquor industry since companies are planning to tap the nascent marketplace.
While most app development organizations are still focused on developing apps from scratch, DeOnDe has devised a design that offers modern features, enabling a smooth ordering and delivery process: a win-win for businesses and customers.
You do not need to spend a fortune for a successful liquor delivery app solution; just browse through our products and solutions.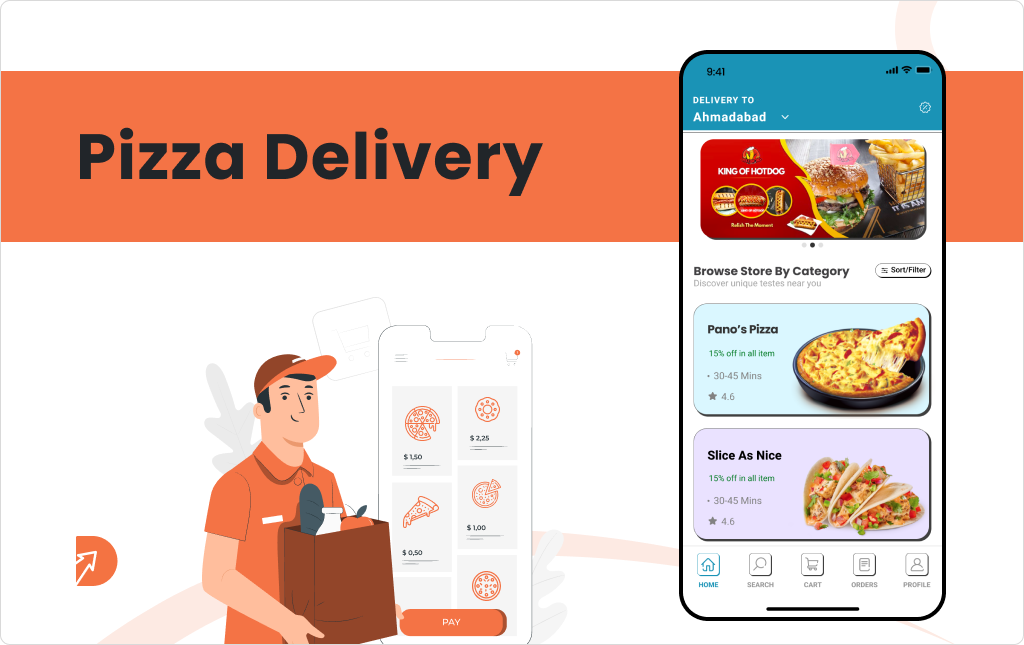 Most pizza brands receive more delivery orders than eating at outlets, which calls for a delivery application that would allow customers to place orders and outlets to receive and deliver the same in no time. The pizza brands that want efficient apps without investment opt for DeOnDe for customized and quick apps.
The role of the app becomes more important since every customer ordering a pizza has a different taste. Hence, each pizza delivered is different from the others, which calls for an application that is simple yet functional. A sustainable pizza delivery app solution is just a few clicks away.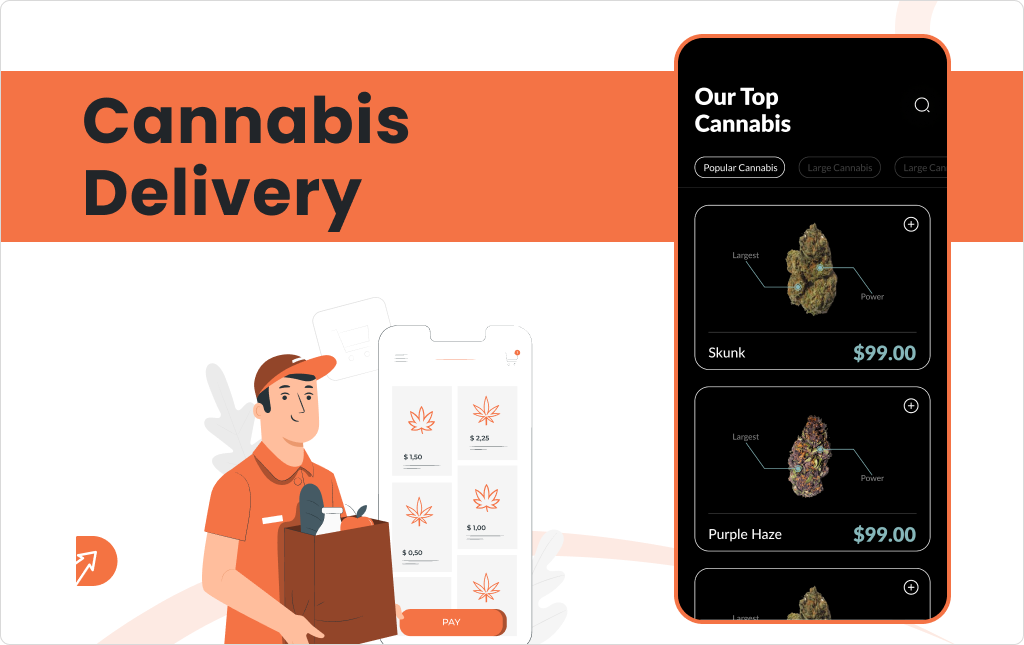 Medical cannabis and marijuana delivery is a business model that requires the company to follow strict state rules to avoid misuse. A DeOnDe delivery app solution for cannabis and marijuana goes live in a few minutes and ensures an effortless ordering and delivery process without any negligence. The online business can be expanded with zero upfront costs without months of waiting time for app development.
The subscription cost is minimal and needs to be paid monthly. If you are planning to start an online cannabis delivery service, just click here, and you are good to go.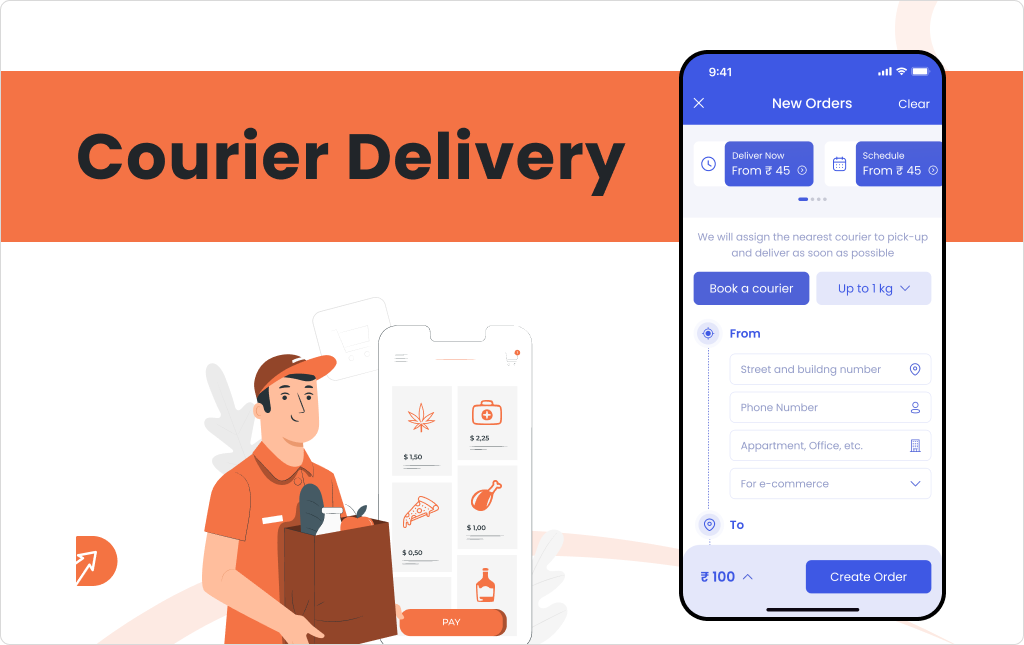 Courier business largely depends on timely delivery and constant data entry, which helps customers know the exact location of the parcel. Thousands of parcels are delivered every day, and hence, it becomes crucial for courier businesses to have in-depth knowledge of how DeOnDe delivery system works and render an easy-to-use application.
The SaaS-based Courier Delivery App Solution for Android and iOS systems helps in achieving a seamless delivery experience, facilitating business growth.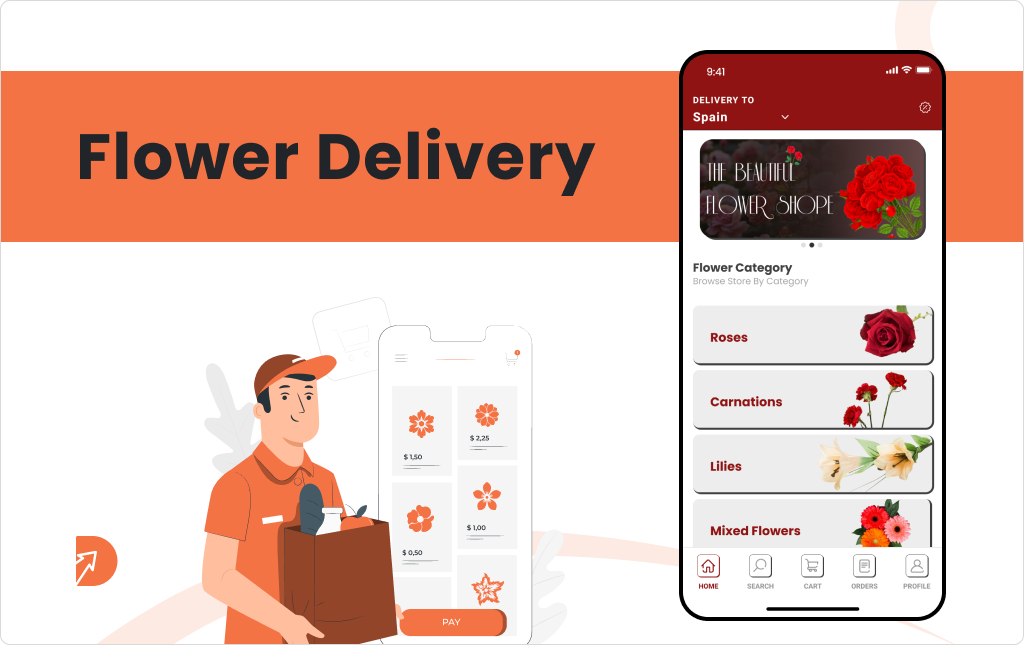 The flower delivery business involves several aspects like inventory management, product category, prediction according to current consumption, etc., which needs to be implemented in the application as well since when a customer uses an app to place an order for a particular flower type, he should be able to book as per the availability.
The DeOnDe offers a one-stop solution for all such needs since it has the expertise in developing flawless app designs for such businesses. The companies can avail instant inventory upgradation and simplified ordering process to stay ahead of competitors. Build a competitive flower delivery service online with DeOnDe.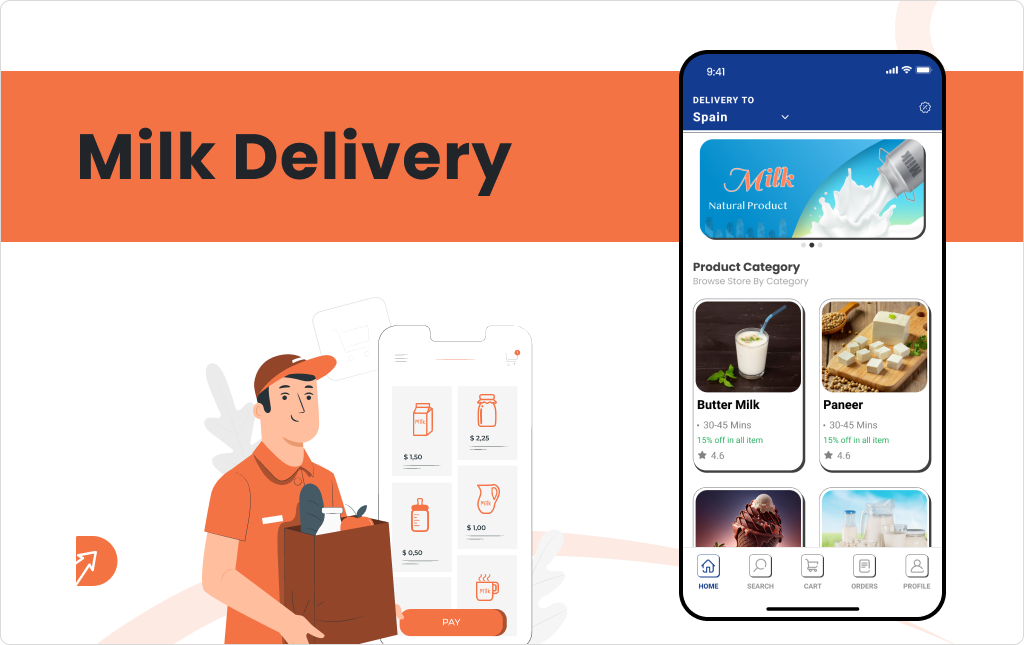 Businesses dealing with milk delivery aim at rendering the best customer experience daily since milk delivery is a daily need and the customer's requirements keep changing. Thus, the application used to book milk delivery should be user-friendly to let customers make changes in milk quantity and delivery time when and as required.
DeOnDe has pre-designed app templates that can be launched instantly and modified as per business objectives. A repeatedly used Milk Delivery App Solution is waiting here to help you achieve new growth avenues.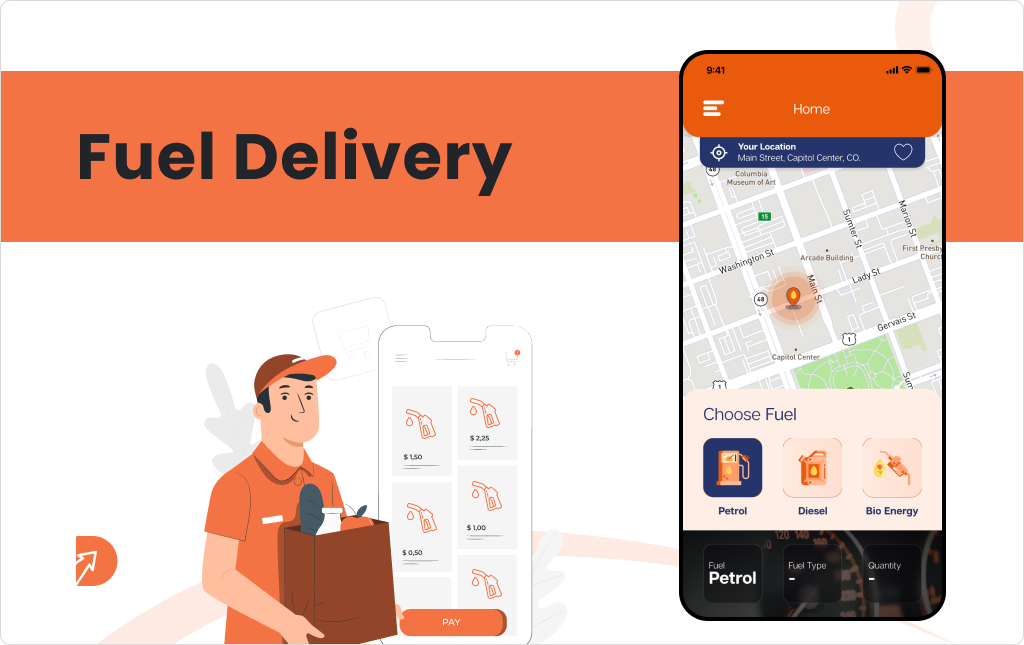 DeOnDe delivery application is the best solution for companies dealing in fuel delivery. The industry has well-established players who aim to increase their reach and market size by delivering fuel to customers' doorstep, enabling strong brand association. The application, therefore, needs to be upgraded frequently with new features and operational functions like payment gateways.
The SaaS-based Fuel Delivery App Solution lets businesses save huge costs involved in the development and upgradation process as they only need to pay monthly. If you are a fuel delivery startup who wants to tap a new market, here is an opportunity you should explore.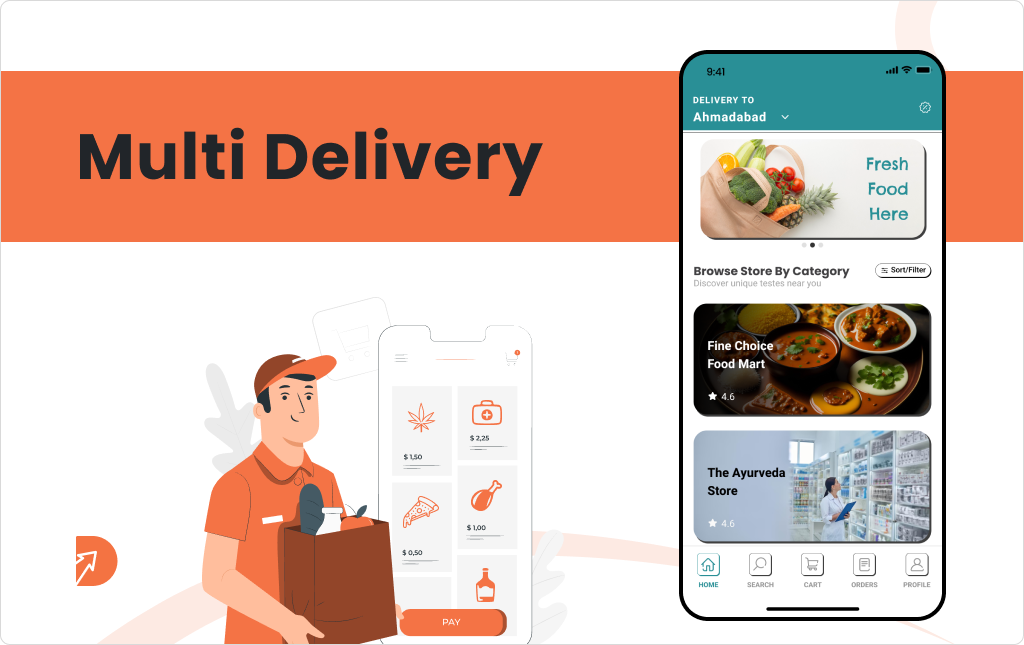 Businesses have been diversifying their offerings with multi-delivery services to their customers so that one person can place orders for different items, flowers, food, groceries and more every time according to the requirement. This helps establish brand loyalty and reliability.
While customers enjoy Multi Delivery Services for different commodities, businesses get an opportunity to expand and earn more profits. On the other hand, delivery professionals get more earning opportunities since they deliver more parcels each day.
Multi-brand delivery service is a great business approach, but the application that connects all the stakeholders needs to be flawless and quick to eliminate any delivery hassles.
Undoubtedly, multi-delivery applications are complex to develop and maintain, which may be a challenge for organizations. Hence, DeOnDe is a great platform since there are ready applications with diverse features allowing easy ordering and delivery.
Our Products that Enable DeOnDe Delivery System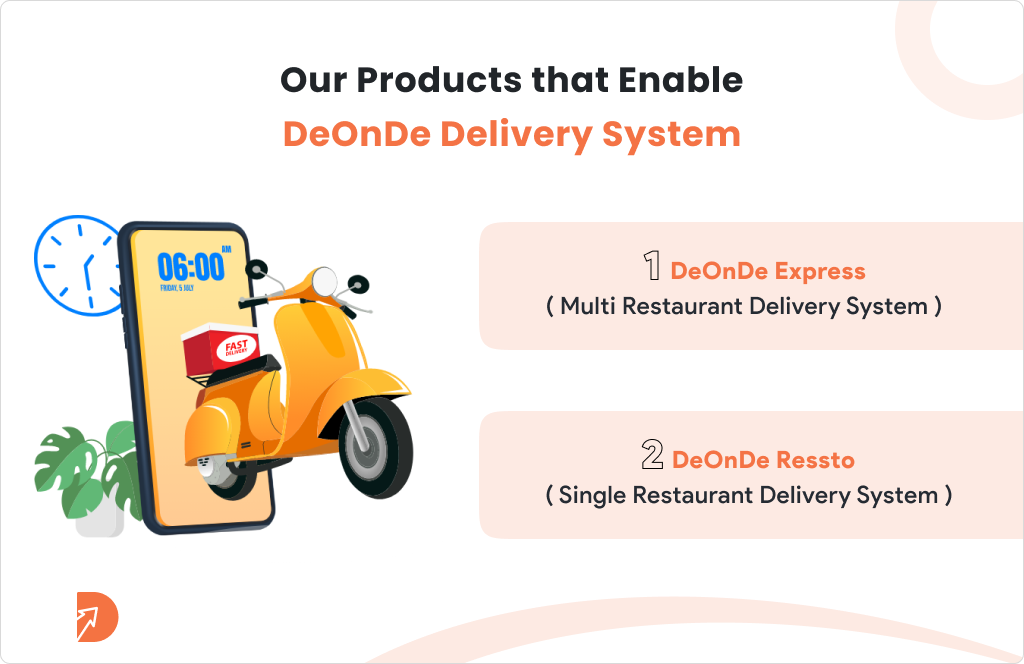 Businesses, small and big, across industries have been adopting online delivery systems with an aim to serve more customers and expand. Two different DeOnDe products offer specialized app development platforms to cater to diverse business needs.
Below is a brief description of each product that would help an organization choose a relevant product that would help develop the best app design and features.
DeOnDe Express
If you are a business that aims to develop a sustainable multi restaurant delivery app for your customer base, DeOnDe Express is the best choice for this purpose. This service can be availed with a monthly or annual subscription. DeOnDe covers all aspects like inventory management, order management, real-time tracking, payment gateway, analytics and more.
You will find every crucial feature covered in this product, ensuring the growth that every business aims at. If you have any doubts about app development, you should read more about how DeOnDe works.
DeOnDe Ressto
If you are in the restaurant business and want to enter the online food delivery segment with the best application, DeOnDe Ressto is the right product you should consider. It is a customizable end-to-end, White-label Delivery App Solution that helps to attain customer delight with a seamless ordering process and quick delivery.
The best part of using DeOnDe Ressto is that it facilitates direct ordering and can be set up within 5 minutes: a simple process any business would desire without spending a hefty amount on app development.
Significant Features that Empower DeOnDe Delivery System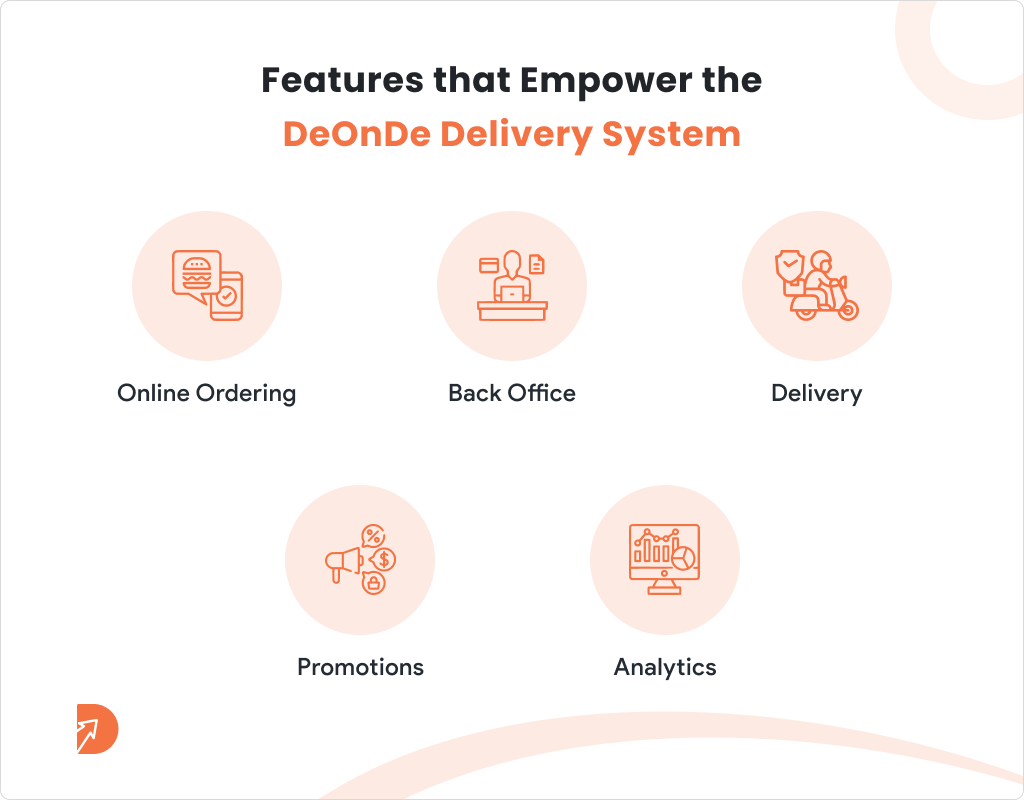 In order to understand how the DeOnDe delivery system works, it is necessary to know the significant features that facilitate flawless app development via the DeOnDe system. Here are the salient features that make DeOnDe better than other delivery app development platforms:
1. Online Ordering:
For a successful online business, the first step is to make online ordering easy and quick for the end-user. The app can be used to run single outlet or chain outlets according to business size with Ordering Features like quick search, price comparison and category-wise searching options.
Most feature-loaded apps allow users to rate and review their delivery services, which helps in improving the customer experience. Also, a user can chat with a company representative using the application in case of any grievances.
Another feature involved in the order placing segment is a payment gateway so that users can pay securely through different mediums. Some businesses aim at offering contactless delivery to ensure safer delivery options to customers who want the least touch points in the delivery process.
2. Back Office:
Impeccable back office support is also a feature of DeOnDe app development, which allows proper merchant management with all necessary details that would smoothen the process, like payment settlement.
The back-end feature also includes a call-centre dashboard enabling data entry of clients like order creation and personal details of a customer for a better delivery experience.
The merchant panel feature allows back-end staff to record merchant data like orders fulfilled, ratings given by customers and payment management. Back office function also includes reports and analytics that would help in improving the business offering and changing application features based on business goals.
3. Delivery:
When an organization acquires SaaS-based app development, it needs to know how DeOnDe works and delivery details are the most crucial aspect involved in this process. Businesses that have multiple outlets need to define delivery zones so that there is not any loophole in the delivery process, as one dedicated delivery team would cater to a specific region.
Another important aspect involved is driver management, which means details of the driver, records, ratings, zone served and driver payment settlements made in lieu of deliveries accomplished. Third-party integrations are crucial if a company does not have dedicated delivery professionals to complete the tasks.
4. Promotions:
Whenever a customer uses a DeOnDe app to place an order, he expects to receive some discount or loyalty points for the purchase he is making. Therefore, the business needs to maintain a section that states special promo codes and coupons, using which users can avail discounts.
Some businesses also offer loyalty points that can be consumed in the next purchase. There can be occasion-specific promotions that run for a restricted duration, which, when applied, will help users get discounts.
5. Analytics:
Every business makes decisions based on the reports and analysis that is prepared on revenue generated from delivery services rendered to customers in the past.
The 360 dashboard feature allows business owners and professionals to attain easy analysis and results with the least effort, as each transaction detail is automatically noted when a customer places an order.
How DeOnDe Works Right from Client Inquiry to Project Delivery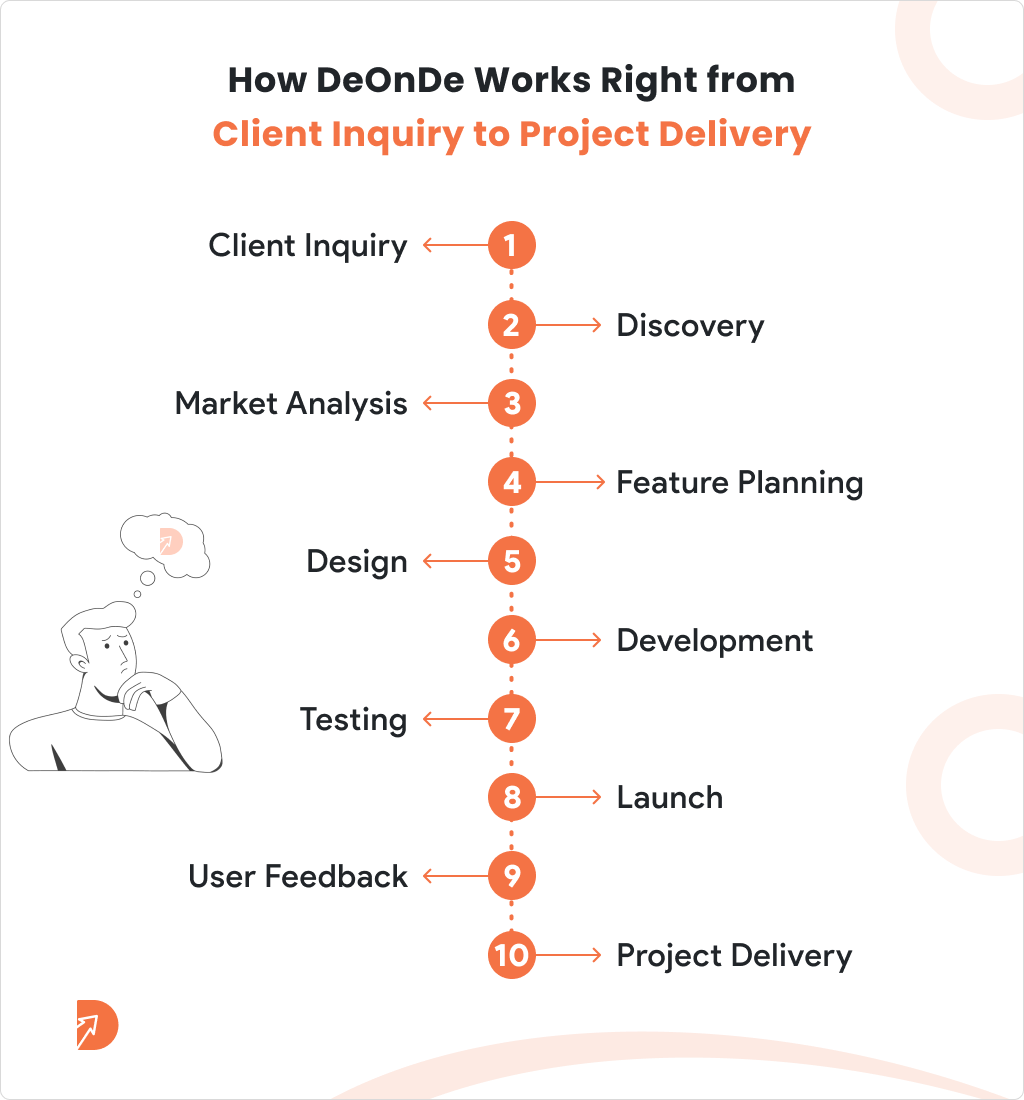 Now that we have understood all the features, products and use cases involved in DeOnDe, it is necessary to know the step-by-step process and how our team at DeOnDe precisely works to empower our clients.
Here is a brief that every business owner should be aware of so that he has a clear understanding of how the DeOnDe delivery system and client communication process works.
Client Inquiry: When a business contacts us for an app development task, our team asks them for details like industry, product offering, business size and goals.


Discovery: In this step, our team interacts with the client to discover the purpose of app development along with the target audience that the company aims to cater to. We also ask questions about the USP of the business so that we can design a better app version.


Market Analysis: We do not restrict our research to the company, but we also try to get information about the client's competitors and the market trends so that the on-demand delivery app is bang on point.


Feature Planning: DeOnDe facilitates customized features according to the business needs, which makes on-demand app design the best alternative for a seamless user experience.


Design: DeOnDe developers and designers aim to render an interactive user interface with spontaneous navigation through app pages.


Development: Our team has the expertise to work with the latest technology and development frameworks that help smooth the integration of back-end and front-end components.


Testing: We test the application before rendering it to the client to check the performance, data security, functionality, and user interface. This testing helps us identify and rectify loopholes in the first stage itself that help make a best-in-class application.


Launch: We launch applications on iOS and Android platforms and make them available for download to end-users. The app is developed to meet the app store guidelines to ensure the best utility for users, along with high-end data security.


User Feedback: We believe in continuous improvement after launch since, in the initial stages, there might be some features that may need to be modified, which is possible only after studying user feedback.


Final Project Delivery: Once the desired changes are made in the application, we launch the project for our clients and let them grow exponentially.
A Comprehensive Guide to Launch Food Delivery App in 1 Week with DeOnDe SaaS Solution
How DeOnDe Works: What Included in our Delivery Solution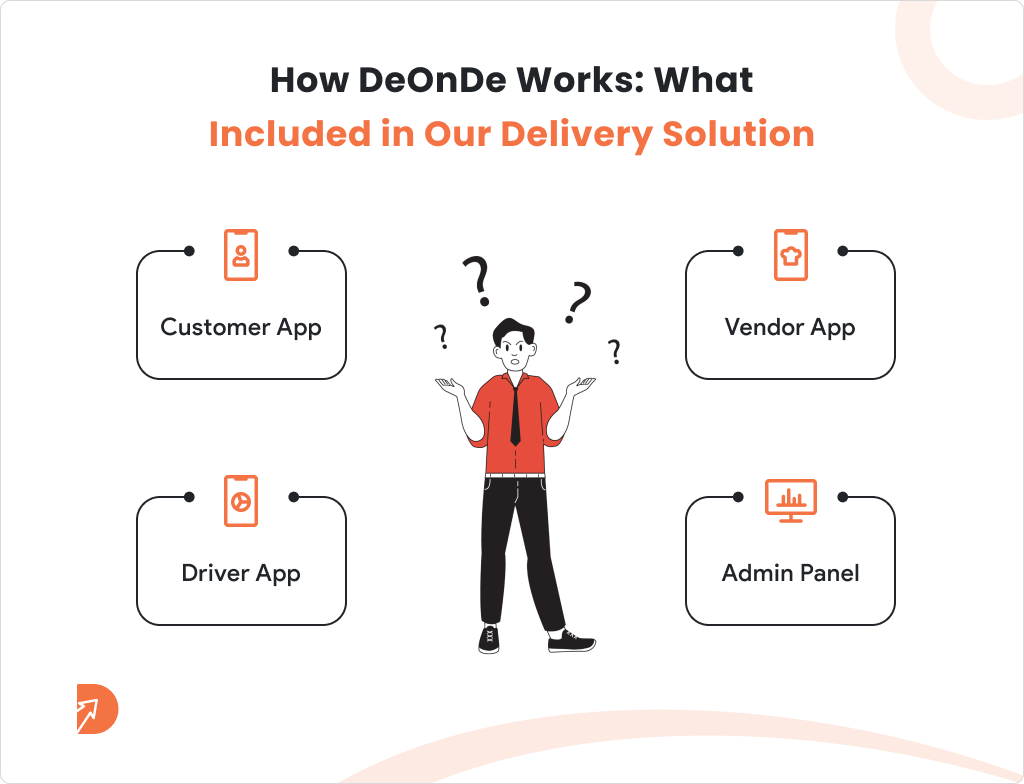 Once the customer opts for our DeOnDe solution, they get four ready separate applications that cover a customer app, vendor app, web panel, and delivery application to manage the entire digital ordering and delivery procedure.
Customer App
Get a feature-packed customer application for flawless online multi delivery ordering and easy payment processes.
Vendor App
The vendor app enables your operations of multi delivery business effortlessly with the dynamic and user-friendly application interface.
Driver App
Delivering products on time is essential for your business to be successful and have a good reputation. Our app helps in making timely product deliveries and maintaining customer satisfaction.
Admin Panel
Deal with and coordinate all your business operations in one place with a powerful admin software solution.
Our Pricing Packages at DeOnDe
We have designed two different packages for our clients based on their diverse business needs. The premium plan is appropriate for new clients who want to go online with a useful application, and it includes services like branded web ordering, unlimited stores, and vendors, along with two payment gateways.
A client can place unlimited orders and demand unlimited menus as needed. There is a one-time setup fee along with 2.5% of the total order value.
We offer the Enterprise plan that caters to our existing customers as well as businesses who are using a delivery app already and want to modify it to achieve new business goals.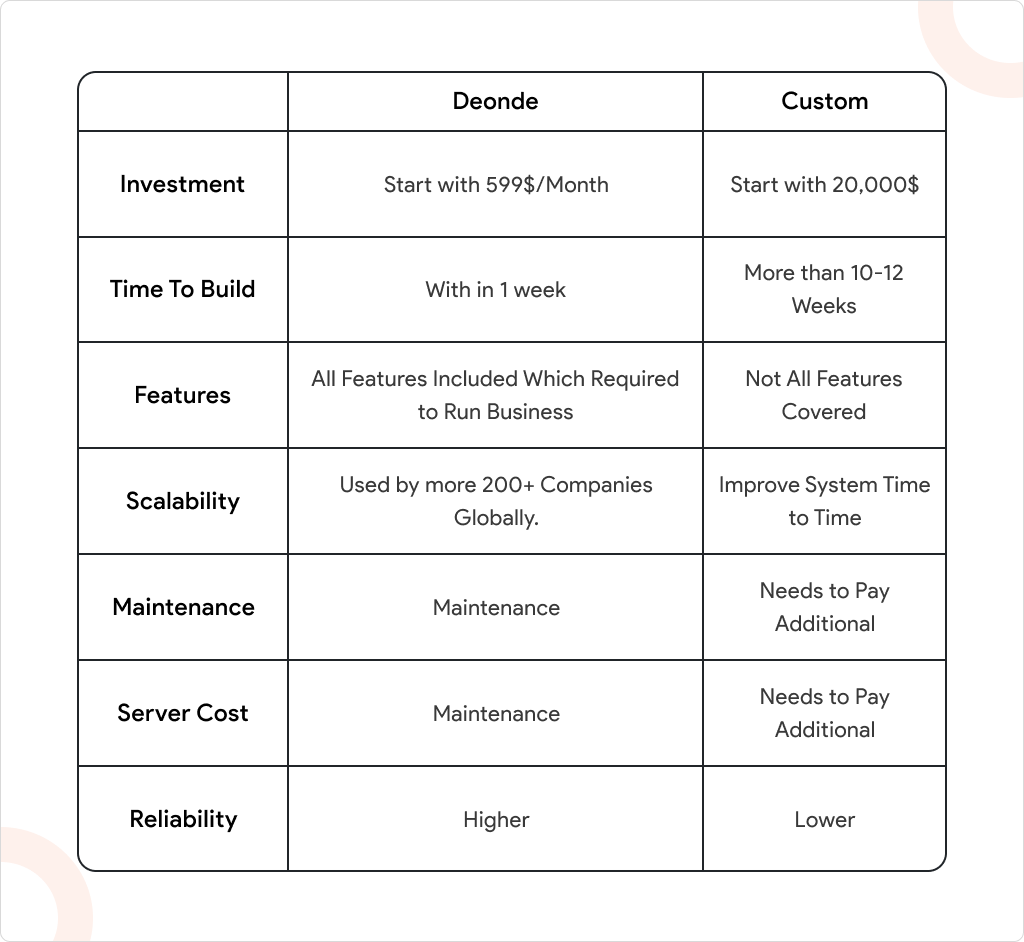 We have assisted both online and offline businesses who have not been able to achieve their targets due to lack of features and wanted us to transform their apps into useful and profitable business instruments. Pick the most suitable pricing plan offered by DeOnDe for your business.
Moving Forward with DeOnDe's On-Demand Delivery Products and Solutions
DeOnDe is a great platform for businesses that want to go online and expand. We offer an extensive range of features that help delivery businesses across different industries to have seamless app development, design, and ensure exceptional user experience.
To develop a delivery app for your business, we can help you with a 100% White-label On-demand Delivery Application Solution. We have assisted delivery startups and enterprises globally to get them an ideal delivery application.
For pricing and a free demo of our on-demand delivery solution, explore our website at www.deonde.co