In a world driven by convenience, where user journeys frequently begin with a few clicks, Licious has changed how we enjoy food. Meat and seafood lovers in India are going crazy for this online marketplace.
Fresh meats and seafood are enticing to try out, whether you are an experienced cook or just starting. Licious has become the Holy Grail for food lovers seeking the highest quality meats and seafood. But how this online and on-demand services provider Licious quickly turned into a profitable venture? Let us get down and find out what makes the Licious Business and Revenue Model successful.
Licious guarantees high quality food products by purchasing straight from farmers and fishermen. This quality factor is quite essential to their business model since customers are prepared to pay more. The Licious business model mixes e-commerce with superior quality products, business transparency, and ease.
As a startup or enterprise business, are you ready to advance your Meat Shop with our SaaS-based Meat Delivery App Solution? If yes, avoid investing thousands of dollars and get in progress immediately with Licious clone solutions.
How Does Meat Delivery App Licious Work?
How Licious makes money is a question that everyone has. In its farm-to-fork business model, Licious operates with minimal inventory by controlling the whole supply chain, including the cold chain. The subscription service enables clients to prearrange goods delivered via the website. Their client portal also features a separate recipe area. Customers may use it as a guide to making tasty meat and fish meals.
The firm is responsible for the entire process, from sourcing to processing to storage to distribution to the end user. The Licious Business Strategy boasts over 3,500 personnel who promise to deliver customers' purchases in 90-120 minutes. As well as handling over a million orders each month. There is a great reputation for the security of transactions here.
The company's methodology ensures that all products remain at peak quality and freshness. A group of quality assurance experts selects each item on the menu. The staff ensures that the weight and age of the chicken, fish or other animals are appropriate to their predetermined standards.
Throughout the washing, cutting, storage, and delivery operations, the meat is kept at 0-5 degrees to keep it fresh and maintain its natural juices. It does not include any form of antibiotics, chemicals, artificial preservatives, color, and flavoring.
Licious Varied Revenue Model and Total Valuations
The revenue from sales of seafood, meat, marinates, and eggs for Licious led to around 6.7 billion Indian rupees in the year 2022. The overall revenue from delivery charges was about 169 million Indian rupees. Let us further explore the revenue and total valuation of Licious.
More than a million distinct clients have used the Licious revenue model thus far. The avg. cart size is roughly INR 700. The company made INR 1.47 crores in its first full year of business. The total revenue for FY 2019-20 was INR 180 Crores.
The entire amount that licious revenue has taken in is USD 286.5 million. In June, investors Multiples Alternative Asset Management, the Brunei Investment Agency, and Vertex Ventures invested $192 million during a Series F fundraising round.
Licious claims to have expanded at a compound annual growth rate (CAGR) of 300 percent year on year since its beginning, and it now processes about 1 Mn orders each month and promises delivery in 90-120 minutes for its 300+ SKUs. As door-to-door delivery became the norm owing to coronavirus shutdowns, the company's total income increased by six between May and December 2020.
According to the company, the typical consumer buys Licious goods twice or three times every month, spending close to INR 22,000. The company's net losses decreased by 66% in FY 2019-20, coming in at INR 146.3 Cr from FY 2018-19's 438.7 Cr. The current valuation of the corporation is $650 million, according to reliable sources.
Some Significant Aspects of Licious
These are some important business characteristics about Licious: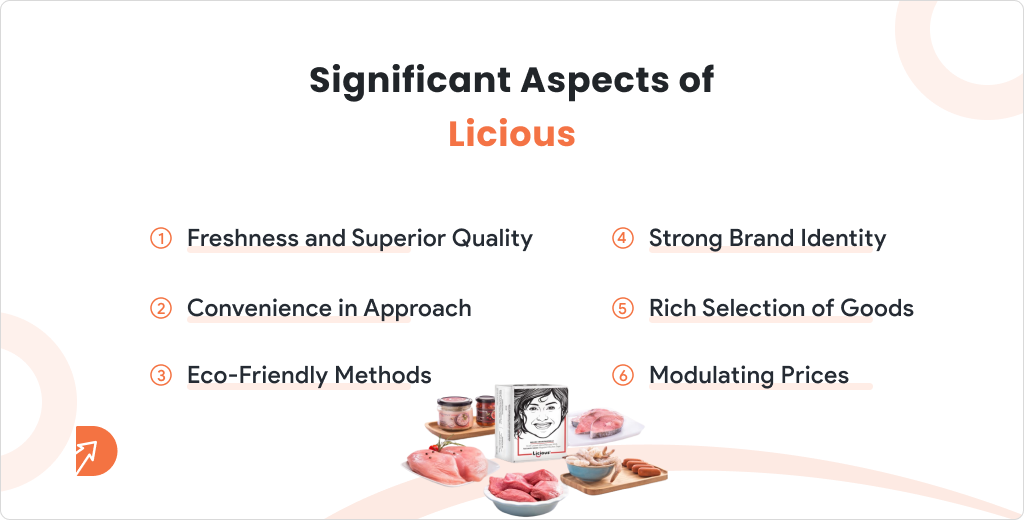 Freshness and Superior Quality
Your meats will always be 100% fresh and never frozen when you order from Licious. All meats and seafood are kept at a constant temperature of 0-4 degrees Celsius to guarantee their freshness.
Convenience in Approach
As a category-first brand supported by technology, Licious has solved customer pain points, including quality, hygiene, freshness, and convenience sustainably. The farm-to-fork business model allows Licious to control the entire back-end supply chain with strict cold chain control to ensure product quality and freshness from procurement, processing, storage, and delivery.
Eco-Friendly Methods
Approximately 149,154 kWh of waste-to-energy, 3,120 cubic meters of water saved, 355 metric tonnes of CO2e emissions reduced, and 494,000 Liters of oil saved have all resulted from Licious' plastic neutrality program.
Strong Brand Identity
Licious is a leading meat delivery app that has established itself as a strong brand. It has an eye-catching pink packaging and unwavering dedication to quality. Branding like this encourages repeat business and recommendations from satisfied customers.
Rich Selection of Goods
Chicken, mutton, fish, and even unusual meats like pheasant and duck are just some of the offerings at meat delivery platform licious. As an added convenience, they sell pre-marinated and pre-prepared foods.
Modulating Prices
Licious uses dynamic pricing, which implies that prices might go up or down depending on market conditions. With its precise pricing strategies, Licious maximized its profitability keeping its supply chain running seamlessly.
ALSO READ: How to Launch your Meat Delivery Business?
How Licious Scaled Swiftly with its Innovative Business Model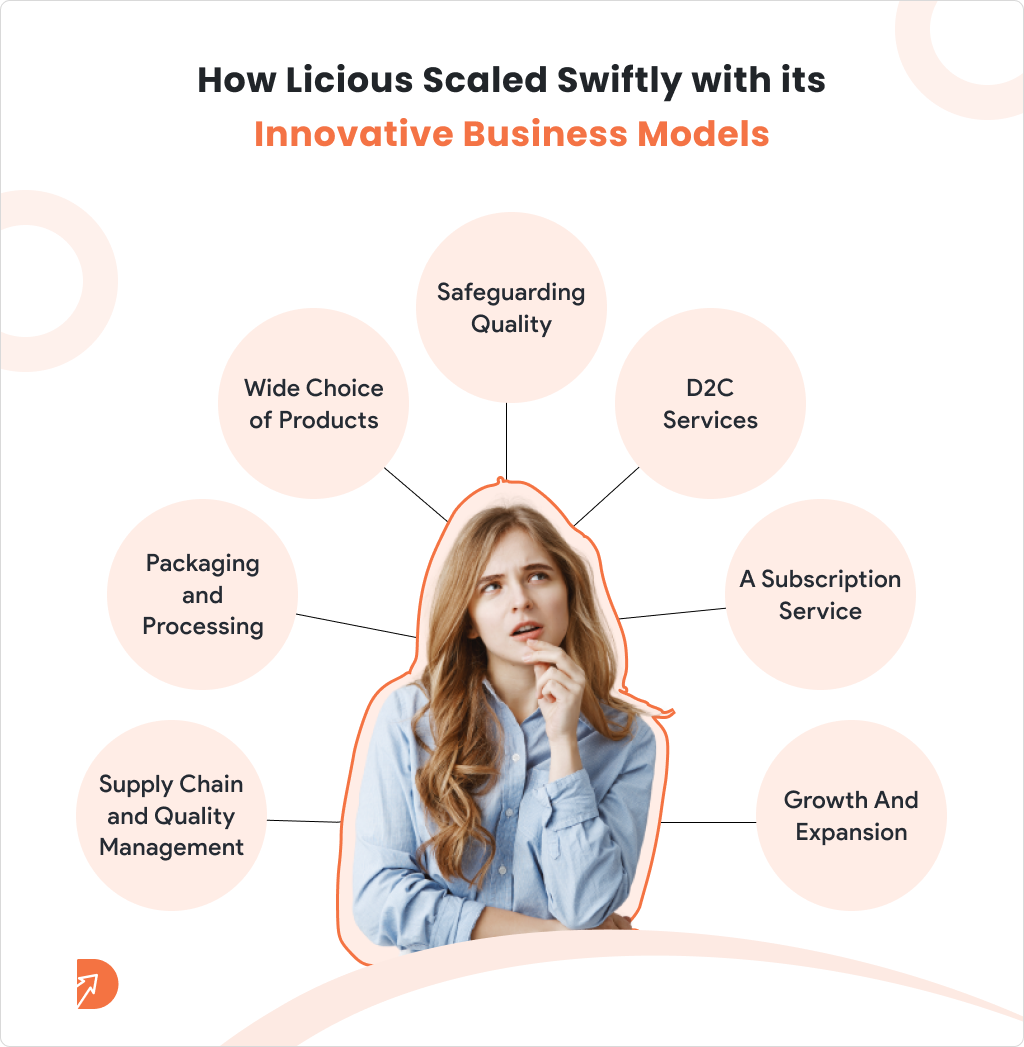 From sourcing raw materials from farmers and fishers to distributing completed items to clients, Licious' "farm-to-folk" strategy covers the whole supply chain. With this approach, Licious can generate a profit margin of 30%-40%.
Here is a rundown of the Farm-to-Fork business model and D2C service offered by Licious:
Supply Chain and Quality Management
Licious is making waves in the business world, and it is all thanks to their clever tech strategies. They are nailing supply chains, cold chain operations, and predicting demand like pros – that is why they have grown a whopping 300% since day one. But do not get it twisted; their secret sauce is constant innovation in an industry where everyone wants what they have but cannot find quality anywhere else.
Packaging and Processing
The team at Licious oversees every step of the meat-buying and packaging processes to make it simpler for Indians to purchase high-quality meat and seafood. Maintaining an appropriate temperature during shipping ensures that the meat is at its peak of freshness and quality from the farm to your plate.
Wide Choice of Products
To ensure that their products are risk-free for human consumption, Licious adheres to stringent quality and safety standards. So that its customers can cook wonderful meals at home without worrying about where to find high-quality meat and other non-vegetarian foods, it stocks a broad selection of fresh meat items.
Safeguarding Quality
Quality analysts at Licious verify each product for quality. Each Licious product is safe to eat due to strict safety and quality standards. Its vast selection of fresh meat lets consumers cook tasty meals at home without worrying about quality meat and other non-vegetarian cuisine.
D2C Services
Online meat delivery platform Licious was India's first D2C unicorn. It had the money to grow to Rs 100 crore per month two years ago and was worth $1.4 billion, but its revenue has yet to develop.
A Subscription Service
Licious marination, ready-to-cook options, and subscription services make it a one-stop shop for meat and seafood. The licious subscription approach lets customers plan for online purchases.
Growth And Expansion
Since its debut in 2015, Licious has rapidly expanded, operating in more than 14 cities across India with ambitious growth plans. Other new items include marinades, spreads, and pre-prepared dinners.
Close Competitors of Licious
Several other companies also provide online meat and seafood delivery in India, so Licious, the meat delivery app solution, has its work cut out. Notable alternatives include: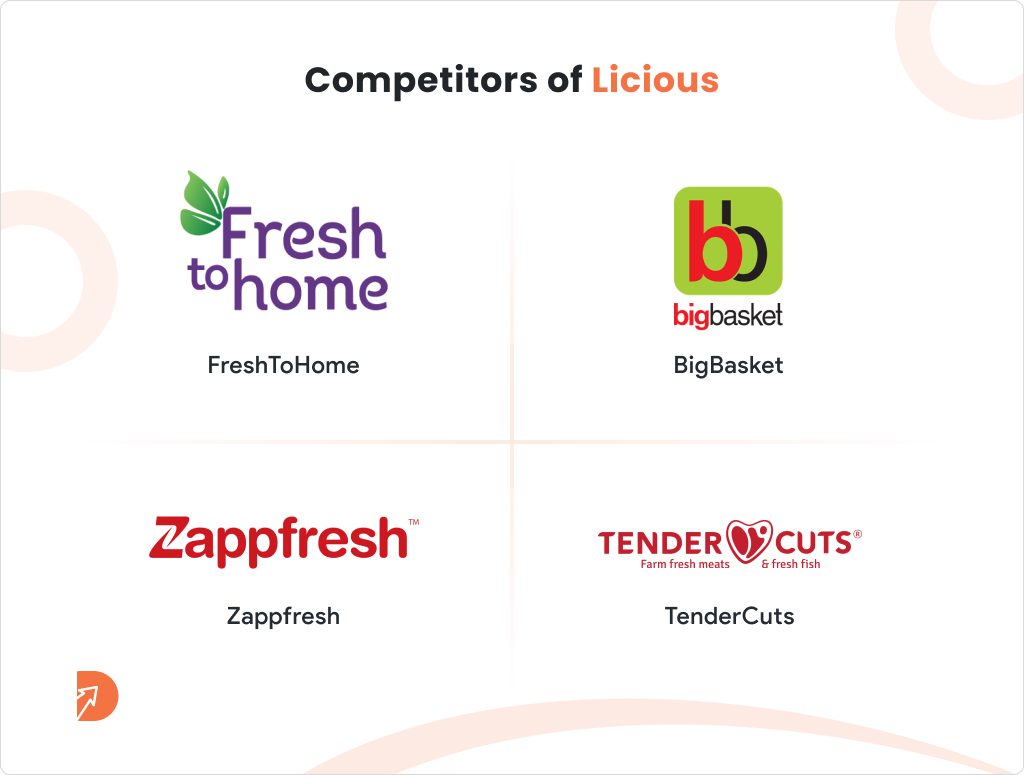 The Indian enterprise FreshToHome ships seafood and meat to customers throughout the subcontinent and the Middle East. In 2015, Shan Kadavil and Mathew Joseph established the business. FreshToHome successfully runs in Middle Eastern regions and many India cities. It hopes to increase its presence in the Saudi Arabia and Oman markets.
This on-demand meat delivery app also looks for entry points into the American and European markets. FreshToHome is mostly a web-based business, but it also has a few brick-and-mortar locations in the Bengaluru area. FreshToHome is another big player in fresh meat and seafood delivery. They specialize in obtaining chemical-free and antibiotic-free goods, appealing to health-conscious consumers.
Tata Group owns BigBasket, an Indian online grocery store headquartered in Bangalore, India. The company launched in 2011 as India's first online supermarket. As of January 2023, the firm serves over 30 Indian cities and handles over 15 million monthly orders. As part of its long-term expansion strategy, BigBasket is thinking about going public by the year 2025. One of India's largest online grocery businesses, BigBasket sells dry items, including meat and seafood. They rival Licious by giving clients more flexibility and choice.
DSM Fresh Foods Pvt. Ltd.'s Zappfresh is a fresh meat brand that operates out of Gurgaon and provides the freshest meat to the NCR area. Deepanshu Manchanda and Shruti Gochhwal founded Zappfresh, this app is similar to Licious, in June 2015 after seeing a massive market for high-quality meat products.
These market opportunities had not been previously available due to the dominance of the unsanitary and problematic local wet market. However, more recently, the availability of frozen meat options is preferred by Indian consumers. Delivering fresh, chemical-free meat and seafood is what Zappfresh is famous for.
TenderCuts, launched in 2016, is a chain of neighborhood businesses that sells freshly cut meat and seafood to clients via walk-ins and online orders. The company's offerings grew to include eggs, spices, and ready-to-cook meals.
This on-demand meat delivery platform is a web-based business that offers meat and seafood delivery in a few locations in India. They have a large selection of both fresh and frozen foods available.
Licious Business and Revenue Model: How Licious Earns Money in India?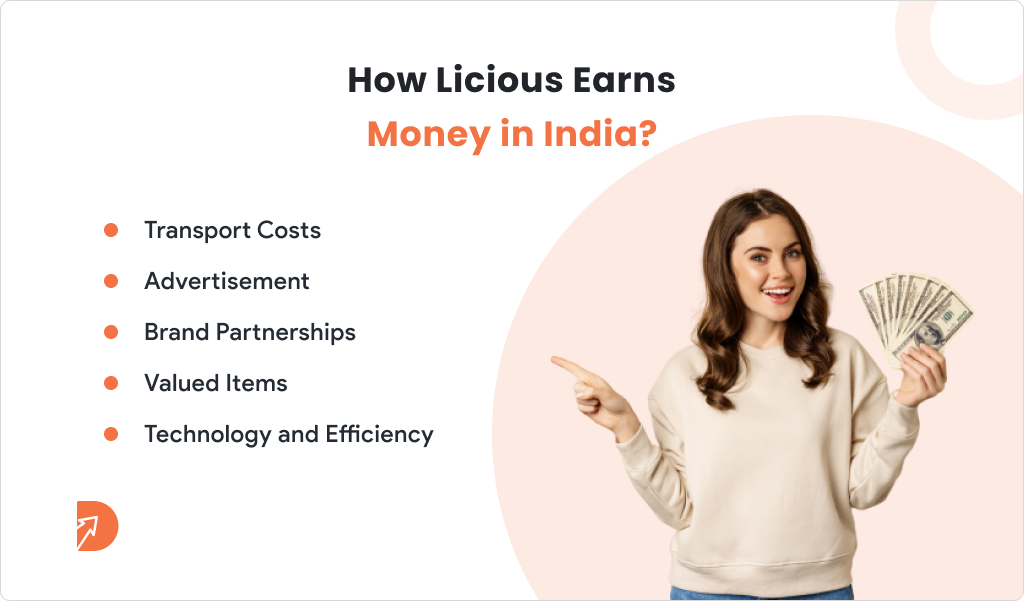 Customers have loved Licious since its introduction. Fresh meat supplied within hours was easily accepted by the intended demographic. Lucious's revenue over the years is shown below by Statista.
Financial Year 2020: 1,254 million rupees
Financial year 2021: 4,084 million rupees
Financial year 2022: 6,657 million rupees
For the last three financial years, Licious has achieved massive revenue growth, as shown above. We made all this money selling meat, fish, marinade, and eggs.
The records show that 92% of Licious' revenue comes from products and services and 8% from investments.
As an online meat and seafood delivery business, Licious makes money in numerous ways. The major Licious meat delivery app revenue sources are:
Licious may charge for delivery depending on the address and item cost. These fees reduce customer delivery costs.
Advertising is another way Licious makes money. It displays paid ads from other firms.
Businesses benefit from conscious brand relationships. They increase brand exposure, credibility, creativity, innovation, market access, and cost optimisation through resource sharing and consumer interaction.
Licious sells raw meat, seafood, marination, ready-to-cook, and subscriptions.
Technology and Efficiency:
Licious teaches meat specialists with AI for clean, precise cuts. The organization measures and monitors product temperature throughout its supply chain using many tech-enabled approaches.
Start your Meat Delivery Business with Our Meat Ordering Solution
Key Takeaways
In-house algorithms help Licious offer fresh and highly chilled meat 24/7. It has even developed technology to predict consumer behavior to strike the right balance between availability and waste. Licious stands out with cutting-edge business and tech innovations. This inspired them to revolutionize the Indian meat marketplace and online seafood delivery.
To develop a Licious clone application for your business, we can help you with 100% white-label on-demand delivery mobile app-based services. We strive hard to back food delivery startups worldwide to get them a perfect food delivery application.
For quick pricing and a free demo of our on-demand delivery solution for your business, please visit our website portal at www.deonde.co